shopping your closet can create a wardrobe you love
If you've been with me for a while, you know that a few times a year we do a Shop Your Closet Challenge, and it's starting tomorrow! All of the details are below, but this challenge means that we all shop our closets for inspiration outfits that I choose and then we all come up with our own version of it.
More than ever, shopping your closet can be a great way to create a wardrobe you love, and I'm sharing ten reasons why you'll see huge benefits from it. I talk a lot about shopping your closet, and with the Classic Wardrobe Guides, one of the very first Style Steps covers how to shop your closet. I intentionally create the Guides around classic items you likely already have, and then add a few special items to refresh your wardrobe and make it feel new. Sometimes just one or two new things makes everything feel fresh.
The Summer Classic Wardrobe Guide is coming soon, and you can be the first to know when the doors are open by joining the waiting list. The doors to the Society are only open for a week each season, and you don't want to miss it!
Have you ever dug into your closet to find something and discovered some hidden gems? I have, and it's always a happy discovery! Now that my wardrobe is so much smaller and more curated, this doesn't happen anymore, and all of my gems get time in the sun because everything in my closet is my favorite.
It's fun to bring new items into your wardrobe, but I've found just as much satisfaction in rediscovering a forgotten favorite! It's kind of like finding money in the pocket of a jacket you wear for the first time this year. It's actually your money, but it feels like a windfall.
When you forage in the forest of your closet and find old friends, a happy reunion follows, and it's like getting something new!
Cultivate a Working Wardrobe
If you had to write down an inventory of your entire wardrobe right now, how complete would your list be? Do you even remember what's in there? Shopping your racks instead of the store racks allows you to see what you ACTUALLY have.
When you know what's in there, you can see if you have your basic pieces that are the foundation of your wardrobe and every outfit and allow you to wear all those fun, special items?
What isn't working in your wardrobe? Is there anything you need that would allow you to make even more outfits with what you already have? As you shop your closet it's easier to identify the gaps in your closet so you can have a working wardrobe. Because you can have a packed closet, but if those bridge pieces are missing, you will struggle to create outfits.
Recognize Trends in What You Do and Don't Love
As you shop your closet, rediscover favorites and cultivate a working wardrobe, you will start to see which items you reach for over and over again, and which ones you keep passing over. What trends do you notice about the items you wear the most? And what is the common thread among the things you don't wear? Make note of them.
The process of going through your closet to wear what you already have will bring you so many insights about what you actually wear that you'll make fewer shopping mistakes in the future. Instead of shopping aimlessly to fill an unidentified hole, you will shop with purpose and purchase things that will actually help your wardrobe be more functional, and complete.
Leaving the stores empty-handed after hours of shopping can feel like failure, and buy something, ANYTHING, can feel like your efforts weren't wasted. If you know what you are looking for, you'll come home with solutions instead of more frustration.
Get Out of Your Outfit Rut
I'm never more creative with my outfits than when I pack for a trip. I always pack in only a carry on, and the options for mixing and matching such a small collection become even more obvious.
Last summer we had to completely move out of our house for five weeks while repairs from a water leak were being done. I only took 7 tops, 5 bottoms, 1 dress, 2 pairs of shoes, and some swimsuits. I mixed and matched those pieces over and over in ways I never had.
The creative juices start flowing and the possibilities become obvious when you narrow down the options. Instead of reaching for the same bottoms to go with that same top AGAIN, other combinations become more obvious, and new favorite outfits are born!
Sometimes it's not that you don't like an item, but you aren't sure how to wear it in a way you'll love. Not everyone is a mix and match dresser/shopper like I am. A lot of women are outfit shoppers. They purchase entire outfits and only wear those pieces together. With the Stunning Style Wardrobe Guides, you get 100 outfit templates to give you inspiration for how to wear pieces you probably already own in different ways. You're going to see what that's like with the Shop Your Closet Challenge.
Are You Ready To Create A Classic-Style Wardrobe That Makes You Feel Amazing?
The Stunning Style Society Membership is Your Done-For-You Solution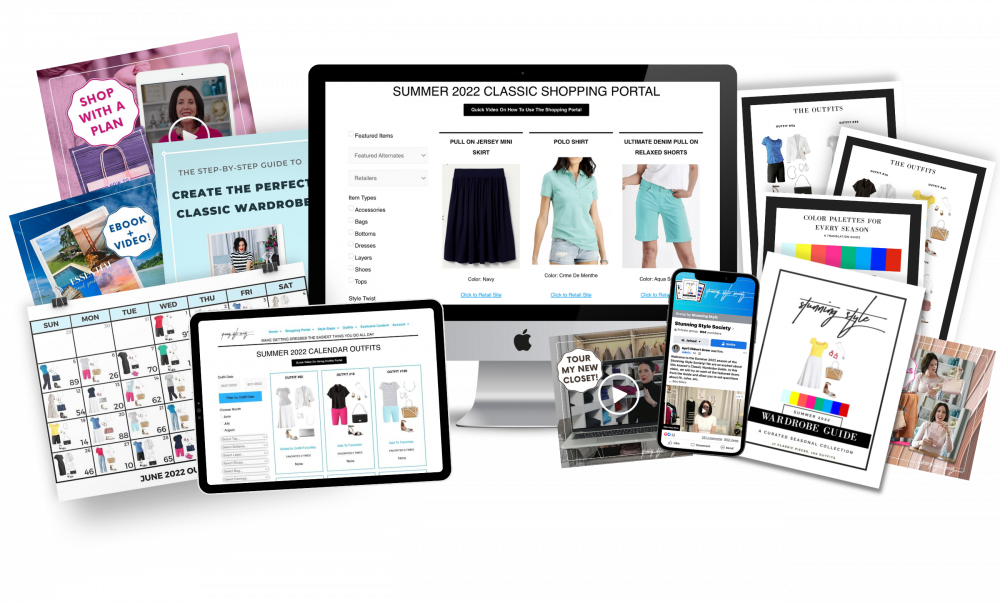 Purging Becomes Effortless
If you're anything like me, you're always looking for ways to clean out your wardrobe. Shopping your closet gives you opportunities to wear items you've ignored or forgotten. As each one comes off the hanger and you try it on, or even wear it for the day, focus on how you feel in it. Do you like it? Do you look forward to wearing it again? If the answer is no, instead of putting it back on the hanger and ignoring it for another year (or 5), put it in the discard box.
If you love it, then it goes back in the rack. Suddenly purging your closet becomes an effortless task that happens one day and one item at a time instead of a dreaded chore that overwhelms you so much you shut down every time you consider getting started.
It's Easy to Get Organized
As you work your way through your closet and release the items you don't love, discover buried treasure, and refine your wardrobe, you can put back the things you choose to keep in a way that keeps your closet organized. One of the annual member bonuses in the Stunning Style Society is a tour of my new closet and organization tips so you can see how I've done it.
It's easy to get excited and pull your closet apart to reorganize, but that can also be frustrating. Moving things one piece at a time can be more doable. Parting with items you don't love makes room to organize the things you do love, and because you can now see what you have, it's easier to know how you want to organize things.
Having an organized closet saves so much time because I know exactly where everything is, and I can go right to it without having to sort through every single hanger.
Develop an Abundance Mindset
If this sounds a little woo woo to you, stick with me. When everything fell apart a couple years ago, the news was full of scenes of people fighting in the aisles over toilet paper, hoarding masks, and empty store shelves. The world was huddled in fear and our minds were focused on scarcity. "There's not enough," was repeated over and over again.
That's not where those thoughts started. That mindset was already adopted by many. Our grandparents lived through that during the great Depression, and it stayed with them for the rest of their lives. They held onto everything, whether they wanted it or not, and wasted nothing, even if it was waste. The world would be a better place if we were all smarter with our resources, but when we approach it from a scarcity mindset, it's based on fear, and we don't necessarily make better choices.
When you shop your closet you will be reminded that you have enough. There may be things you would like to add, but you aren't going without. You won't be naked and destitute. It keeps you in that abundance mentality, which keeps more abundance coming to you. When you are content and coming from a place of safety, you'll feel more satisfaction with what you have. The benefits of that go way beyond your closet.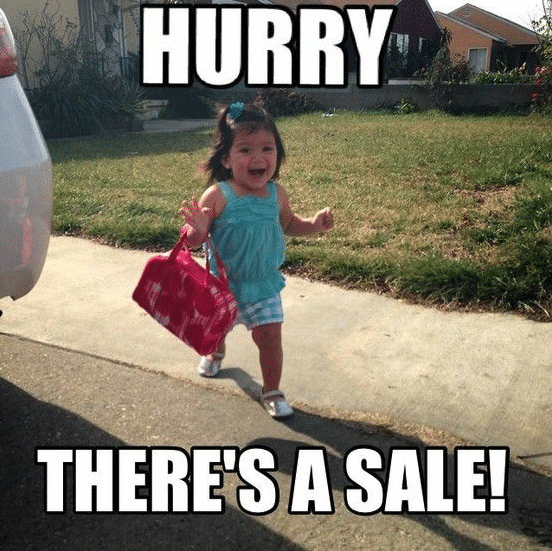 How many times have you come home with a new top to realize you have three others just like it you'd forgotten about? Do you keep buying more things trying to make your wardrobe work together because you don't really know what you do…and don't…have to create a functional wardrobe? Do the styles in your closet vary so much it looks like ten women share it? Is your closet a graveyard haunted by the ghosts of shopping mistakes past and their fluttering tags whispering of your failures? Can you even see what's in there?
Shopping your closet saves money as you uncover what you have. You'll know you have three black v-neck tees and don't need to buy another, you'll see what you actually have and be able to identify any gaps you need to fill, your style will become more cohesive as you weed out items you don't love, and your shopping mistakes will become fewer.
The abundance mindset also saves money because you don't buy ANYTHING that comes along just to have SOMETHING.
Instead of scouring the internet or the store racks for something new, look in your closet to see if you already have something you love and forgot about. Let the creativity flow as you consider new combinations. Maybe you already have what you need and can save yourself a whole lot of time.
Unless you've had a major life change or weight change, I bet you have more great things in your closet than you realize, and you can save yourself hours and hours by starting with what you already have before you hit the stores. If you still need to shop for something, you'll know exactly what you are looking for, and be much more efficient.
Right now everyone wants to save money, repurpose, reuse. Shopping your closet accomplishes all these goals!
If you love classic style, you will love the Stunning Style Society!
Join the Shop Your Closet Challenge!
Do you love inspiration outfits as much as I do? You're in luck, because the Shop Your Closet Challenge starts tomorrow! For one week only, I'll give you a daily inspiration outfit to take the hassle of deciding what to wear off of your plate – and best of all, it's totally FREE to join! This challenge is always SO much fun for the community, and I can't wait to see how you take these outfits and make them your own!