"I love the idea of the Guides, but I'm not edgy like you, so I don't know if they will work for me." I've gotten this email in a dozen variations since I first launched, and I get why. On my website all they see are pictures of my version of these outfits, but they're intrigued by the convenience of a capsule wardrobe and having it all done for them.
They've taken my Classic Style Twist Quiz. They've poked around on my website and read about the Classic Style Twists. Maybe they've joined my free Facebook group and seen the outfits shared by members of the Society, or they've participated in the free weekly Shop Your Closet challenge. And now they are wondering how the members are personalizing the Wardrobe Guides to match their Twists.
And many of you have purchased the Wardrobe Guides and wonder how to get the most from them. I'm going to walk you through the experience so you can see how to use the Stunning Style Wardrobe Guides to personalize their Classic Style Twists. Each of your outfits will be so YOU!
What is the Stunning Style Wardrobe Guide?
Each seasonal Guide includes a curated capsule collection of 30+ classic pieces, all the shopping links labeled according to Classic Style Twist, and 100 outfit combinations! As a member of the Society, each season you will receive a new Guide, delivered to your inbox, including the current season's Guide immediately.
In the private membership site you receive a monthly calendar with an outfit of the day, so you don't even have to choose your outfit! It also includes exclusive articles to show you how to incorporate your Classic Style Twist, a shopping index (sorted 4 ways!), and more! There is also an exclusive Facebook group where you get access to me, unboxings of my latest shopping finds, makeup tutorials, style and shopping tips, and outfit inspiration from the Stunners as we share our interpretation of the outfits!
Each season I carry over items and colors from Guide to Guide as I can. I have to be able to find a similar item to link to for the current Guide, but I always have repeats. The purpose of these Guides is to help you build a year-round capsule wardrobe that you can use and wear and mix and match for seasons and years to come. I'm not filling your closet with one-season wonders. With the Style Twists, I'm helping you customize it to suit you perfectly.
Have you taken the Classic Style Twist Quiz? Try it below!
After you take the quiz, which is meant to give you some ideas of the styles you might prefer, you can read about the different Classic Style Twists and see if they resonate with you. I am a Minimal/Edgy/Sporty Classic. There is nothing Soft or Cute about me. Maybe it's the chaotic season of my life, or maybe it's a continual refinement of my own style, but I've been leaning even more heavily into the Minimal. My personal style still shines through in the details (more about that below. After you read about the different Twists and get an idea of what you are drawn to, versus what you THINK you SHOULD be drawn to, that's a good start.
When you get your Guide, it comes with a shopping index with all the shopping links sorted by brand, item, item type and Style Twist, and a catalog. Each item has multiple options,
The first step is to shop your closet. What do you have that is similar to what's in the Guide? Maybe you don't have a navy and white striped skirt, but you have a navy and white striped top. If you don't have a turquoise jacket, maybe you have a sweater or shoes. You don't have to use the colors or patterns in the same place I use them in the outfits. Of course you can copy the outfits exactly, but you can also mix it up based on what you have.
As you shop your closet, look for those details that bring in your Twists. Do you see them in your closet already? They are the perfect way to bring in the details that will make your wardrobe uniquely you.
Once you've pulled the items you already own, put them at the front of your closet where you can see them together and find them easily. Don't get hung up on the idea that you have to purge your wardrobe right now. That can come later. Or never. Just because it's not in the Guide doesn't mean you can't or won't wear it.
If you find there are items you are missing and you want to do some shopping, you can click on the links to buy those items, or to get inspiration for the details to look for as you shop your own closet or shop secondhand. I personally love to shop on Poshmark (check out my post about how to shop Poshmark here!) and eBay to find just the thing I want, but I also shop retail as well.
Some of the members love to thrift, and others love the convenience of having the links right there so they can click, click, buy exactly what they need. ALL of the members love that the items are so classic that they already own much of what is listed, and that I carry items over from season to season so they get maximum use out of their closets.
So for me the order or shopping is: shop my closet first. Shop the links. Shop Poshmark/eBay, shop retail. For you it might be shop your closet first, then thrifting and then the links. It's different for every person.
Now that you have your items, you can start wearing outfits! One of the Membership benefits is a monthly calendar telling you exactly which outfit to wear on which day, and it's one of their favorite perks! If that day (or every day) you are busy, in a hurry, overwhelmed or just don't want to fool with picking from the 100 outfits I include in the Guide, then I've already picked an outfit for you to wear on that day! It's that easy. Look at the picture and get dressed. This also helps you cycle through all the outfits in a season and really have some variety.
Some members like to print the outfits and make style cards to refer to. I upload a printable version just in case that's what you want. I usually look at my Guide on my phone, but I printed it this season, and I'm hooked! In the Stunning Style Society Facebook Group (which is exclusive to members), many members share their daily outfits and how they've mixed it up based on their Style Twists and what's in their closets! No two outfits look alike, even though the inspiration is the same.
For this outfit Lori went more Sporty Classic, and chose a blue skirt instead of the pants, sneakers instead of wedges. I subbed in a denim jacket, stabbier jewelry and striped flats. My tee has a crochet pattern in an angular shape to bring in more edgy. I shopped my closet for everything but the pants, which I couldn't pass up. I love this color!
Julie subbed in a striped tee, and chose a blue cardigan instead of a blue top. She also chose booties instead of the pink wedges. I turned the outfit upside down and wore the turquoise in my skirt for church. I subbed in a metallic navy moto jacket for the trench, navy snakeskin heels for the pink sandals, and a navy quilted purse instead of silver. I shopped my closed for the whole outfit.
Here is what that looks like for me
Now it's time to personalize each outfit so it reflects who you are. As I shop and as I get dressed, I get my Minimal Classic in the tailored cut of my clothes, the fairly neutral color palette I gravitate toward, the minimal pattern (I lean toward solids, stripes, or tone on tone patterns most of the time), and the amount of jewelry I wear.
The edgy details I look for are exposed zippers, angular shaped studs (nothing round), geometric patterns and shapes, stabby jewelry, leather trim, chain details, notches, pointy things, moto details, texture, snake skin and leopard prints. You can read more about how to dress Edgy Classic here.
For the sporty side I'm drawn to moccasins, boat shoes, nautical details like Breton tees, utility jackets, sneakers, crossbody bags, and fabrics I can move in. You can read more about how to dress Sporty Classic here.
The quantity of detail I add in is based on the order of my preferences. I'm always Minimal first. My basic outfit is usually pretty minimal. Next is Edgy, and I need some of it every day. Some days I need more, others I need less. And then depending on my mood, some Sporty could come into play. I tend to bring these Edgy and Sporty details in with my accessories: jewelry, shoes, and outerwear.
My need also depends on the season. I need more Edgy details in the summer because it's hard to get them in summer clothes. We wear less clothing, they are inherently light and airy, and I'm neither of those things. I need more grit and substance to ground my outfits in the summer.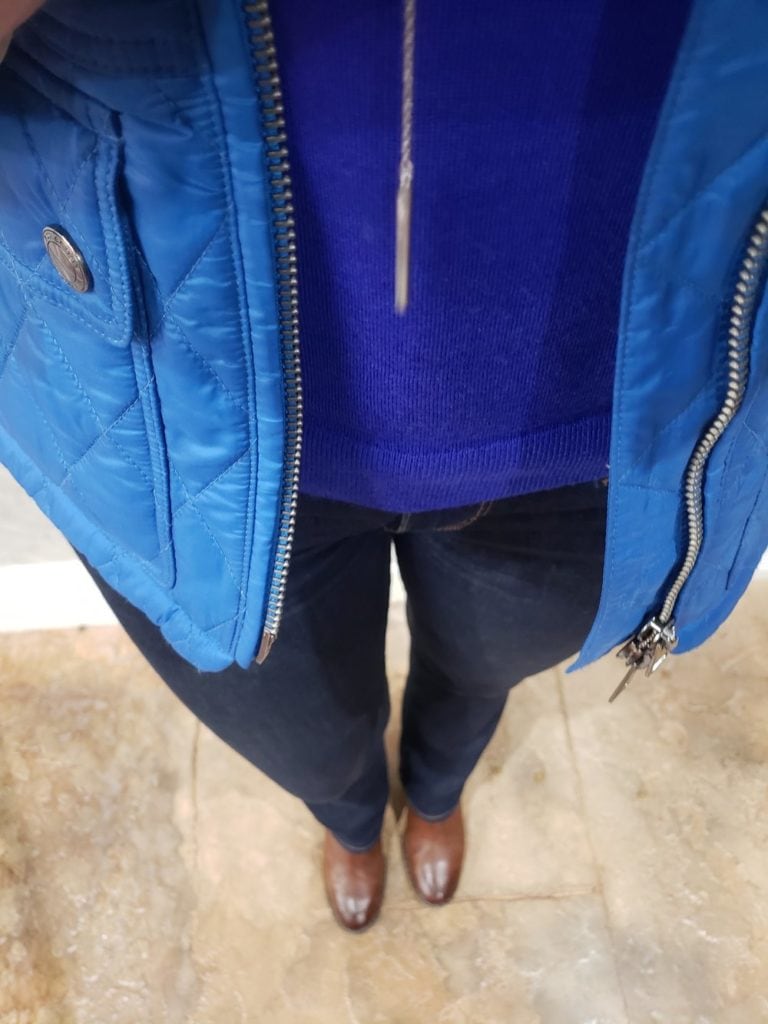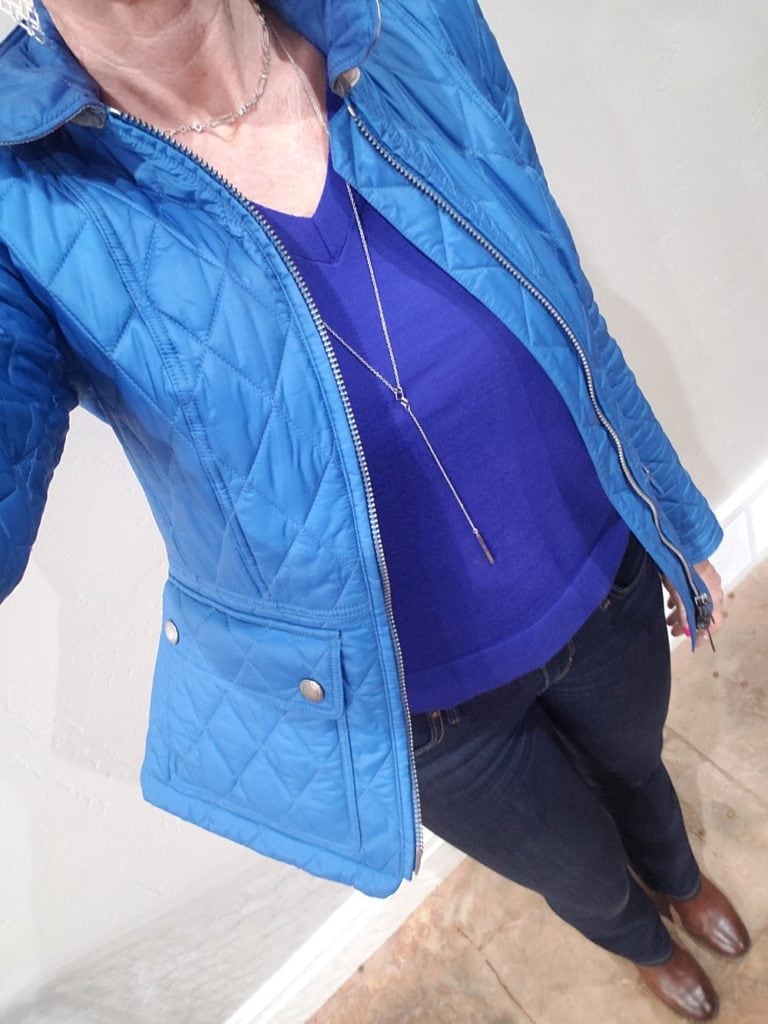 In this outfit I got my classic in the tailored fit of my clothes, the minimal color palette (a gradient of blues plus brown leather), and the long necklace. The edgy came in with the quilting on the jacket and the zipper detail (these jackets often have big round buttons which are definitely NOT edgy), the studs on my boots, and the stabby earrings, the angular shorter necklace, as well as my quilted purse with a chain strap (not pictured).
With this outfit the minimal again comes in with the tailored cut of my clothes, the minimal color palette (a gradient of blues plus white and brown leather), and the striped pattern. The edgy comes in with the hammered texture of my necklace, the stabby earrings, the quilting on the jacket and the zipper detail (these jackets often have big round buttons which are definitely NOT edgy), the studs on my boots, the crocodile texture on my belt, as well as my quilted purse with a chain strap (not pictured).
None of the edgy details are very overt. You wouldn't clutch your purse are start walking faster if you met me in a dark alley, but there is a subtle message there that I have sharp edges, and those details are mostly in my accessories.
How would that look for you?
Well that would depend on your own Twist. You might love a peplum top or a flared sleeve. You could bring in a floral or polka dots. Perhaps you feel more comfortable if you add in a looser fitting item to soften the look. The beauty of the Guides is they are 100% customizable. You can use them as a template to create your own look, or stick to the minimal look of the Guide as it is. In the end you will develop your own personal style, and every outfit will be so YOU!
ARE YOU READY FOR SOME CLASSIC STYLE INSPIRATION?
If you've been nodding along with this article, you're a woman with classic style. Check out these posts  to find more style inspiration. Or take our Classic Style Twist quiz here, and then read about the different Twists here to learn how to bring your own personality type through while still embracing classic style.
Have you joined my FREE Facebook group? Classic Capsule Conversations is the perfect place to discuss capsule wardrobes and classic clothing style with a community of like-minded women!
Did you enjoy this post? Subscribe to my blog! Do you have a friend who would enjoy my style inspiration? Please share! Email, Pinterest, Stumble, Facebook, and Google+ are all great places, and the icons to share are all over the page.
This post contains affiliate links, which means if you purchase through my links I get a small commission, but it doesn't cost you anything extra. Thanks for supporting my blog.