1 inspiration outfit, 14 ways to style it
The Problem with Pinterest
"Oh I LOVE THAT!" I shriek (on the inside) and pin the outfit to my inspiration board. And then I add those exact items to my shopping list. Wait, what?! Nope. Not anymore.
That's what trolling Pinterest for inspiration outfits used to look like for me. I'm a very black and white, literal person. If I want to recreate that outfit, I must have the EXACT SAME ITEMS, at least, that's what I used to think.
Inspiration outfits are a great way to get new ideas so you can create your own effortless style without having to start from scratch. Nothing gets my creative juices going like a starting point, something to edit, and Pinterest  and Instagram are great places to get inspiration outfits.
The trouble was, my Pinterest boards were full of outfits I couldn't recreate exactly, and my budget and my closet couldn't sustain the kind of shopping required to acquire everything for every outfit. What's an inspired girl to do? Figure out a different plan, and it's actually way, way better.
Think outside the box when you shop your closet
Inspiration outfits inspire us for a reason: the style speaks to us. But if we don't copy them exactly, are we going to get the look we love? You can with a few tips! The best part is, the inspiration outfit will look like you instead of someone else, and that's part of effortless style.
Part of my Pinterest problem was I hadn't figured out my signature style, so I was searching and trying on other people's style, and my inspiration board was very eclectic and very…not me. Or maybe part of the outfit was very me, and part of it wasn't. On top of that, what looks good on one body or coloring doesn't flatter another, and the results of an exact duplicate can be disappointing on that front as well.
Now that I know exactly what I love and what suits me, it's rare I see an outfit I would copy exactly. Instead of trying to recreate the outfit exactly, now the first thing I do is shop my closet and come up with something perfectly me. And by starting with inspiration, I can create effortless style outfits…effortlessly!
Many style bloggers have a revolving closet door, constantly bringing in new pieces to style, but I don't. It doesn't appeal to me at all because I'm so content with my wardrobe. Even though I create the Classic Wardrobe Guide every season, the truth is, I don't have all the pieces from them.
Sometimes there are items I LOVE and want, but if it doesn't fit my clothing budget, I pass on them. We talk about this at length in the Stunning Style Society as part of the Style Steps. I always advocate shopping your closet before hitting the stores, and I do the same thing myself!
Because all the outfits and pieces in the Guide are Minimal Classic, they can be copied exactly or used as a template. In the shopping portal, each item includes links to extra options categorized by Classic Style Twist, so everyone can get their custom look instead of looking like a clone.
Whether your inspiration comes from an outfit on Pinterest or one of the Stunning Style Wardrobe Guides, these tips to shop your closet will help you get a look that is perfect for you. To show you how versatile an inspiration outfit can be, I'm recreating the same outfit X ways by incorporating these tips.
8 TIPS to restyle AN INSPIRATION OUTFIT
As a work-from-home mom of six kids and a dog, most of my lifestyle is casual, but sometimes I get to dress up, like for church on Sundays or date nights with my husband. I still use the Outfit Calendars to inspire me.
One question I get a lot is, "Will this work for me? I need to dress up more for work." It can! Many of our stunners dress up the inspiration outfits, and as we go through the Style Steps each week, I include examples for both casual and dressy.
I could have switched the blue jeans for a navy skirt, kept the red sweater and trench coat or traded for a blazer or other dressy jacket. The flats work for dressy or casual, but heels would dress it up even more. Instead I chose a red dress, wore a black trench, and paired it with leopard heels and leopard bag. The substitutions can be one-for-one, or you can get more creative.
2. Something old can feel new
I actually own something nearly identical to everything in this outfit, and I have worn, and worn, and worn this red sweater so many times and so many ways I was starting to wonder if I could come up with a fresh way to wear it…and I did.
By taking inspiration from the brown bag and pairing this sweater with dark brown espresso-colored cords, the sweater feels so new and perfect for fall, even though I shopped my closet for everything I'm wearing.
Finding a new way to wear an old favorite can make it feel fresh again, and that's as satisfying as bringing something new into your wardrobe. Or maybe even better because it saves you money, closet space, mental space, and it exercises that creative muscle, which is so satisfying.
It's one of the benefits I hear about from members of the Society when they shop their closets for the inspiration outfits from the monthly calendars. "I've had this for years and never thought of wearing it this way!"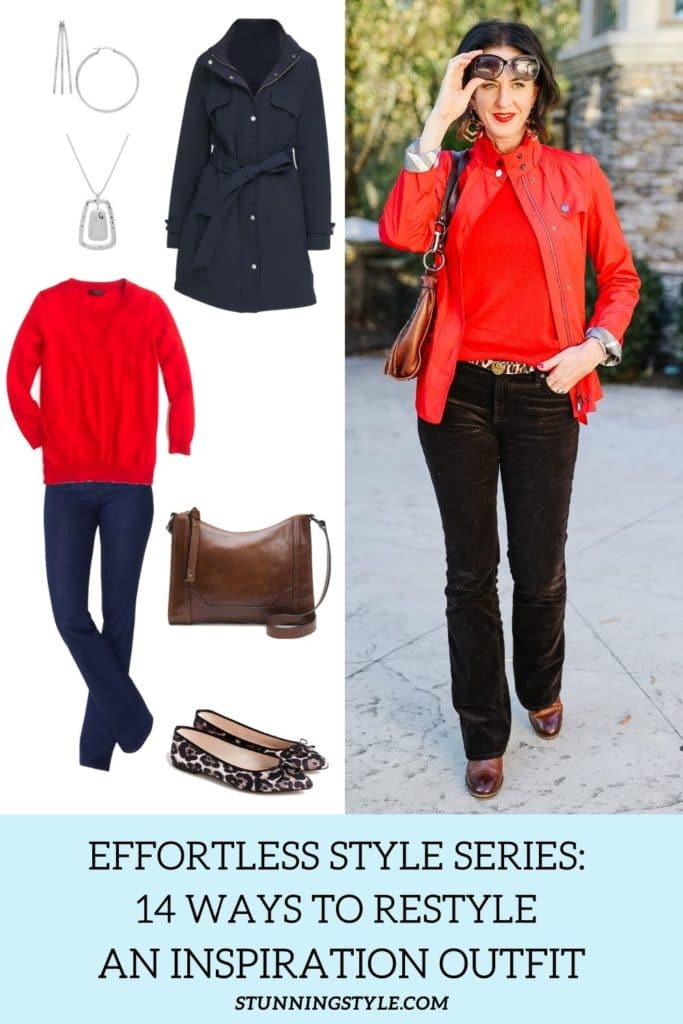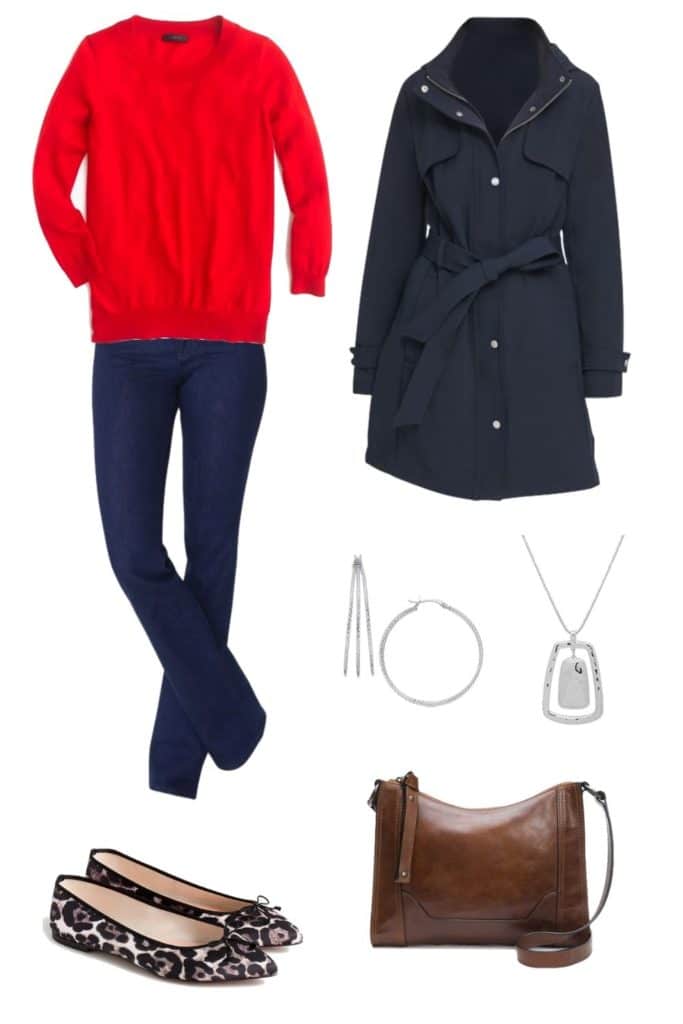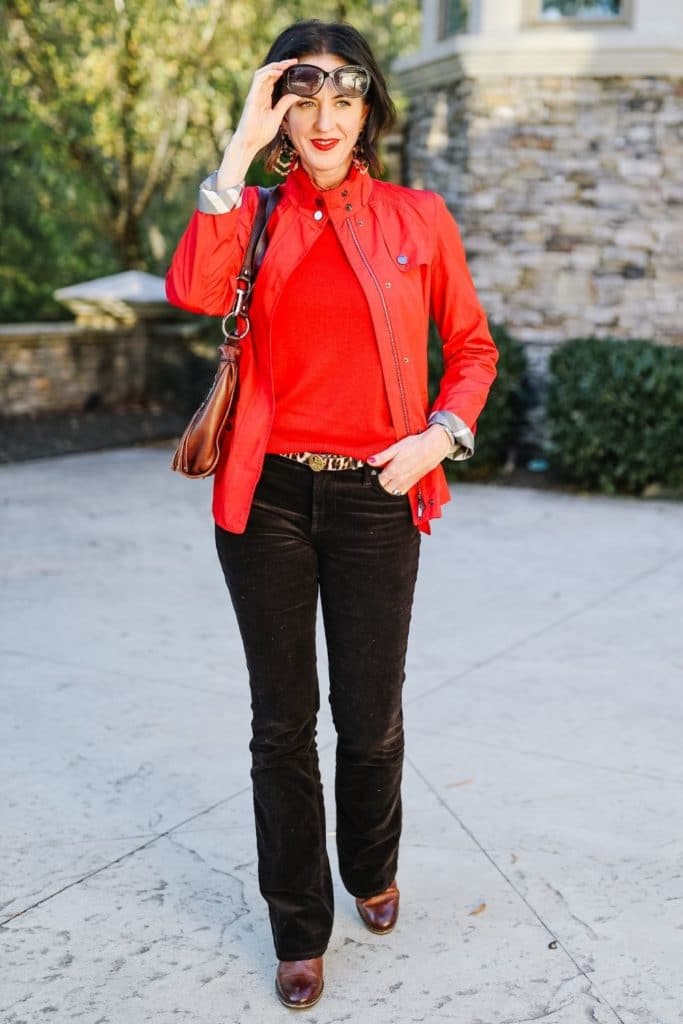 After black, white, and blue, which are the core colors in my closet, red is my very most favorite color, and I always feel comfortable and confident in it. But sometimes, my body and brain need a break from everything, including color.
As much as I love and wear this red sweater, there are days I need to control the volume on my body. Keeping with the core elements in this outfit, I moved all the red to my shoes and bag. Small doses, and honestly, how much of the day am I holding the bag? Not much. Just enough color to keep the elements.
I'm still wearing a sweater, dark wash jeans, the navy and red color palette, and a little bit of pattern on my shoes, but I've turned the volume down.
While I love this sweater with all the heart eyes, I also love a mock neck half-sleeve top, and on this day, that's what I wanted. This is a nearly identical version of this outfit, but I chose a different style of sweater.
4. BYOT (Bring Your Own Twist)
While I'm always Minimal Classic first, I always need some edge in my outfit or I feel too tame. Too buttoned up. And that means adding my Classic Style Twists.
I took the same colors from the inspiration outfit and chose items from my wardrobe that bring my edgy style, like the moto jacket, my studded bag and boots, and my stabby jewelry. In the shopping portal, for every featured item, I include 5-10 alternate items for the Classic Style Twists so you don't have to find the items with the unique details that tell your style story.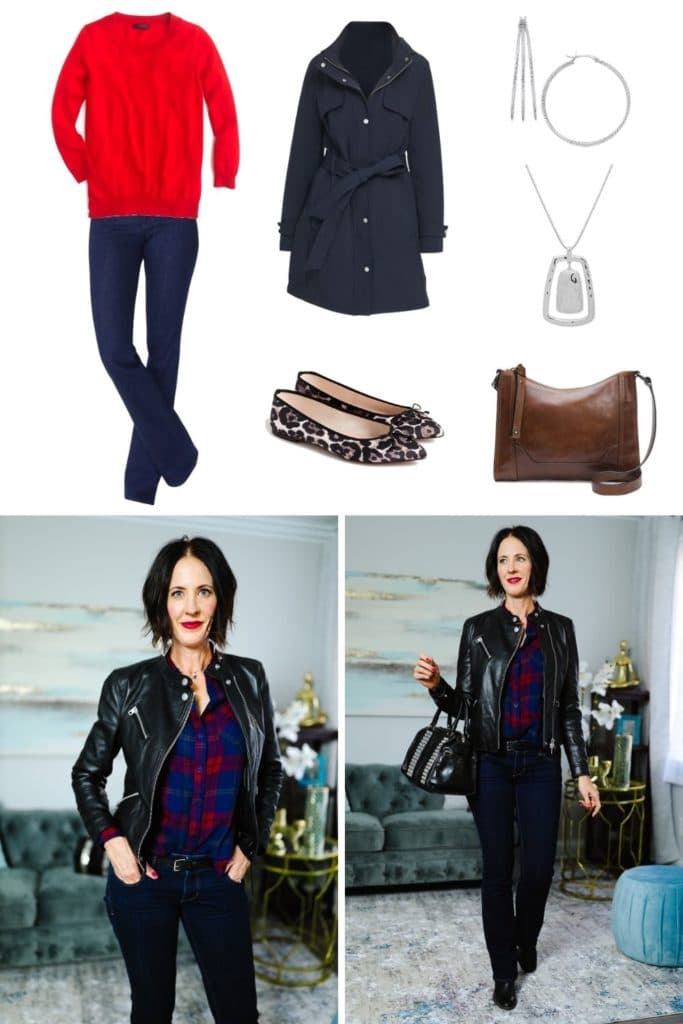 Ever since I learned how to build a capsule wardrobe, I've been curating my capsule wardrobe essentials. I typically have something similar, or close enough, to what is featured in the Classic Wardrobe Guides that I really love, and I wear that instead. These are pieces that reflect my Classic Style Twists, and they are the key dressing in my signature style. Each season I only buy a few items to update my capsule closet.
Another way I recreated this outfit, and dressed it up, was to bring the leopard pattern in as a blouse, add a skirt and heels, and incorporate the red with my bag.
Maybe the leopard pattern in this outfit isn't for you. Does that mean you can't recreate this outfit? Definitely not! Pick any pattern you love and substitute it in, whether it's in the shoe or you move it up to your sweater, like I did with this chevron sweater.
I can never go wrong with stripes, so substituting for my never-fail pattern is always a great option. Everything else in the outfit remains, the color palette, a pattern, and the basic formula of the outfit of sweater, jeans, flats, and structured bag.
In this date-night outfit, the diamond pattern replaces the leopard. The only red is my lipstick, and the navy in the dress is inspired by the navy in the dark wash jeans and trench. Instead of brown as a neutral, I pulled inspiration from the silver jewelry to bring in silver shoes and clutch.
Keeping the elements of color palette, pattern, and balance in mind, you can rearrange them to re-create an inspiration outfit.
I love this deep, dark, cool chocolate brown top and wanted to wear it, so I rearranged this inspiration outfit. Instead of the leopard flats and brown bag, I wore the brown top, stuck to the dark wash jeans, and moved the red into my shoes and bag. The diamond pattern on my shoes took the place of the leopard in the shoes.
Bringing the denim up to my top, keeping the pants dark, moving the red to my bag, and keeping the leopard in my shoes is another way to mix this up.
One of the Style Steps we covered this season was how to substitute for a color you may not have or want in your closet. As much as I love red, not everyone does. What if you love all the elements in this outfit except the red?
It's as easy as spinning the wheel and choosing your favorite! You can go with something in the same color family but different, like a different version of red, or a tertiary color that has red as a base, like this burgundy top.
I'm still wearing the dark wash jeans, the brown bag and the leopard flats, but I changed the color of the top to one I wanted.
You can choose another color altogether as well. This green sweater is identical in style to the red one, but completely opposite on the color wheel.
The neutral colors in the outfit are also changeable. In this outfit I 1) dressed it up 2) changed the pattern to houndstooth 3) shuffled the outfit and moved the pattern to my skirt and the red to my lips 4) brought in my Edgy Classic Style Twist 5) breathed new life into an old favorite (the black turtleneck I've worn on repeat) 6) matched my mood by sticking to neutrals 7) changed the neutrals from navy and brown to black and white.
Animal print is a big trend this season, and not every animal print is for me. I love leopard most, and the golden tones it typically comes in is not going to do me any favors! So how do I wear it without looking like I ate something that had long since passed its best by date? By rethinking it so it suits me.
Not all leopard prints have golden undertones, and I've found the version that goes great with my complexion. It's not easy to find, but this cool-toned leopard print is perfect for me.
What do you do when you see an inspiration outfit? Do you hit the stores or shop your closet?
Winter Shop Your Closet Challenge is Starting!
We are beginning a shop your closet challenge on Monday (but the first outfit will be published today!). Each evening in the Capsule Wardrobes for Classic Style Facebook group I'll share an inspiration outfit, and using these tips, you shop your closet to recreate your version of them. The first outfit will be released on Sunday evening, November 8 so you have time to put together your outfit for the next day.
I'll be doing a giveaway of a $100 Kendra Scott gift card at the end of the challenge. Every outfit you share in the group is an entry in the giveaway, so don't forget to share in the group!
THE WINTER WARDROBE GUIDE IS COMING SOON!
You've been asking, and now I'm sharing! The Winter Wardrobe Guide is launching in a few weeks! Learn more here and join the waitlist below to be the first to know when it's available!
Check Out the rest of this Series