Trends don't have to knock you off your style game if you know these tips
Style is a language we can use to tell the world who we are, what to expect from us, how to approach and treat us, and introduce ourselves without saying a word. Just like a picture is worth a thousand words, so is your appearance. You are a walking billboard, and you are making a statement to the world.
Sounds great, right?! So if you just find your style, you can communicate through your appearance. But there is just one problem: trends. They come at us fast and hard and constantly. What was so in yesterday is so out today.
How do you find your style and communicate if you're constantly trying to decode a language, that's always changing? How do you become fluent when it is ever-evolving?
Navigating the grammar of trends can be disheartening at best, and crushing at worst. Just when you think you've achieved eloquence, you suddenly sound like you were raised in a barn. Just when you thought you had the conjugations right, it's suddenly all wrong. Why bother? It's too much work, and if you always feel like you're behind, it can be tempting to give up.
Navigating the trends doesn't have to be a headache if you know a few key things, and you will speak like a native in no time.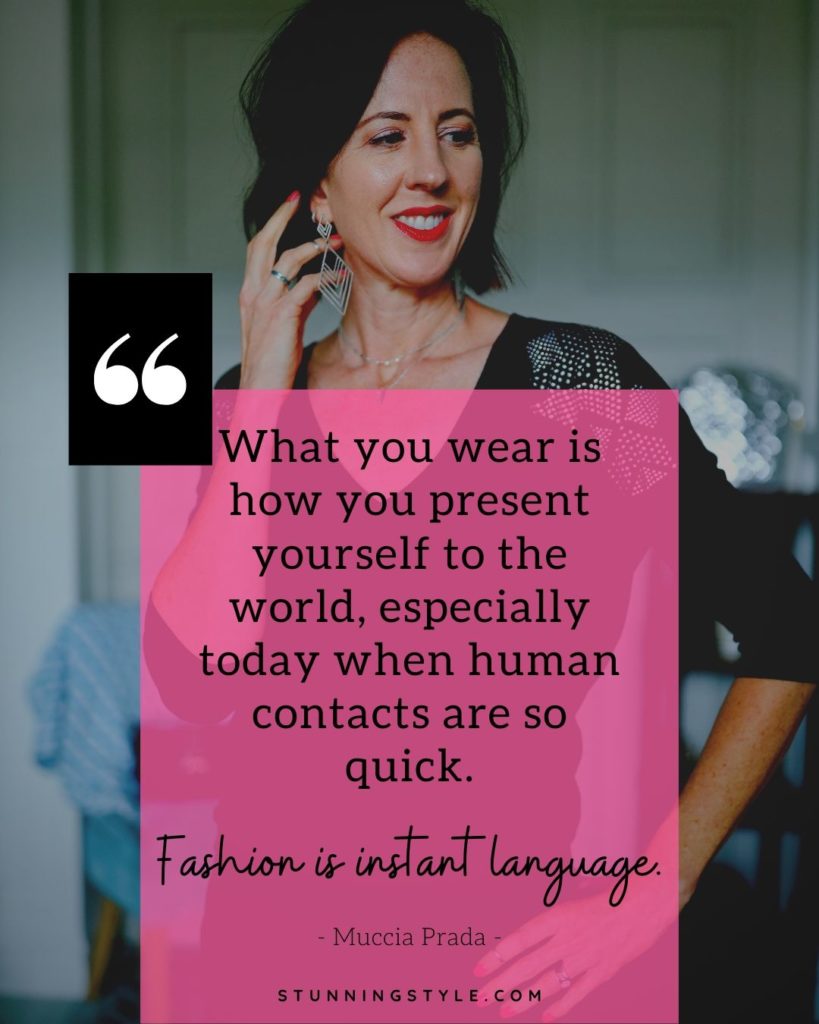 Each season we get a rundown of the trends, and they are pushed on us from every direction. The store shelves are filled with them. The magazines are promoting them. Social media is glorifying them. Suddenly we find ourselves freed from the oppression of last season's trends (that "they" were hailing a few months ago) by this season's trends (that "they" will be gagging over next season). The messages range from conflicting to downright contradictory.
How on earth are you to navigate the trends when the rules change with the whims of designers? By knowing your own style. Because I know exactly what elements I love and don't, I can look at a trend and say yes, no, or maybe without hesitation.
To Thine Own Self Be True
The truth that no one tells you is that anything you truly love, that truly suits you, is in style. It's in YOUR style. When you wear what you love and what suits you, you automatically feel confident, and it just looks right!
Wearing something completely on-trend that doesn't suit you will never look right. Even if your look is on-point, it will look…wrong. Have you heard someone say the dress is wearing her? That's what happens when you wear a trend that doesn't suit you.
When you feel uncomfortable, it shows, and the outfit doesn't look right, no matter how trendy it is. But when you love what you are wearing, you can't help but feel confident, and it shows. Confidence is everything, as Regina George taught us.
The point isn't to be trendy, which anyone can be, it's to be stylish. And style is all about YOU. Embracing the trends that fit into your style can help it evolve and stay modern and updated, but it's essential that you be very selective about what you adopt into your wardrobe.
"Style is very personal. It has nothing to do with fashion. Fashion is over quickly, style is forever" – Ralph Lauren
Know Thyself, Know Thy Style
When you know your preferences, your loves, your loathes, your likes, your dislikes, and you can identify them down to the core details and WHY, then you will know your style. I can pick up almost any item in any store and tell you whether I will love it or hate it and, most importantly, WHY.
That doesn't mean I never try anything new. I definitely do. Nothing thrills me more than to find something new I love, but I can tell you pretty quickly whether it will work for me because I know the basic elements of my style.
Not only that, but some trends shouldn't be trends at all. Let's talk about pants, shall we? They go through slower evolutions than other things, but in the last twenty years we went from bootcut to adding bling to your bottom, missing back pockets, then super low rise that exposed your underwear. Colored jeans came on the scene, we transitioned to boyfriend jeans to skinny mid-rise to skinny high-rise with a brief intermission to girlfriend jeans which gave rise to ultra high-rise mom jeans and now we are shifting to super high rise bootcut and flare.
But here's the thing: no matter what is trending, high rise jeans don't fit me. I'm super short-waisted, and even mid-rise jeans come well past my belly button and sit uncomfortably on my ribs. Because they don't hit my body where they should, there is also a huge gap in the back of my pants where I could carry a sack lunch.
What is low rise on someone else fits me as a mid-rise, which is perfect. Someone who is long-waisted wouldn't be able to sit down in my jeans without exposing everything.
Skinny jeans don't flatter my body type, while they look great on others. Bootcut are universally flattering, but are especially flattering to me.
So while it is very convenient that bootcut jeans are back in a big way, the super high rise doesn't work for me, unless I want to wear those jeans as a jumpsuit, because they come up to my armpits.
So no matter what is trending, the perfect jeans for me are a 9.5 inch front rise and bootcut.
When it comes to trends, you basically have 3 options: embrace it, reject it, or adapt it.
Animal print has been everywhere the last year, and I had been missing leopard print after I let others tell me I shouldn't wear it. Not every leopard print is for me, so I found the type that is perfect for me based on the elements I love. I can't get enough of it, and I collect it obsessively.
Back to the knowing myself point, there are limits on how much of any pattern I feel comfortable wearing, so I will never buy leopard pants, for example. I typically prefer my leopard to be neutral, so cobalt leopard is probably not for me.
And when leopard is no longer everything in the fashion world? I'll still be wearing it because I love it.
Puffy sleeves are a hard no for me. I need my clothes to be streamlined, tailored, and not likely to make me airborne. Not to mention the gathers and pleating inherent to the style are way too Cute Classic for me. There is no adaptation of that trend I'd be willing to wear, and because I know these things about my style and myself, it's easy to pass, no matter how cute it is on others.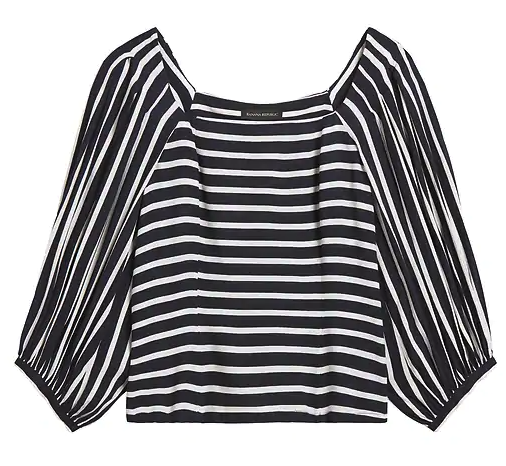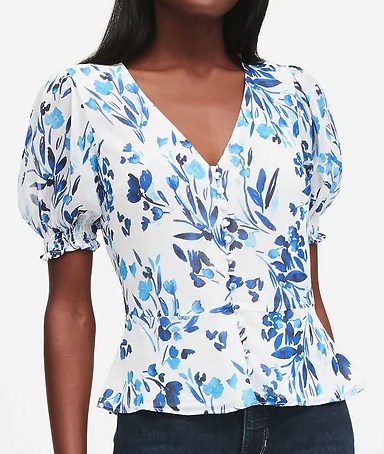 Jumpsuits have been trending for a while, and if you've been around a while, you know I tried one last year. Even in the fitting room I was justifying my purchase to my best friend (who was with me) because we both knew it wasn't me. I bought it anyway because I loved the idea of the trend. I wore it once and hated every moment.
It's droopy in the front, the fabric around the legs is floppy and swooshy. The belt was so long I could have bandaged my whole body, and it was swinging everywhere ready to trip me. That much pattern is a no-go for me. Going to the bathroom was so complicated because I had to undo the belt and the pin that was keeping the front together, and then stripping completely to empty my bladder was too much. I never should have bought it, and I KNEW THAT when I did.
Now I've taken the idea behind the jumpsuit and made my own version that I LOVE. By breaking down the elements of the jumpsuit I am attracted to and recreating those, while eliminating the parts I can't stand, I came up with a lookalike I would wear any day of the week.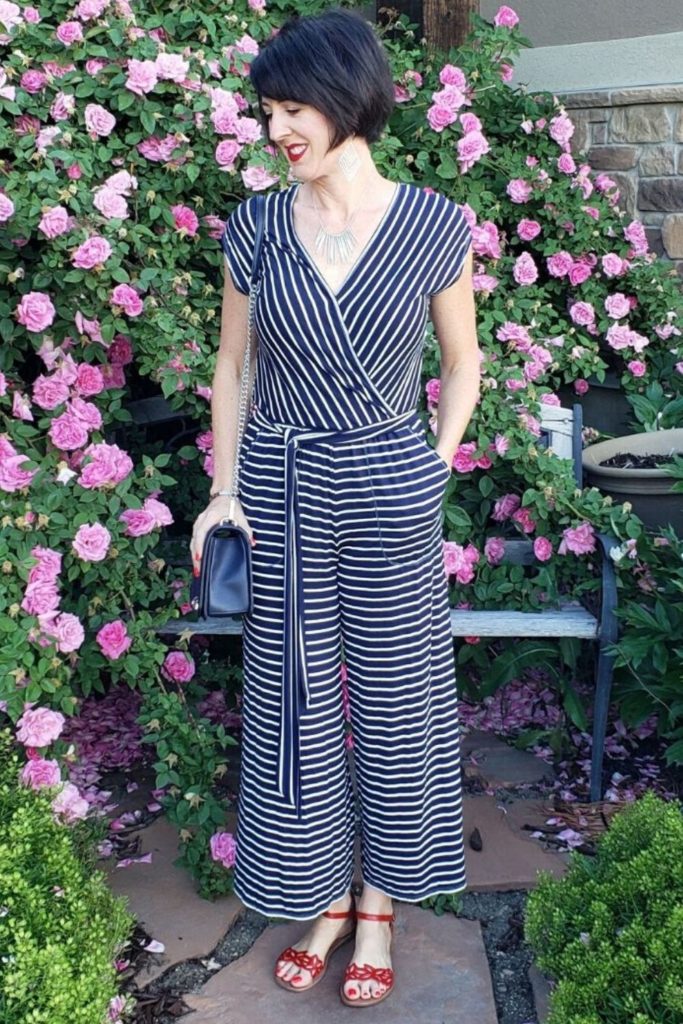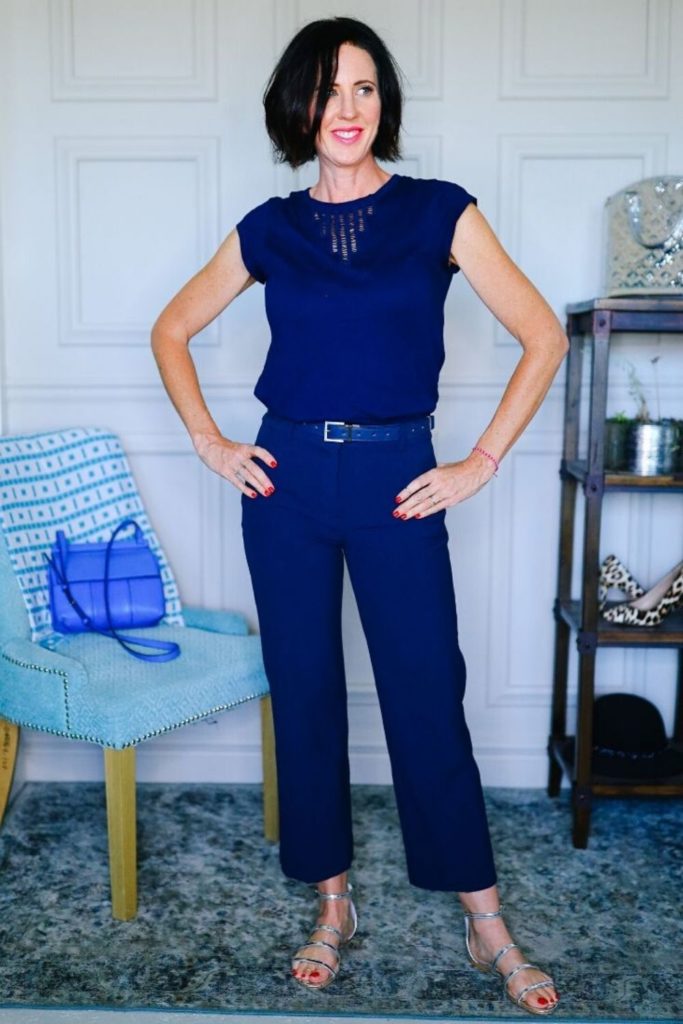 When a Trend You Love Expires
So…you tried a trend and loved it, stocked up, and completely adopted it, but now it's out. Does that mean you dump it? Like I said before, if you love it and it suits you, it's in style. Cobalt blue was super trendy for several years, and it's one of my favorite and best colors. Now that it's not trending, do I give it up? Absolutely not. It's not a trend for me, it's a favorite. I took advantage of the trendy years to stock up on essentials so I can keep wearing it when it's not so easy to find.
Bootcut jeans flatter my figure, and I quit wearing skinny jeans a few years ago when they were still THE THING to wear. Was I out of style? Off trend maybe, but not out of style. There's a difference. Because they suit me, I love them, they flatter me, and I wear them with confidence, they are part of MY style.
Now that bootcut is back, I guess I'm on trend again, but that's irrelevant to me. Does that mean anyone who loved skinny jeans and is still wearing them is out? Only if you were forcing yourself to wear something you hated because it's what was available. But if you love them and they love you, keep wearing them.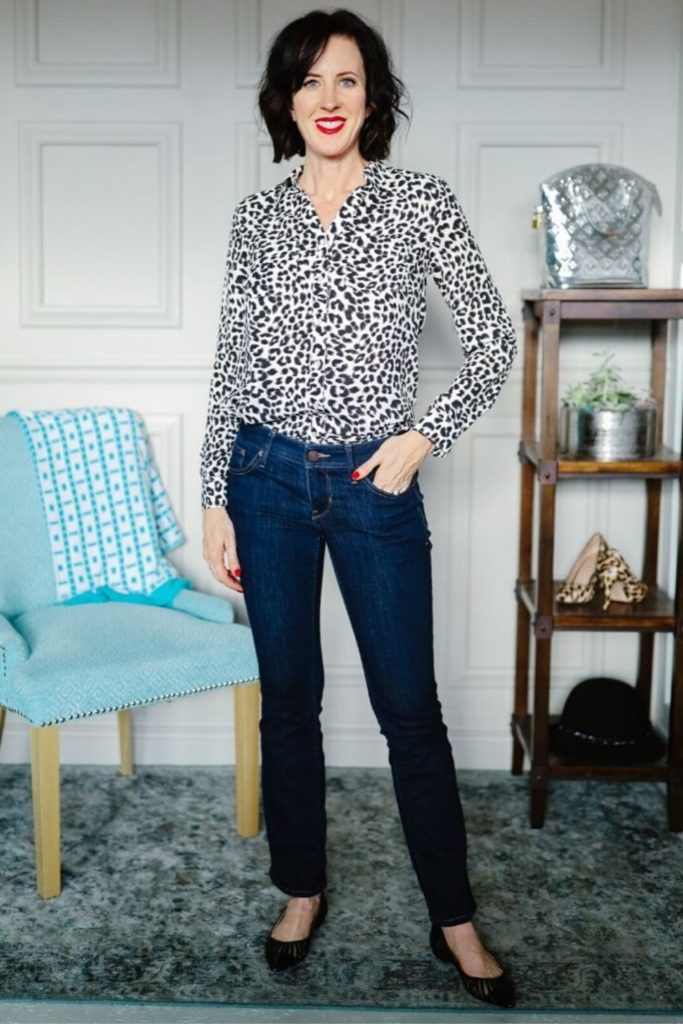 What does your billboard say? Does the world know who you are at a glance?
I have a free masterclass to get you started with figuring out what you do and don't like called "5 Steps to Find the Right Clothes for You." You'll get a free workbook to take you through the steps at your own pace. Once you know your style, it's so easy to define what you love and don't! When you can see WHY you do and don't wear and love certain things, you can write your own style rules and give yourself permission to follow them.