I shop my closet first when I see inspiration outfits
I shop my closet to get a signature look
Inspiration outfits inspire us for a reason: the style speaks to us. Does that mean we have to have the IDENTICAL items to achieve the same look? I used to think so. Every inspiration outfit meant a shopping trip to find EXACTLY the same items. 
Now I know better, and the first thing I do is shop my closet. If I'm drawn to that outfit, it probably suits my style, and that means I likely have similar elements in my wardrobe already. 
Part of the problem was I hadn't figured out my signature style, so I was searching and trying on other people's style, so my wardrobe was very eclectic and very..not me. Now that I know exactly what I love and what suits me, it's rare I see an outfit I would copy exactly, but I can shop my closet for similar items and come up with something perfect for me.
Not sure what your style is? Learn how to customize your classic style with your Style Twist by taking the quiz below. You'll get the best results if you answer what you would wear in a perfect world, with no limitations.
Even though I create seasonal capsule wardrobe guides, the truth is, I don't have all the pieces from them. Sometimes there are items I LOVE and want, but if it doesn't fit my clothing budget, I pass on them. I prefer to mix things up and shop my closet first and create that signature look. I love what I already have, so why would I buy a duplicate?
I always advocate shopping your closet before hitting the stores, and I do the same thing myself! Because all the outfits and pieces in the Guide are Minimal Classic, they can be copied exactly or used as a template. In the shopping index, each item includes links to extra options categorized by Style Twist, so everyone can get their custom look. 
Whether your inspiration comes from an outfit on Pinterest or one of the Stunning Style Wardrobe Guides, these tips to shop your closet will help you get a look that is perfect for you. Here are eight outfits from the current Guide when I shopped my closet.
8 tips I use to shop my closet for an inspiration outfit
1. substitute pants for a skirt or vice versa
Even though I have and love this dress (because I collect turquoise clothes like it's my job), it's at the tailor. I decided to shop my closet and substitute these glorious pants from the Spring Wardrobe Guide. I love that my wardrobe is cohesive from season to season, and nothing is a one-season wonder.
It's easy to dress an outfit up or down by changing pants for skirts and vice versa. If you see a casual look but work in a professional setting, this is an easy swap to make it office-appropriate.
I stuck to the same color palette and swapped the bottom half for a nearly identical look. I traded my navy bag for the tote because it matches my pants perfectly, and…I just had to.
Become A Stunning Style Insider
Make getting dressed the easiest thing you do all day!
I shopped my closet for everything in this outfit, including this denim dress I've had for probably four years, and I love to wear it! A denim shirt dress is as classic as they come. The classic tall boots have been in my closet for years, so I chose them over the ankle bootie. I already have a structured red bag I love, so this was an easy outfit to pull together.
Utility jumpsuits are a big trend this season, and while the bulky, loose fit of those doesn't suit my style, this gives the same vibe with the patch pockets and structured denim. Digging for old favorites in your closet could help you participate in a trend in a way that suits you.
3. Don't forget about your basics
This leopard blouse is the special item in this outfit (and it has been the runaway hit of the Guide!), but if you look past that you'll see the rest of this outfit is basics: black ankle pants, red flats, black bag, black leather jacket. If you don't have a leopard blouse, do you have leopard flats or bag? A different animal print, or other print altogether – like polka dots or a floral, might feel better. Keep it neutral and you've got a winner.
Ever since I learned how to build a capsule wardrobe, I've been curating my capsule wardrobe essentials. I typically have something similar, or close enough, that I really love, and I wear that instead. These are pieces that reflect my Classic Style Twists, and they are the key dressing in my signature style. Each season I only buy a few items to update my capsule closet.
4. ADd your Classic style twist
Turquoise and burgundy are the perfect color combination for fall, and I love pairing two of my favorite colors in an easy-to-wear, but chic way. The inspiration outfit isn't edgy enough for me. While I'm always Minimal Classic first, I always need some edge in my outfit. 
I took the same colors and chose items from my wardrobe that bring my edgy style, like the moto jacket, and the navy and black snake skin boots that were listed under the Edgy Classic shopping links in the Guide. I tend to invest in the unicorn items in the Guide, and the ones with unique details that tell my style story. I've been hunting navy boots, and these are amazing.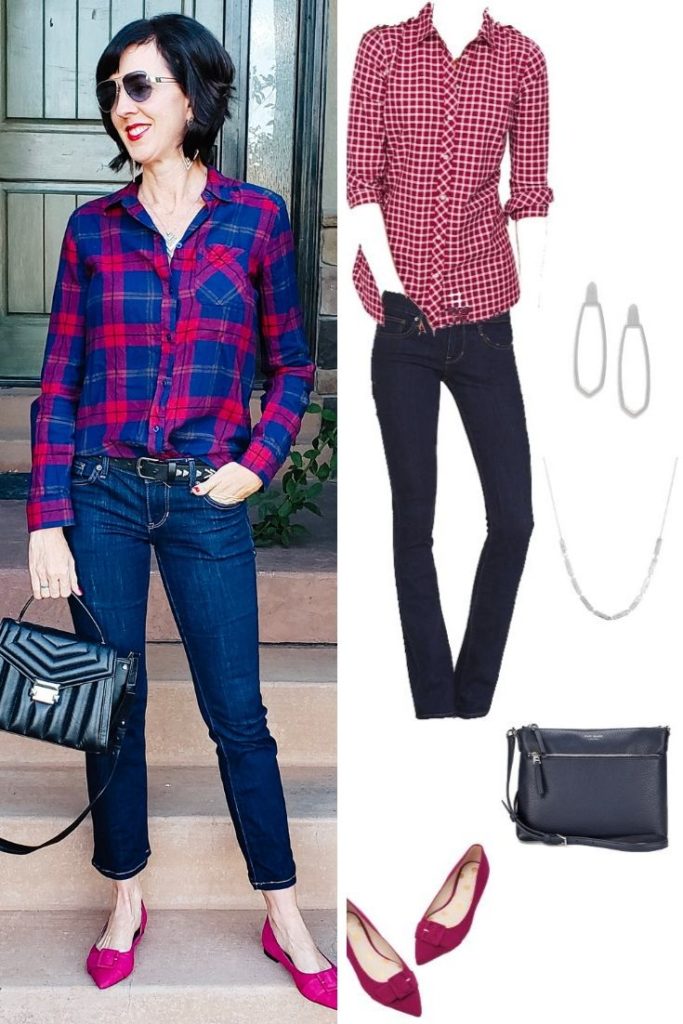 Since I already have a burgundy plaid button up…or two, that I love in my closet, I didn't need or want to buy another one. I love my version of this outfit just as much. Here it's the pattern and shirt style I'm duplicating, and pairing with the basics in the inspiration outfit. 
The flats are new to me this season, and I wear them all the time. This is a favorite color, and I knew they'd become a wardrobe staple.
6. Focus on the color combination
My dress hadn't arrived yet when this outfit showed up on the wardrobe calendar (one of the favorite member perks). It was also quite warm still, so I wore my turquoise button up with metallic magenta sandals and dark wash ankle jeans to get the same look. 
The color combination of turquoise, burgundy, and navy is what makes this outfit special, and I was able to get the same combo with different pieces by rearranging where they go. 
Am I the only one who can't wear flats when it's hot? Jeans, yes. Flats, NO.
7. substitute for another color
Because I dress for my body type, I typically only wear bootcut pants, and it's been hard for me to find red ones. I've been searching for two years with no luck. Because I haven't found THE ONES, I won't buy the almost-good-enough item that I won't feel my best in, even to copy an inspiration outfit. 
I was tempted to keep these fabulous red cords from the Guide because the color was perfect, but they didn't flatter me the way a different cut would. This season I've substituted these burgundy cords from last winter's Wardrobe Guide, and when it was warmer I wore a red skirt instead. I love the look just as much!
I pulled the leopard in with my bag and earrings instead of my shoes because these pants are too long to wear with flats.
8. rearrange the elements
Even though I LOVE casual dresses, not everyone does, and I'm sometimes asked how to substitute. So for this outfit I rearranged all the elements and wore the same colors in a column of navy, black, and dark wash denim. Instead of leopard flats, I brought in the leopard with my black on navy sweater. 
The loafers have the same sleek pointy-toe and mid-vamp masculine style, but I repeated the shiny black leather from the bag and the trim of my sweater to keep it all cohesive with the inspiration outfit. I'm wearing all the same elements, but I've mixed them up with things I had in my closet. 
What do you do when you see an inspiration outfit? Do you hit the stores or shop your closet? 

The Winter WArdrobe Guide is coming soon!
You've been asking, and now I'm sharing! The Winter Wardrobe Guide is launching in a few weeks! Join the waitlist below to be the first to know when it's available!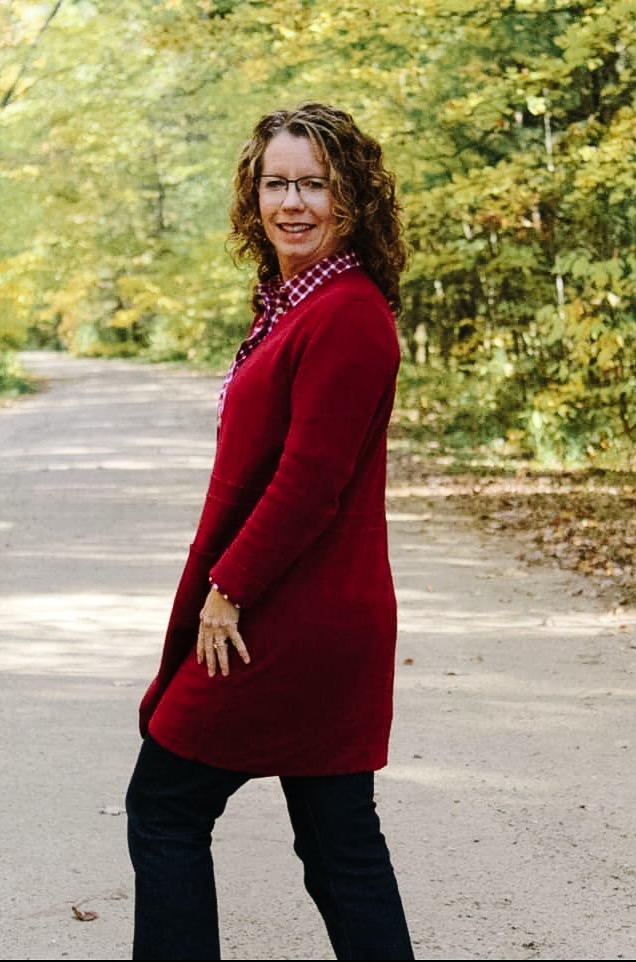 Since I joined the Stunning Style Society I have been extremely happy with your guides!
1. I HATE to shop & now I hardly ever step in a clothing store. This has given me many hours back that I don't have to spend away from home.
2. As I've narrowed down what I like, I've found that I need higher quality clothes to fit my petite frame. The quality of the clothes in your guides are perfect for me.
3. I've been getting compliments from the beginning. Things like "you always look so put together " & lately, I've had people ask me fashion questions! (I'm thinking, "If they only knew that I don't dress myself!"). I can honestly say that I've never felt so put together!
5. Packing for a trip is now so easy! I can look at our guide calendar & just pack what is on those days or pick out outfits that I know I love.
6. I've been buying quality basics so now when I get a new guide, I buy a few things that will upgrade my capsule. I save money because I wear items for years & I love & wear them often.
7. I've gotten in the habit of getting dressed every day. I used to wear yoga pants & no makeup if I was going to be at home all day. The encouragement from April & this great group of ladies makes me want to look my best every day! Thanks for your guides, April!
Amy looks amazing, and we all love when she shares her version of the outfits in the Stunning Style Society, an exclusive Facebook Group for members. She does an incredible job of making each outfit her own by shopping her closet and incorporating her Classic Style Twist!
This post may contain affiliate links, which means if you purchase through my links I get a small commission, but it doesn't cost you anything extra.
more resources for your style journey