Here's what I wore this week as I said goodbye to Miami and hello to the snow. Again.
The saddest day of a vacation is the day you leave. Goodbye Miami! Our flight kept getting pushed, so we slept in, ordered breakfast and took our time. One last stress-free spin with white jeans before we get home and back to reality. Cardigan Banana Republic, tee Zenana Outfitters (similar here, here and here), jeans Express, shoes Sperry (I dyed these myself, but similar here and here), necklace Charming Charlie, market bag Versailles, France farmers market (similar here, here and here ).
I love this navy and red flannel, and I am clearly having a love affair with my Sperrys lately. I'm just tired of boots. And snow. And being cold. And winter. I'm feeling less lumberjack and more ladylike today, so I added some bling to fancy my day up. Flannel J. Crew, jeans Express, necklace Lulu Frost, shoes Sperry (I dyed these myself, but similar here and here), purse Michael Kors.
I'm loving pink lately. Maybe because it's February. I love pink and cobalt together. LOVE. After blue, this electric pink is becoming a favorite color, and I snatch it up when I find it bc it's so rare. Shirt Banana Republic, sweater Ann Taylor (similar here), jeans Express, shoes J. Crew (similar here and here and I really love these!!) , necklace Nordstrom Rack (but I've seen the identical necklace at Banana Republic Factory and Express in store), purse Kate Spade (similar here).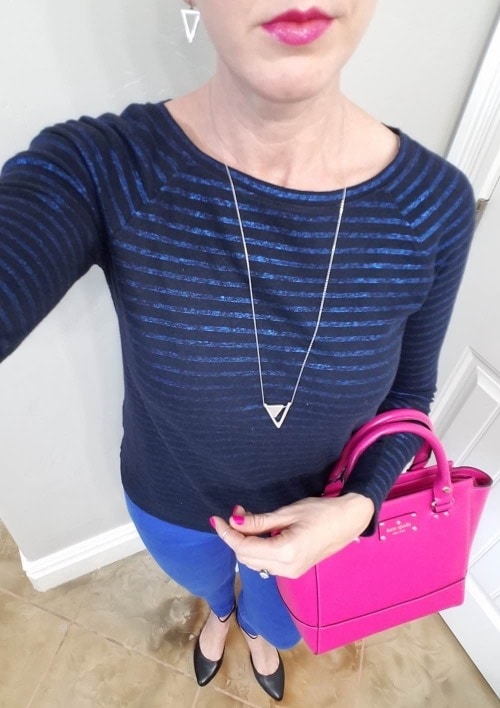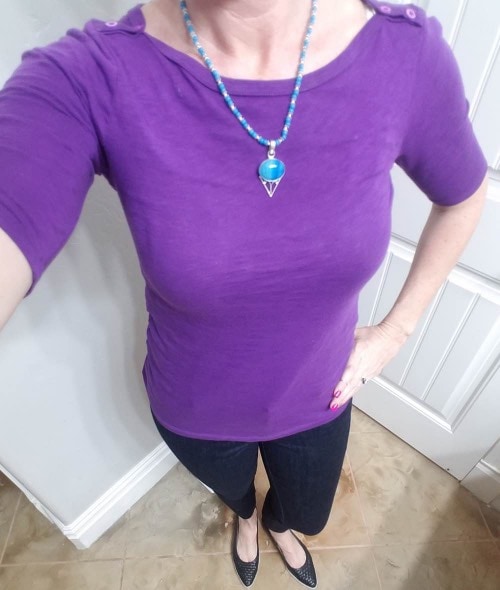 Super quick photo from a busy day. I volunteered at my son's swim meet all morning, which is why I'm wearing purple (his team color) and half sleeves. It's the only purple shirt I have. Why can't their color be blue? A friend sent me this gorgeous necklace. My 3-year-old keeps calling it my Elsa necklace and trying to sweet talk me into giving it to her. Fat chance. But I still love you. But no. Tee J. Crew (old. Similar here here and here), dark wash trouser jeans Banana Republic, black woven leather sneaker flats Dr. Scholls.
I love that I have an excuse to dress up every Sunday. I used to dress like this for my job, and I loved it. Now it's only for church and dates with my husband. I carried my red bag, even though matching shoes and bags is cliche these days. Which would you have carried? Dress You and Me, shoes Louise et Cie, necklace Banana Republic (similar here), purse Tory Burch.
Nothing like a Valentine's manicure to brighten my day!