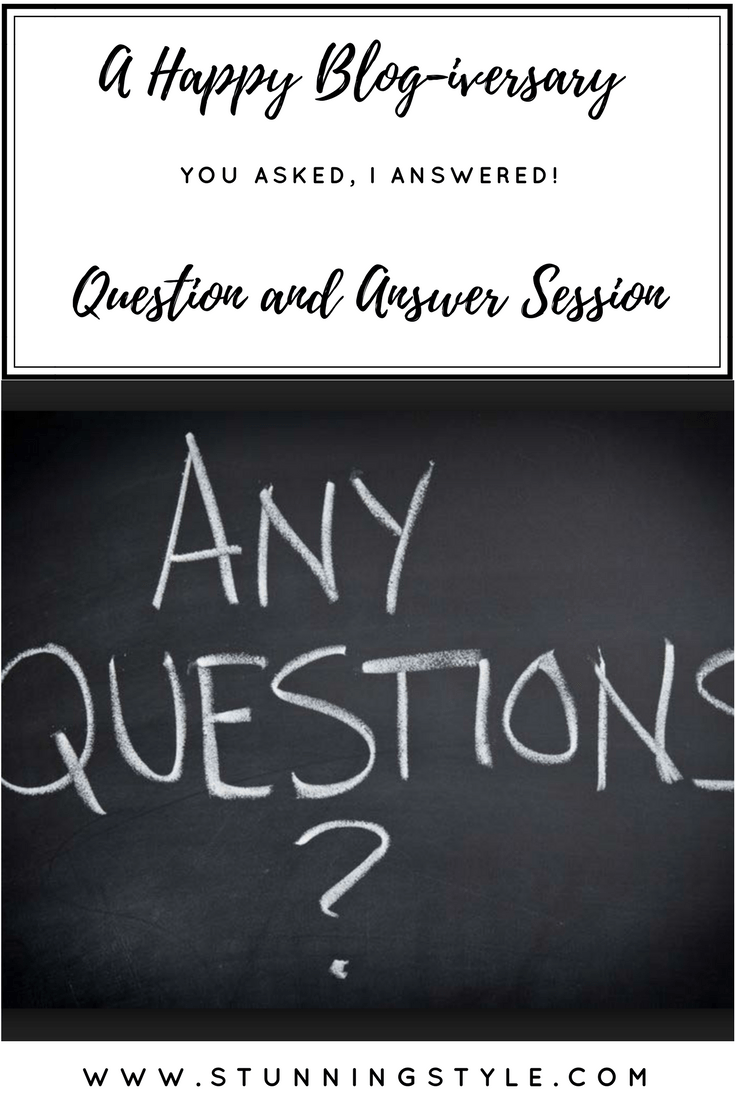 I've been blogging for a year now, and it's been quite a journey. I've learned so much. For the occasion I thought it would be fun to answer some of your questions, so I put out a call on social media, and you did not disappoint! You asked some really great questions, and some of them I'll turn into full blog posts so I can answer more in depth.
I am an extremely private, inwardly turned person. Even my husband says he wonders what is going on in my head most of the time. This is an opportunity to let you into my head and satisfy your curiosity.
I appreciate the fact that you read and support my blog, that you invite me into your inbox, that you comment and share. I know how selective you are and how limited your time is, so I am really honored that you choose to read here. Thank you.
Some of the questions were repeats, so I combined them. They fell into 3 categories: style questions, blogging questions, and personal questions.
Style Questions
I'm addicted to your blog and I love your Facebook and Instagram pages. You're so stylish and put together. It looks effortless. I feel like you have a great handle on what looks best on you. Do you ever purchase clothing that just doesn't feel right and it sits in your closet unworn?
I used to buy the wrong things a lot. My primary motivation? It was on sale! If it's on sale I must buy it. And then I never wore it because it didn't fit right or look good on me. I feel like I'm still refining my style with the small details, and those are the things that make me not wear an item I own. Things like curved hems really bother me, and I didn't realize that until recently. Necklaces that are bulky on the sides of my neck drive me nuts, no matter how cute they are. Any clothing item that I have to tug, adjust, or fuss with once it's on will not be worn again. Now that I've figured out specifically what I do and don't like about different items, I know not to repeat the mistakes.
Is ethical fashion part of your consideration when buying a new item? And if so what resources do you use to assist with this process?
Somewhat, but not to an extreme degree. I avoid fast fashion brands like Forever 21 because the only way their clothes can be so cheap is with cheap, cheap labor. Not to say that more expensive brands aren't guilty of it, but in the case of brands like that, it's a logical deduction.
Do you have favorite clothing brands to wear? (I know Express jeans are your fave.)
I do love Express for their jeans, Portofino shirts, rolled sleeve shirts, and the occasional sweater.
I buy a lot of Banana Republic, J. Crew, Michael Kors, Ann Taylor, Loft. The truth is, you can find great things in most stores. It all depends on how you style it, and getting things tailored to fit you perfectly. I came out of the farm supply store with chicken feed…and hot pink rain boots. My husband says it's not safe to send me anywhere because I can shop anywhere.
When shopping, do you shop randomly or are you usually looking for something specific?
This may turn into a whole blog post, but the short answer is I'm a very intentional shopper. I have a list of items I'm specifically looking for when I go shopping. That's not to say that I don't make impulse purchases, but I do think about how they will fit into my wardrobe and what I would wear them with.
Do you have/use a closet/wardrobe app? What do you like and dislike about it?
I've seen them, and am interested in them, but I don't have one. Every time I look, they are only offered for iPhones, and I have an Android.
 How do you organize accessories, especially jewelry, scarves, and belts?
A picture is worth 1000 words, so here are 2: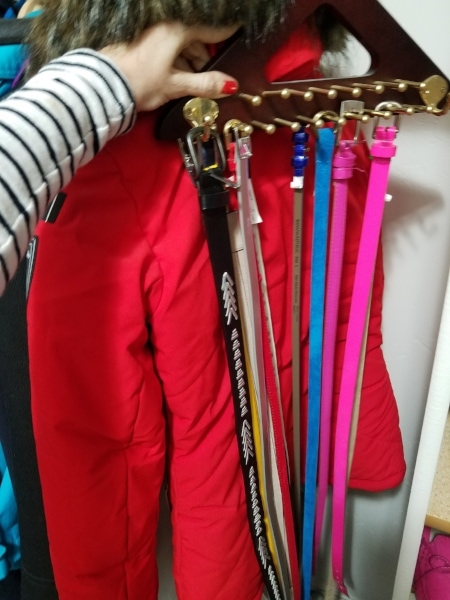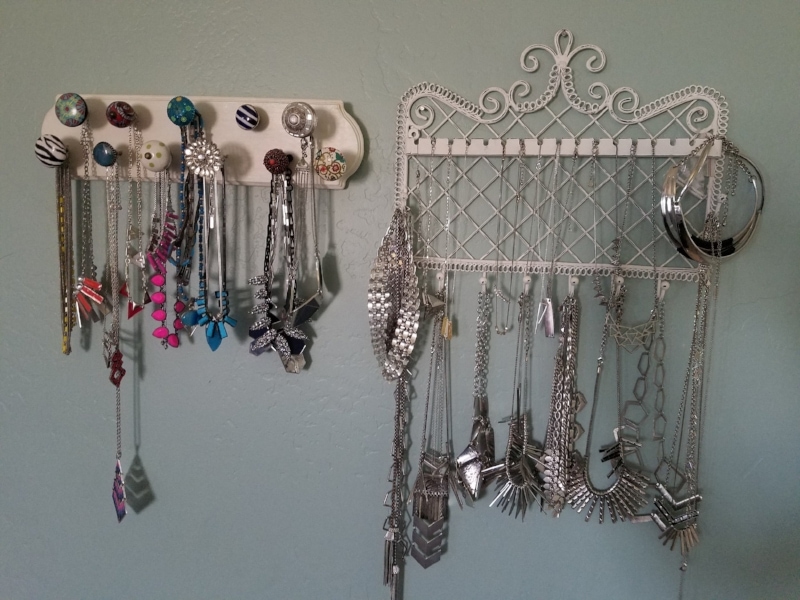 I keep my scarves and belts on a belt hanger and a scarf hanger in my closet. I also hang my necklaces. Colored necklaces are on the left and the all silver pieces are on the right. It looks like a weapons arsenal, right?
How many pairs of shoes/boots do you own, and how long do you tend to keep them?
I've always loved shoes, and I tend to keep them for a very, very long time. How? In general I've always preferred and purchased classic style clothing and shoes, and I'm not hard on my things. I keep them in great shape. After my 6th baby was born, my feet grew half a size. They didn't grow with the triplet pregnancy or the other 2, just the last one. It took me a year to figure out why my shoes all hurt! I gradually replaced them. I have 84 pairs of shoes, although there are some that need to go because I don't wear them. Some of them are shoes for specific occasions (rain boots, snow boots, lake shoes, gardening shoes, travel shoes, special occasion, date night) and others that I wear all the time.
Can you recommend some clothing brands for sizes 14 and up that have stunning style? The ones that I am familiar with are not so much stunning and more cheap, fast fashion type styles.
The department stores are a great place to look because they carry a variety of brands in plus sizes. And like I mentioned above, how you wear it and getting it tailored are going to make all the difference, so don't limit yourself to brands you know and usually speak to your style. This article lists the top 24 plus size places to shop.
Have you thought about starting a clothing line? I studied fashion design in school, and am always lamenting the limited choices, so my husband said, "Should you start a line of your own?" Not sure what I think of the idea!
The topic has come up. I have always said I'm an editor by nature. I'm not sure I have the creativity to design from scratch, but I dream of taking the not-quite-right items out there and perfecting them.
I'm curious, April, were you stylish growing up (adolescent and teen years) and did you have the gift of style at a young age? For example, my son has been interested in fashion since he was a toddler (he's now 12).
I wanted to be stylish growing up, but usually failed. Part of the problem was nothing fit. I was super skinny with super long limbs, and there were no tiny clothing sizes back then. I was very creative with outfits, trying to make do with what I had. I come from a big family, and while my parents always made sure we had nice things and some of the popular brands, it was still not in the budget to outfit all 6 kids in all the latest stuff. I used to take my (5 years older) brother's sweaters and t shirts and belt them or try to tuck them. I cut up a dress my younger sister had outgrown and tried to make a skirt from it. The story my parents love to tell is when I made an outfit from my brother's olive green scout pants. I paired it with a peach button up and black heels. I raided my mom's closet…and looked like I was dressed up in my mom's clothes because it didn't fit at all.
Growing up I tried on lots of styles, and none of it felt like me. I tried grunge lite, super preppy, super girly, super classic, super casual, etc. I wrote about the first outfit I ever felt truly me in here. After that I started to find my style in a lot of ways, but it still wasn't really together. When I had kids, I went from a business professional wardrobe to a stay-at-home mom (of triplets) wardrobe, and I had nothing to wear, and no time or money to invest in figuring it out. I didn't even have a pair of jeans. It's only been in the last few years that for the first time I've focused on truly finding my style as part of my journey of finding myself, because I got lost in the shuffle years ago.
So I'd say I have the gift of determination. Once I decided I wanted to find my personal style, I dedicated myself to it. It took a lot of work, trial and error to find it. And if I want something I I search until I find it, or I alter it to make it what I want.
Who are your style icons?
I love the classics like Audrey Hepburn and Jacki O., but I need more edge. I really love the French style aesthetic. But really, I've never found a style icon I truly relate to. I define my style as edgy classic, and most classic styles I see have a sweeter, more feminine twist to them. I usually take inspiration from everywhere and then change it to match my own style, like I did in this post.
You have such a great wardrobe! What percentage of it would you say is in your regular rotation and how much of it is "special" stuff that you wear infrequently? I keep thinking about paring down to basics, but I know I'd miss those unique pieces that maybe don't get as much action.
Thank you! I think about this topic when I shop. I love unique special details to basic items, and those are the pieces I wear the most because it's not obvious how often I wear it. I think that makes up the majority of my wardrobe, but I do have those more unique pieces, and I love them, but they get less wear because they seem more obvious repeats. Maybe that is something I should change. I think I still suffer from the American idea that no one can know I wear the same thing twice syndrome. I'd say 80% is day to day stuff that gets a lot of wear.
I do have a substantial fantasy wardrobe, though. No, I don't mean that kind of fantasy. Before I had kids I worked in a business professional setting and wore dresses, suits, pencil skirts, and silk blouses. That is my favorite style of clothing, and I realized that I keep buying those killer dresses and pencil skirts and heels. I wear them to church on Sundays and on some of the dates with my husband, like when we go to the theater, but the amount of events I go to does not justify the amount of those types of clothes I own. I especially love the dresses. So in the last 6 months I've been saying no to the dress(es). They are amazing…and I have few opportunities to wear them. I have plenty as it is.
What advice would you give others who meet resistance to expressing their authenticity through fashion and beauty products?
I would ask what you are truly afraid of? Rejection? Being amazing? Being like someone you don't like? My fear was about being seen. I didn't want to be seen. Or noticed. Or talked to. My brother told me that people are going to see me anyway, so they may as well see the real me. My advice is to embrace it 100%, and not allow others to dictate who you are. I'm not saying be selfish and rude and justif
y it that you are being yourself, but being authentic will only serve you.
Do you have any rules, example, I have to get rid of one item before bringing in another?
I have a rule of it only comes home with me if it's a 10 out of 10. No sort ofs, or maybes. Not to say I don't alter things. I paint zippers and buttons and dye denim and tailor clothes, but the rest of it has to be pretty awesome.  I also prefer quality over quantity. If I can tell it's not going to last, I don't buy it, no matter how much I like it. I used to buy things because they were a good deal, but I pass if it doesn't meet the other criteria, no matter how good the deal is.
Do you go shopping for specifics, or do you just stumble across the awesomeness while you're browsing?
Yes. ???? I have a running list of things I'm looking for, but I do just stumble across awesomeness while I'm browsing.
Are you ever too tired to put an outfit together and just wear a jogging suit and sit on the couch and eat ice cream instead?
The temptation is real! If I'm very sick I do. Getting dressed every day makes me feel better in every way. Since my whole wardrobe coordinates, on those days when I'm just too tired I really can grab any shirt and and pants and go. I do have outfit formulas that make it super easy. Button up and jeans and boots. Done.
How strict are you with adhering to your pure saturated bold color palette?
I'm very strict about it because I look and feel my best in these colors. I'm often tempted by other colors that look so great on others, but if I try to wear them, I feel very off, and I can't wear it. There is a light turquoise that I've loved for years and years. It was my signature color because strangers would stop me to tell me how great I look in that color. In the last year I've realized I have been avoiding it because it's too light for me. It looks great on me, but it's not honest about who I am. I'm more intense than that color. I don't feel drawn to it anymore. I do have a couple of items I'm not 100% sure are pure hues, and I will keep wearing them until I don't feel drawn to them.
What are some fabrics and care tips that seem to help keep the saturated hues better?
I love natural fibers, but they don't always hold their color. I wash my clothes on the gentle cycle because they aren't usually actually dirty. I also don't wash them after every wear. If it's not dirty and it still smells good, it goes back in the closet. I air dry my clothes to help keep the saturated hues and protect the fibers of the fabric. There are also detergents that are specifically for protecting color.
When doing a bolder eye or "natural" look, how do you do your lips?
I almost always do a bold lip. I haven't been allowed out of the house without lipstick since I was 12. My mom is a big believer that lipstick makes you look dressed, and so am I. If I do a very bold eye, which would be for a special night out, I do an icy pink lip. My neutral everyday eye and lip look is here.
How do you do online shopping for pure hues?
Very carefully. If it's an item I really like I take a chance and order, as long as I can return if it's wrong. When I shop on sites like Poshmark, I ask a LOT of questions about color and ask for better pictures. Sometimes it's slightly off, and my only option is to resell. It's really hard sometimes, and certain colors, like bold pink and turquoise, are the hardest. They are hard to photograph accurately because the camera autocorrects it. The pink is sometimes a dirtier pink, and the turquoise is sometimes more teal.
Blogging Questions
What has helped you most in growing a successful social media-based business? What key advice do you have for someone starting out?
I watched a webinar about growing social media, and the phrase that jumped out and smacked me in the face was: "You have to be social on social media." Which is exactly what I DON'T want to do. But he was right. Engaging, posting at least once a day, asking for interaction, being consistent. It sounds so common sense, but it was true. When I showed up, people started to trickle in.
Do you blog to form a community of like-minded folks, or because you like to write and use the blog for that?
Great question! So in my first career I was the director of PR and Marketing. I loved my job. I love writing and creating. I feel like I have a lot to offer from a unique perspective. I've had 2 other hobby blogs and my name and face never made an appearance. I enjoyed the anonymity. I am an introvert, and extremely private. When my husband finally convinced me to start this blog, I swore I would cut my head off all the pictures because the idea of showing my face on my blog made me physically ill. He eventually convinced me that would be ineffective for my genre. I'm really enjoying the community that is coming out of this, but it's been a byproduct. At times it overwhelms me. Ultimately, I like to write and want to share my perspective with those who can relate, and if I could do it anonymously, I would.
Are you making money blogging (and it's certainly OK if you are!)?
I am, and it is my goal. This is my profession now. I spend at LEAST 40 hours a week on this. I love what I do, but the amount of time and effort I put into it wouldn't be feasible if I didn't make any money. It costs A LOT to run a blog on a professional level. I make money when people click on the the ads you see at the top. I make a small commission if you buy anything through (most of) the links I put up (it doesn't cost you any extra). If I find the perfect dupe to what I'm wearing, and I'm not partnered with that brand, I put the link up anyway, because I know it's helpful to YOU, and that is my goal, even though I don't make a cent. I make the majority of the money from Wardrobe Guides.
How do you handle negative feedback to your bold look, or even the fact that you have the confidence to put yourself out there as a style expert?
I had to decide before I started that I would set it aside if anyone attacked me. The larger the audience, the more likely it is to happen, and it's a reason I avoided starting a professional blog for many years. I didn't want that negativity in my life. As you can see from the name of my blog, my original intent was to be a style blogger, but that scared me. I didn't feel legitimate, and I was afraid of rejection. So I padded my blog with travel, recipes, and parenting stuff, and treated the style portion as a side gig. As I watched the anal
ytics, I saw the style content is what was getting the clicks and traffic, so I slowly whittled it down to my intended topic, and that is what I am sticking to as of the new year.
I look forward to your posts. How in the world do you find the time to do all that you do?
Thank you! I'm a very efficient person, and I set aside specific times each day to do certain tasks. When I'm working, I don't look at my phone or respond to messages. I work best when I focus on one task instead of multitasking. One of my talents is streamlining processes and creating formulas for tasks. I don't do it on purpose, it's just how I operate.
It's important to remember that we all choose our battles. I don't homeschool. My house isn't spotless. In fact, if the kids don't clean up breakfast before school, I leave it for them to clean up after school (I do put the food away). Does it make me crazy? Yes it does. But I don't have time to clean up after all 8 of us and work from home full time and drive them all around to their sports every afternoon. I've simplified meals. I used to make much more complicated meals. Now I favor slow cooker meals that I can throw together when I break for lunch. I've downsized all of their wardrobes so there is less laundry. I'm on the slow track for purging, but the less we have, the less to clean up. I'm not Martha Stewart. I've chosen where to focus my attention, and the other stuff gets handled as I can. Or ignored (like the laundry). I don't do it all. I'm far from perfect.
I often have house cleaners come twice a month to do the deep cleaning, and for a couple of months, one of our babysitters who has been watching our kids for years is helping me after school. She just graduated from college and is waiting for her new grown up job to start in March, so I'm taking advantage of her availability and having her help me with anything and everything. She's been helping drive kids around, running errands, and things around the house I've been meaning to get to.
My husband is also very hands on, and has been in town most of the time for the last 7 months. He drives the kids to school most mornings, and is usually able to do the sports pickups that are after 7 p.m. So, I don't do it all, I don't do it all alone right now.
And just to show you, as I answered this question I got up and walked over to the downstairs laundry room and took a picture of the area right outside and inside. It looks like that (or worse) on a regular basis, and it makes me crazy, but I can't do all the things and do them well.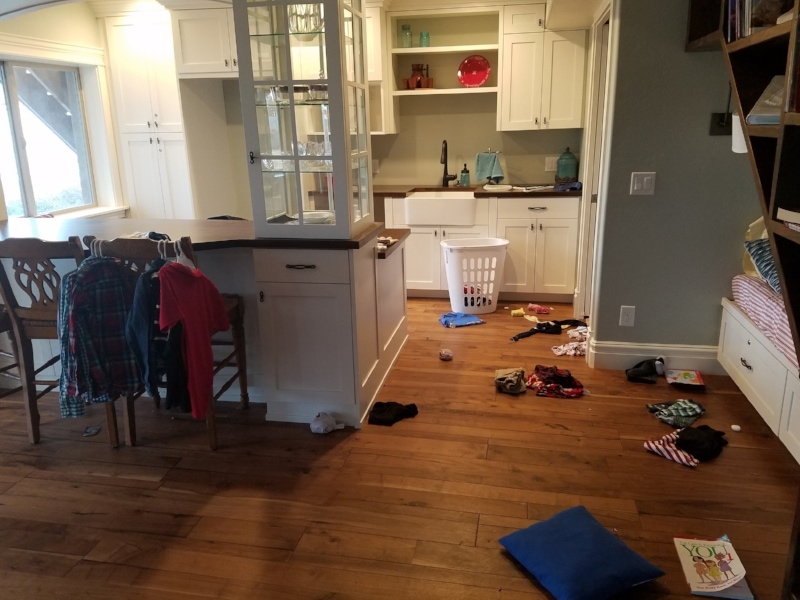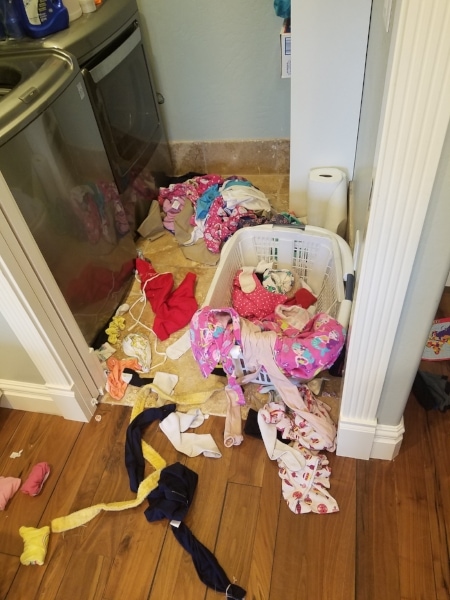 Personal
Tell me something about yourself.
I can't go to bed until I close my closet door, because that is where the zombies live. When I get up to pee in the night, they will eat my brains if the door is open. True story. Clearly I don't watch scary movies.
I have a FAQs page and an About Me page for more about me.
What are your favorite foods? Just because ????
I love love love pizza. Guacamole. Sushi. Corn chips and Doritos are like crack for me. Pasta. Salty, savory foods are my weakness. Even as a kid I didn't love sweets. I'd rather have really amazing garlic bread than candy.
Thank you so much for all of the questions! It gave me a lot to think about and some great ideas for future blog posts, so stay tuned!