a mini capsule wardrobe for cancun, mexico!
a trip to cancun is just what the doctor ordered!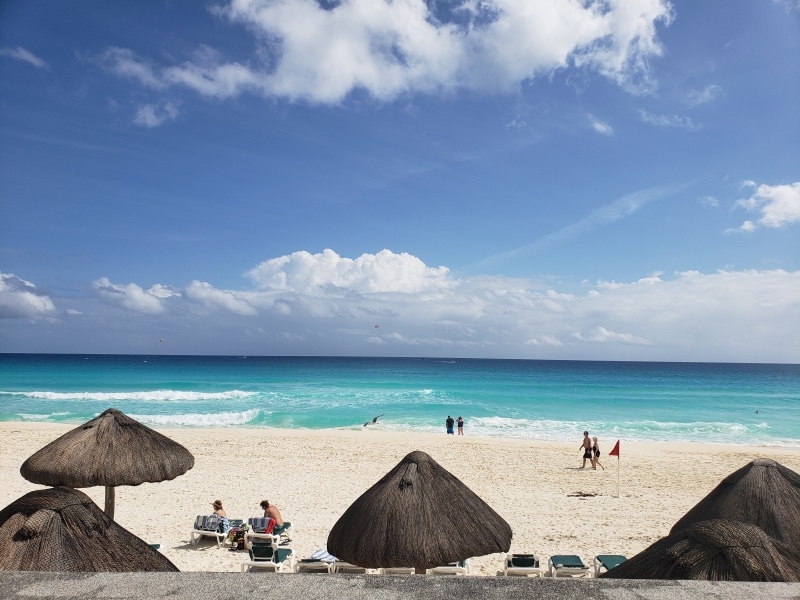 THIS. This is what mid-winter dreams are made of. Who am I kidding? This is what all dreams are made of. My husband and I just got back from a week of Vitamin D in Cancun, Mexico. It is absolutely my favorite beach getaway, and I look forward to the trip all year. We relax, sleep, lay in the Bali bed, nap, eat all the nachos, soak up the sun, read, chat, and sleep.
I recently decided that wintering in Cancun is officially on my retirement vision board. Buh-bye Winter. I want to break up. It's going to take me a few years to really cut the ties, but this relationship isn't going to last.
As I recently shared here, I lost (now) 15 pounds during the last 3 months of the year. You can see how I did it here, and my best tips here. I'm so excited for all of you who have started the journey to health as well, and can't wait to see your before and afters!
Anyway, when I started packing, I panicked because NONE OF MY SUMMER CLOTHES FIT!!! I made an emergency trip to the tailor, and was all set. Sometimes when you are knee deep in snow it's hard to wrap your brain around warm-weather wear, so I'm sharing what I wore in Cancun in January to give you inspiration if you are heading off to a warm-weather destination.
You know I love capsule wardrobes, and since I always pack in only a carry on, I take a mini capsule wardrobe on my trips. Since you loved my last Unpack with Me video, I've got another one for this trip. I dive into the color palette, everything I took, what I wore, and what I should have left at home. Spoiler alert: I overpacked by double, and maybe triple for this trip. I'm a packing ninja, so this is a little embarrassing, but let's learn together. Coming soon!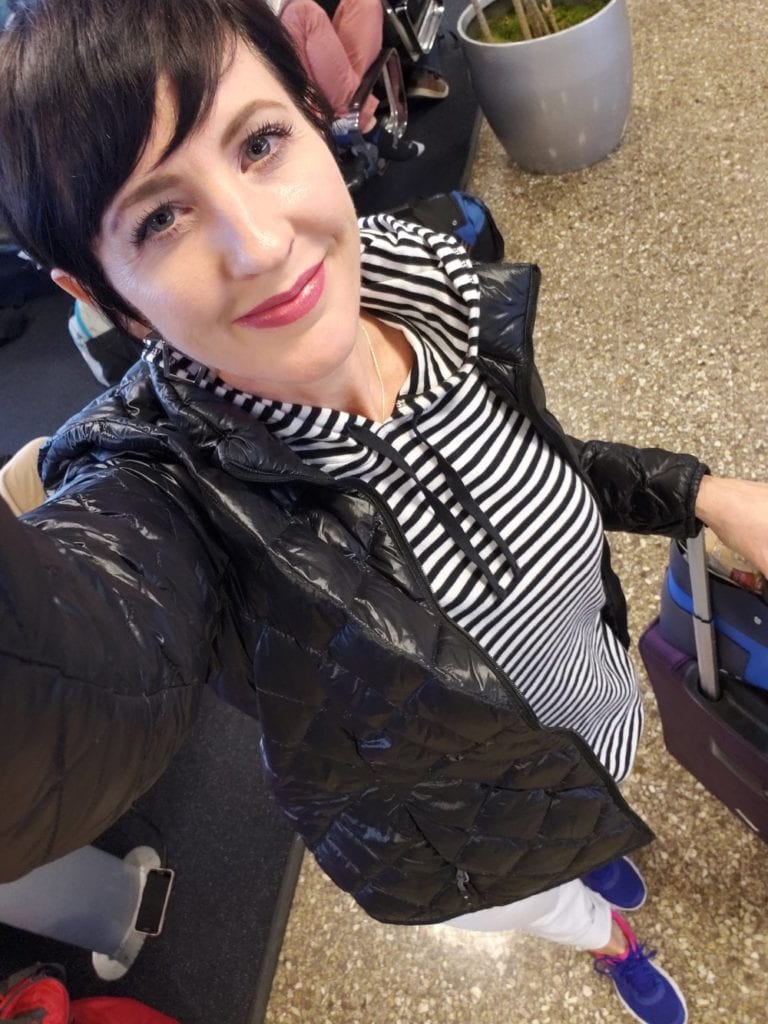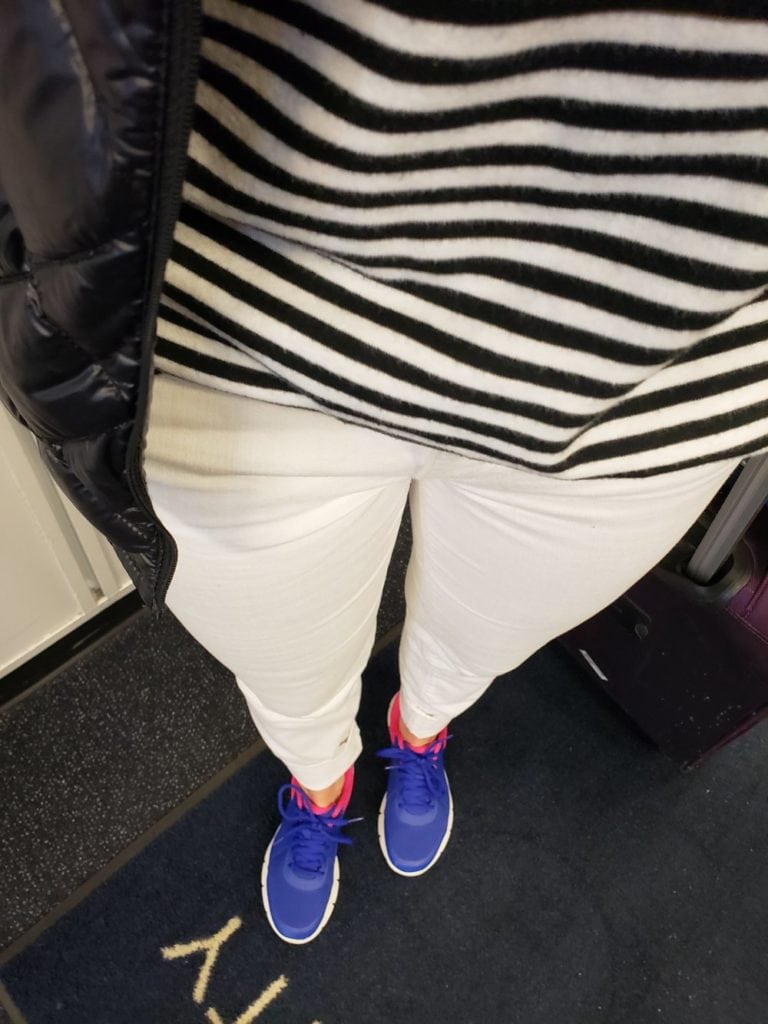 This is what I wore to the airport and on the plane. White jeans, a striped hooded top, my packable down jacket, and some colorful sneakers to get me in fiesta mode. I wore a short-sleeve black tee underneath so I could take off my striped top and be warm-weather ready. My daughter couldn't believe I took sneakers to the beach, but last year I literally walked through snow drifts in sandals at the airport to get to the car after we landed. I thought I might lose some toes to frostbite! This year I was prepared. Plus they are really comfortable to travel in. Also, those colors make me happy. I enjoy dressing Sporty Classic at times.
Here's a little sample of what our days were like. I should have taken pictures of the nachos…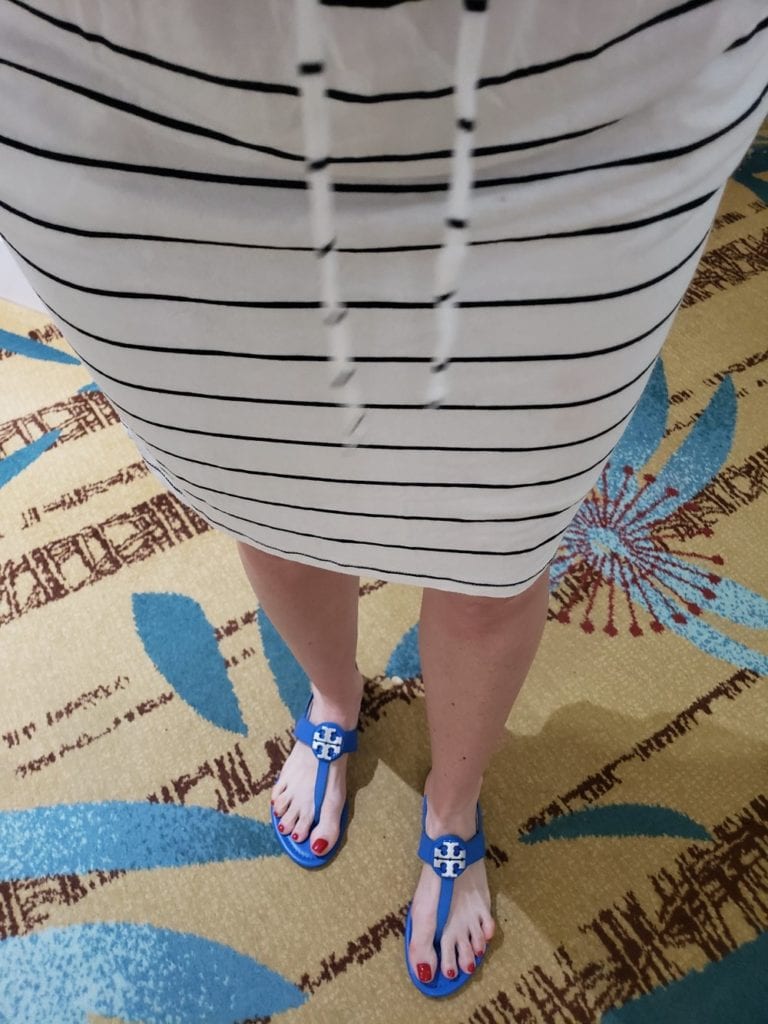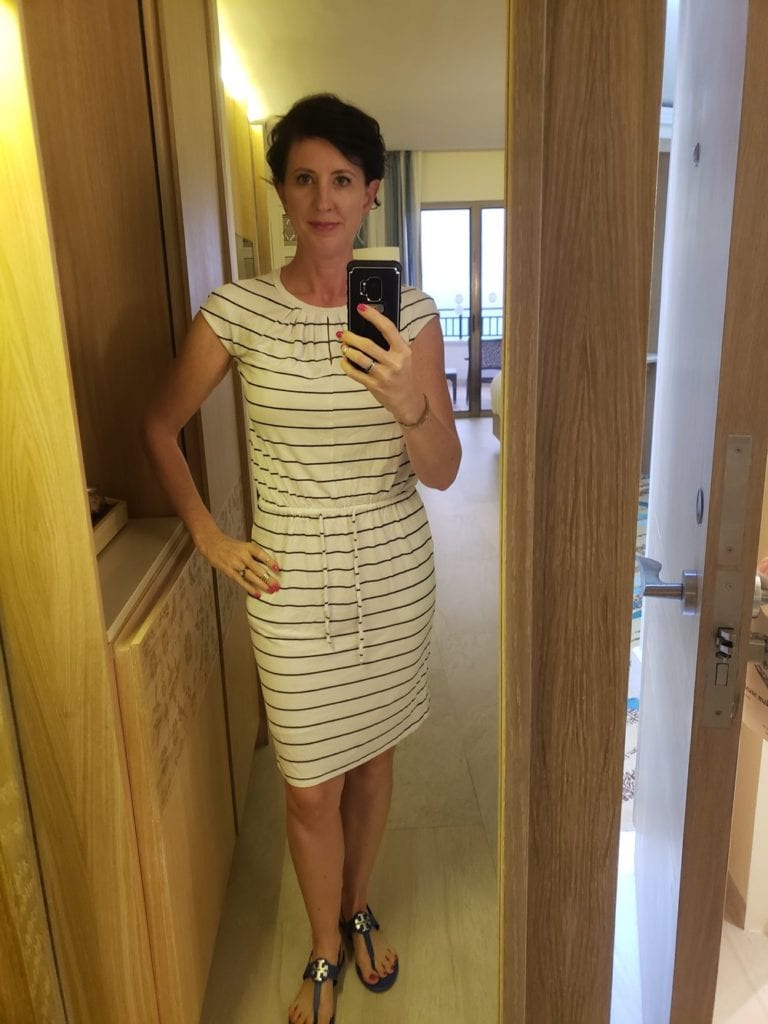 I love, love, love dresses, especially in the summer. It's a one and done type of outfit, and I'm always looking for more to add to my wardrobe. So simple, so comfortable, but so chic and put together, even though I feel like I'm wearing a nightgown. Forgive the super yellow lighting. Why do hotels always have horrible lighting? The dress is actually white, like in the second picture.
If you are wondering how on earth I lucked into Tory Burch sandals with silver hardware, I actually painted the hardware myself. Sacrilege! I know some of you might be dying inside that I would do that, but I don't wear gold. I've always preferred silver. It also goes best with my skin tone. This color blue (it's called Galleria Blue) is so incredible, and I bought everything she made in it – purse, card holder, sandals, flats, tote – but I didn't like the gold, so I fixed it for her (you're welcome, Tory). You can see how I did that here. It's really easy, and I do it all the time.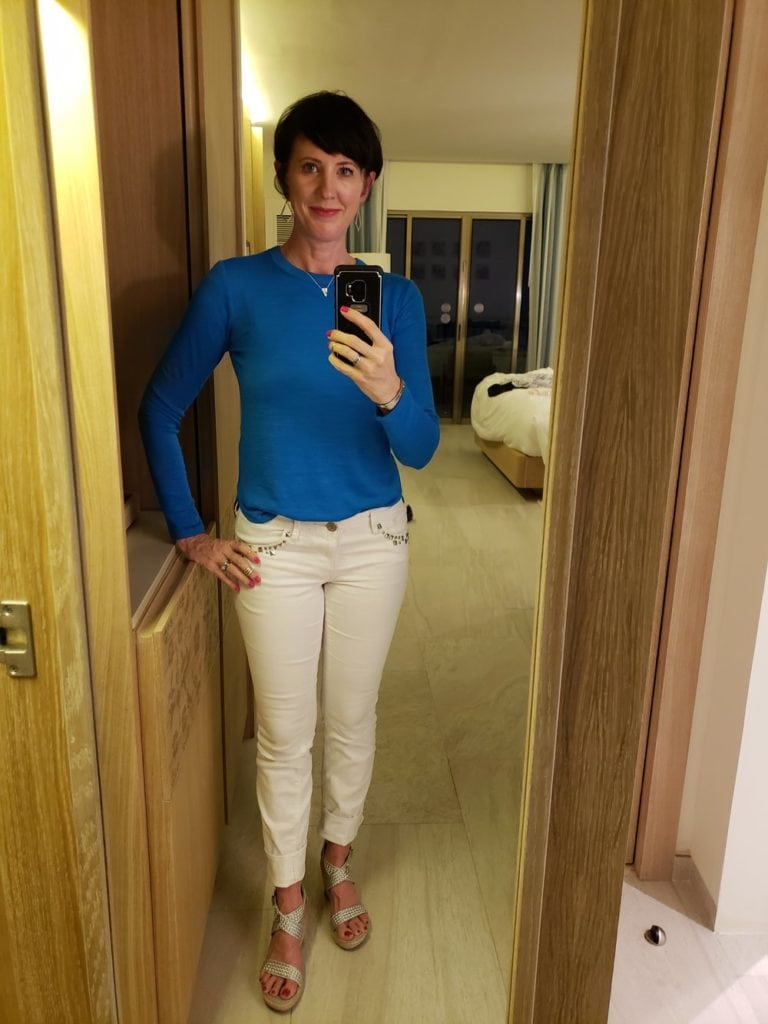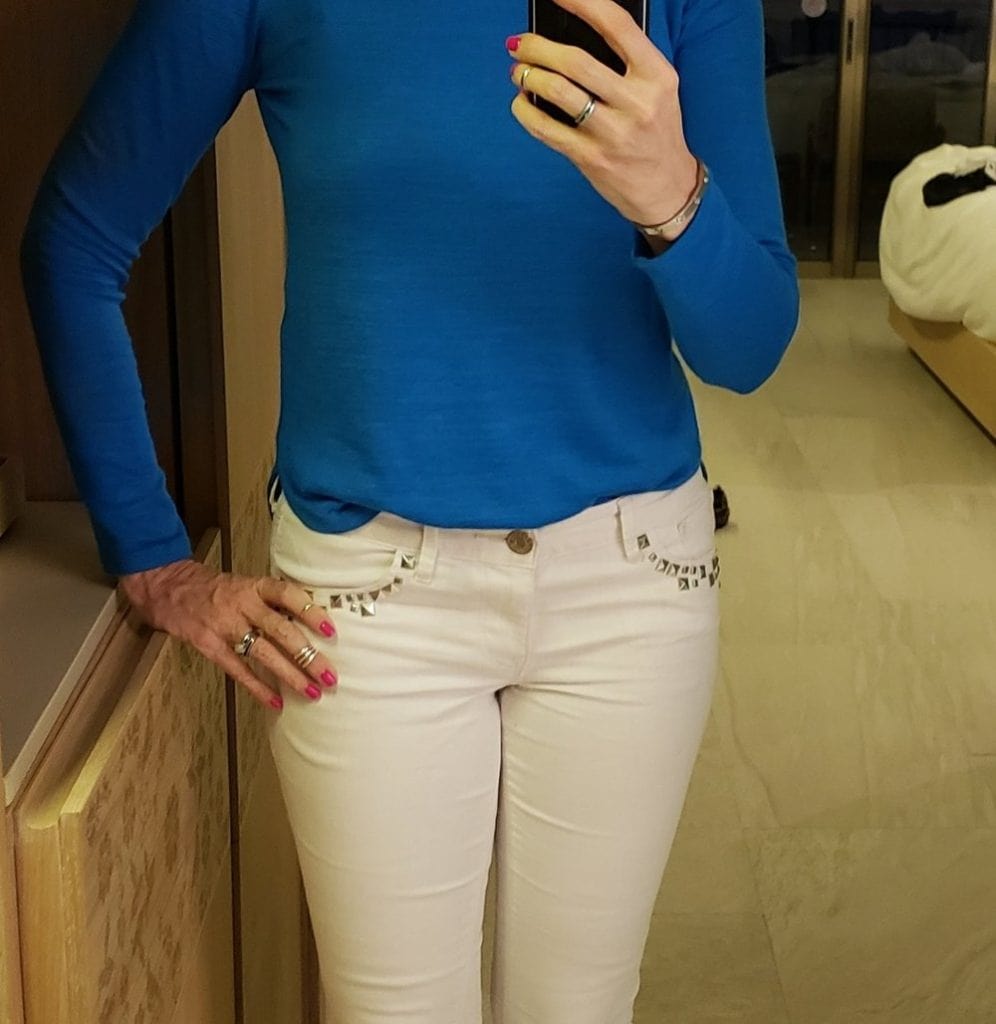 The forecast was all over the place, and there was both rain and cooler weather on the menu, so I packed this lightweight sweater. These are the same jeans I wore on the plane (I'm crazy about the studded detail on my jeans. The back pockets are also studded, but I'll spare you a shot of my bum), and my favorite summer sandals.
Are you seeing a trend here? This sweater matches those blue sandals above. I can't say no to this color!
This dress was a maxi dress until recently. I had the tailor cut it off at the knees and shorten the sleeves a bit. I liked the dress before, but now I LOVE IT. I will wear it a ton this summer, where before I only wore it maybe 3 times in the last 2 years, and only to church. Even though it was straight, I hated that those flaps were always…flapping.
This is the exact same dress as the white and black striped one above, but the tailor didn't finish the job of taking in the sides, so it's got to go back to her. Regardless, I love this simple navy dress. It's so versatile.
This is my favorite dress. FAVORITE. It's my signature color. I love the v neckline and the high collar with the cap sleeves. I've only been able to wear it once ever because it was too small. Now it's even a little loose! I was thrilled to wear it on this trip, and my husband loved it too! Even the concierge immediately complimented my dress.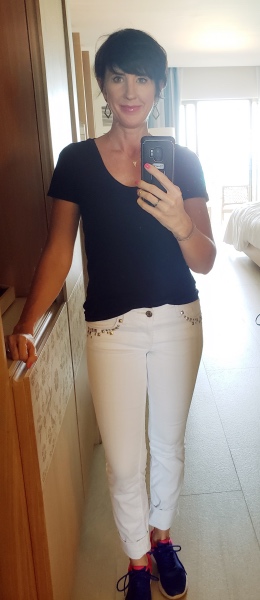 The saddest day of a trip is always the day you leave. I basically wore the same outfit home, but here you can see the black tee I had on underneath, and what I looked like once we got to Cancun.
When we were in the elevator to catch our airport shuttle, this other swimsuit and sunscreen clad guest of the hotel said, "Have a great trip home!" And this poem instantly came to mind:
Bitter? Maybe. But he was a bit too smug for my liking. No need to rub it in. His day is coming, too. Everyone goes home eventually.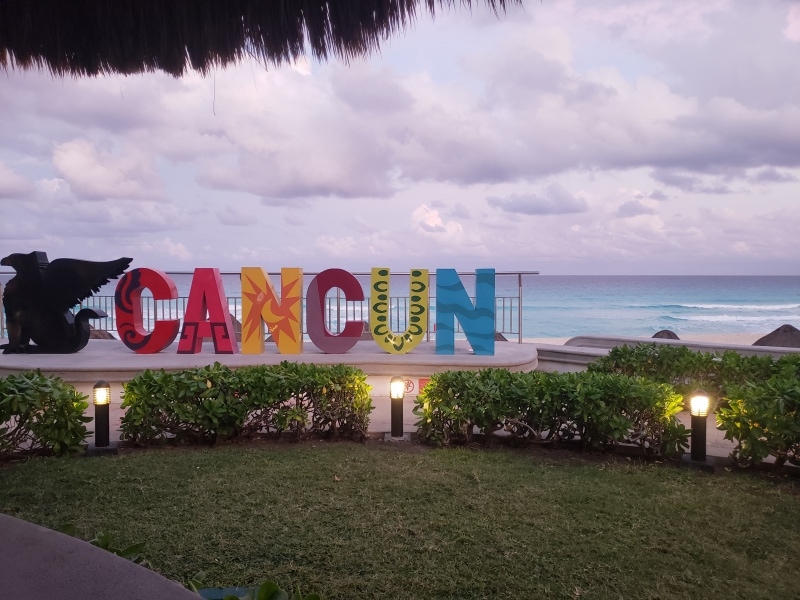 Goodbye, Cancun. I miss you already. I'll see you in a year!
Did you enjoy this post? Subscribe to my blog! Do you have a friend who would enjoy my style inspiration? Please share! Email, Pinterest, and Facebook are all great places, and the icons to share are all over the page.
This post contains affiliate links, which means if you purchase through my links I get a small commission, but it doesn't cost you anything extra. Thanks for supporting my blog!