You can be productive, busy, and happy during social distancing with these tips
A TAle of Two Quarantines
The Wrong Way to Self-Isolate
"Why are you crying? Did something happen?" My new husband had come home for a quick lunch break between classes to find a very distraught wife.
"Yes!!!" I wailed. "Dr. Green just found out he has a brain tumor and they just had a baby who won't even know him and I've already watched this season so I know he's going to die and the old couple just loves each other so much and they were holding hands and we have to die at the same time someday because I don't want to miss you so much!!!"
"I see," he said calmly. "You've been watching ER reruns again. Ok. I promise we can die at the same time…someday."
Right after we got married, my husband and I moved across the country for his master's degree, but it was an intensive summer program where they had class from 8 a.m. to 5 p.m., then they worked on group projects late into the night. Every Monday they started a new class, and took the final on Friday or Saturday. To say he was busy would be an understatement.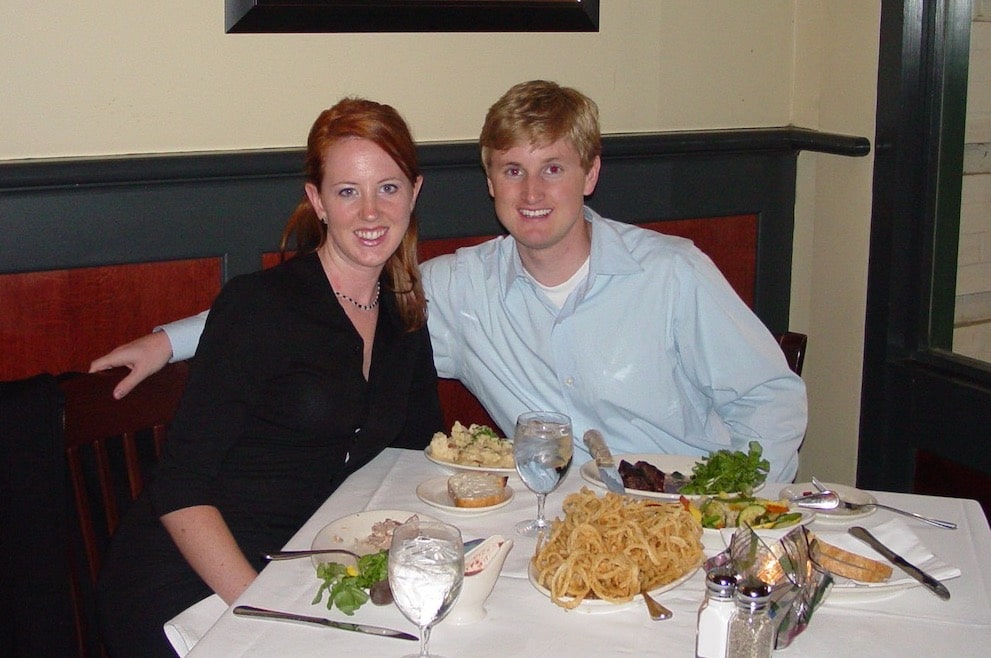 I, on the other hand, had NOTHING to do. I couldn't get a job because we were only there for 2 months, and I had no friends because most of his classmates were single. Living in the dorms meant we were on a food plan and the cleaners came every day. No hobby, no social life, no job, no responsibilities. I couldn't even get a library card.
FB wasn't a thing, Netflix didn't exist, and you had to pay for text and cell phone minutes. What I had was the TV, and way too much time on my hands.
My new life included sleeping late, watching 2 hours of ER reruns, PB&J for lunch, surfing for infomercials, reading, watching more TV, and feeling sad and lonely. Was I required to stay home? No, but I had nowhere to go and nothing to keep me occupied.
The sudden transition from a full and busy life with friends, hobbies, a job, and family…to nothing triggered depression. I was isolated, and I did all the wrong things during this unintentional quarantine.
Social Distancing Done the Right Way
The second time I was quarantined it was purposeful, for medical reasons, and I did it the right way. Our triplets came home from the NICU in December. Born at 31 weeks, they were extremely susceptible to RSV, a virus which can kill preemies. We chose to quarantine until May. And this came on the heels of a very high risk pregnancy where I was on full bed rest for several months, so I had been homebound and bedridden for a while.
This time I handled everything differently. I followed the tips below and had a completely different experience. Instead of lonely, bored, and depressed, I was busy, productive, engaged, and happy. These are the same tips we are following now, and we are doing well!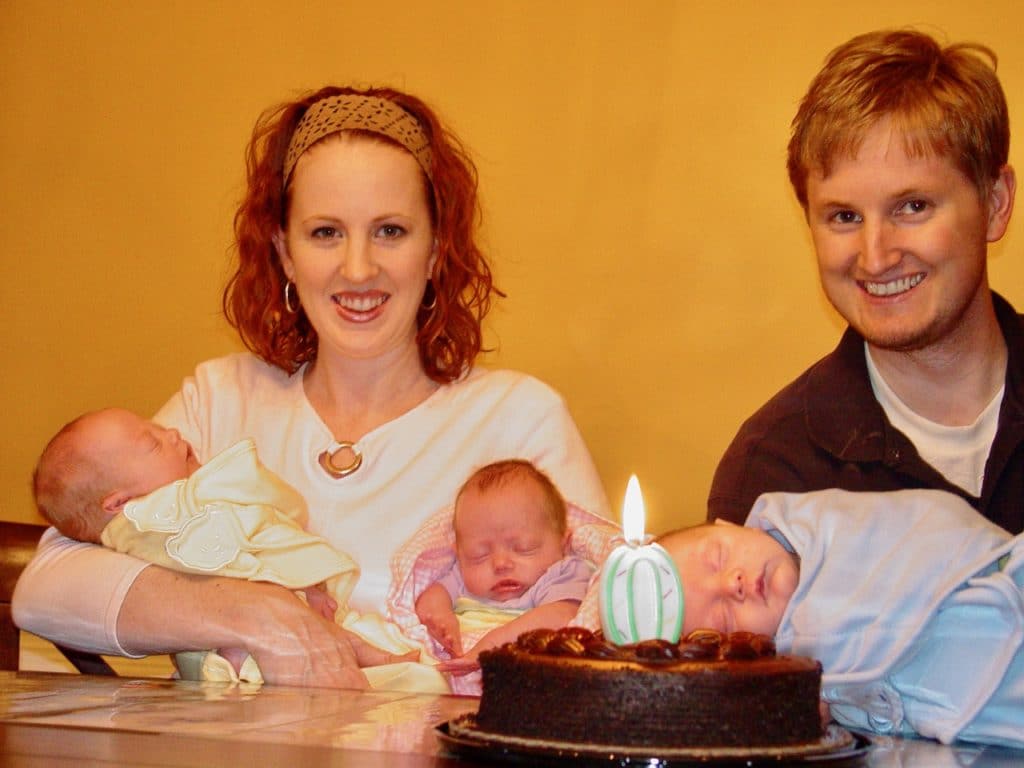 I've done quarantine, social distancing, self-isolation, whatever you want to call it, the wrong way, and the right way. This is a challenging time for everyone, and I'm sharing my tips to thrive while staying home.
My tips are in the first 27 minutes, and the Q&A and chat start right after that with some great tips from others!
focus on what you can control
Human beings require a sense of control over ourselves, our surroundings, our lives, our choices. A lot of things are out of our hands right now, and when that happens, I focus on what I can control, which is a mindset shift. Instead of feeling helpless, I feel empowered, and that is everything. All of the following suggestions are things you have power to do.
keep things as normal as possible
One of the things that is making this so hard for me is all the upheaval. Change is hard for me. Even switching laundry detergent is traumatic, and our whole lives are literally on shuffle right now. Things are changing hourly. It feels like my life is on the tumble dry low cycle, constantly spinning and turning. 
By keeping things as normal as possible, it helps with the overwhelm of upheaval. Cling to the normal by maintaining as much of it as you can. We have weekly pizza and movie night. Right now we're making pizza instead of ordering it, but the tradition continues. That's something normal. 
I planted my spring garden last week and started my seedlings with my family, just like I normally would. We eat breakfast and lunch together as a family, just like we always do. Laundry gets done, chores are checked, the dog gets fed. 
School night bed times haven't changed, and school learning time will continue to happen in the morning. We are having church at home on Sundays, and we still get dressed in our Sunday best, just like we would if we were going. Both are happening at home instead of with our friends and neighbors, but they are happening. Not exactly the same, but as close as we can get it.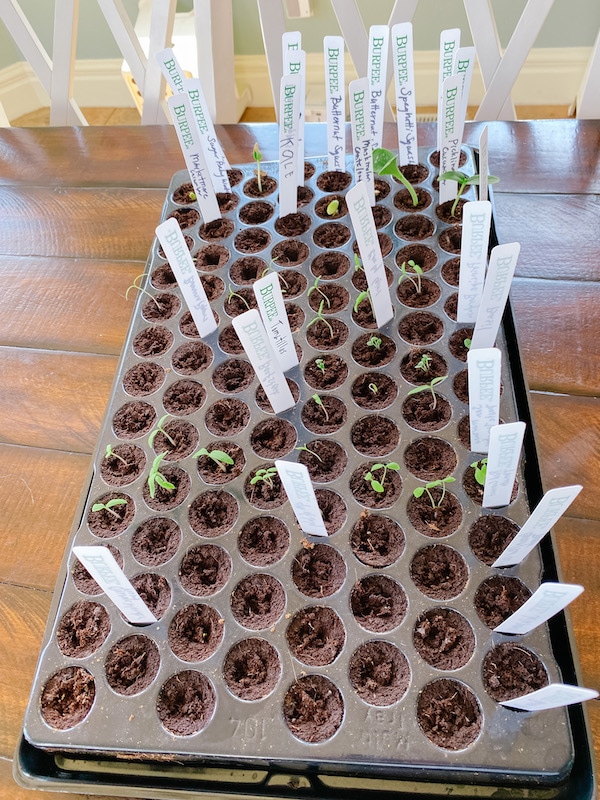 I've written and talked about how important the habit of getting up and getting dressed is to me many, many times. During the best times, getting up and getting dressed makes you feel better, more motivated, normal, human, and that makes everything about your day better. More than ever we all need motivation, encouragement, and to feel normal and human. On top of that, it makes me feel pretty. 
Getting dressed isn't something I do for anyone else. I do it for myself because it makes me feel better. With social distancing, it's easy to feel like there's no point if no one will see you and fall into a slump, and doing that everyday will take a toll on your mental health. Even if you aren't in the habit of getting dressed every day, there were days and times you got dressed because you had to go somewhere. Now that you aren't going anywhere, you won't have that reason, so it's time to make one. You are the reason.
I created a video of my 20-minute get ready routine and a FREE printable cheat sheet with my best tips and my exact routine. You can access that here!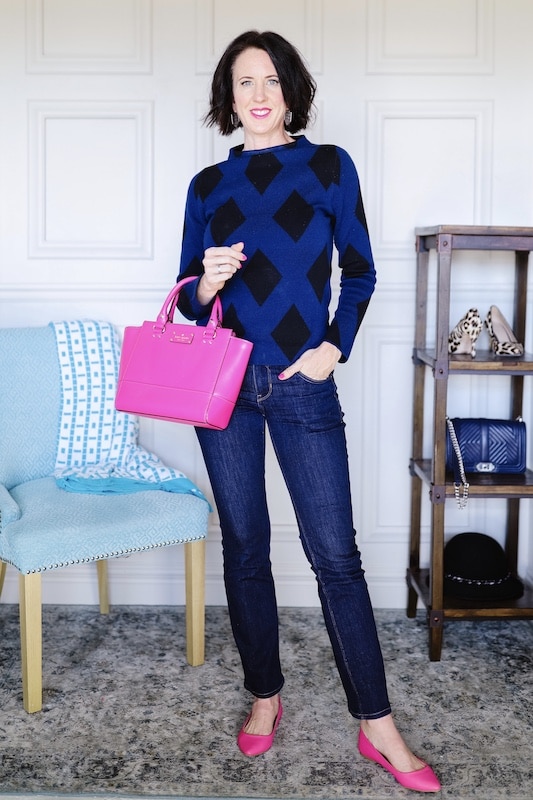 It made my day to get this message this morning:
I need to tell you how much of a difference your getting ready in the morning philosophy and your easy steps have made a difference to me!! It seems basic, but it really wasn't for me. One of the biggest things is getting dressed and ready before leaving my bedroom. I didn't do that before, and I would always get sucked in to so many things, and then hours later still not be ready and feel like a slug! It's really been a game changer in the few days I've been practicing it.
Life is changing, but it isn't coming to halt. We are moving into a new normal. Sure, it's nice to take a few days off, chill, watch some TV, stay in your pajamas, eat cookies, but that's not the long-term plan. We have to create a new normal, and it will require a new routine. I'm sleeping a little later (as in getting up at 7 instead of 6. I'm so indulgent :)), but still getting up and getting the family going. Now that we have to homeschool 6 kids, we have to restructure our entire day.
Our new routine looks as much like the old routine as possible. Get up and get dressed, have breakfast, clean up breakfast and do chores. Next we do school with the kids, which includes PE time. If they finish school early they can play, and I start working at 11. Lunch is at 12, then we clean up and the kids have an hour of quiet time (which is what we do in summer when they are home all day) for an hour, reading in their beds.
After quiet time is outside time (though I'm considering getting them outside between breakfast and school as well to work out the wiggles). We have a huge yard, so they can run around, play basketball, soccer, chase the dog, climb our tree. We do allow them to ride bikes around the neighborhood, but not stop and chat. Before dinner I do OT with my daughter. The kids have free/play time until we start working on dinner around 5, and then we go through the normal evening routine of making, eating, and cleaning up dinner, and then bed time.
We've structured our new routine to be as similar to our old routine as possible.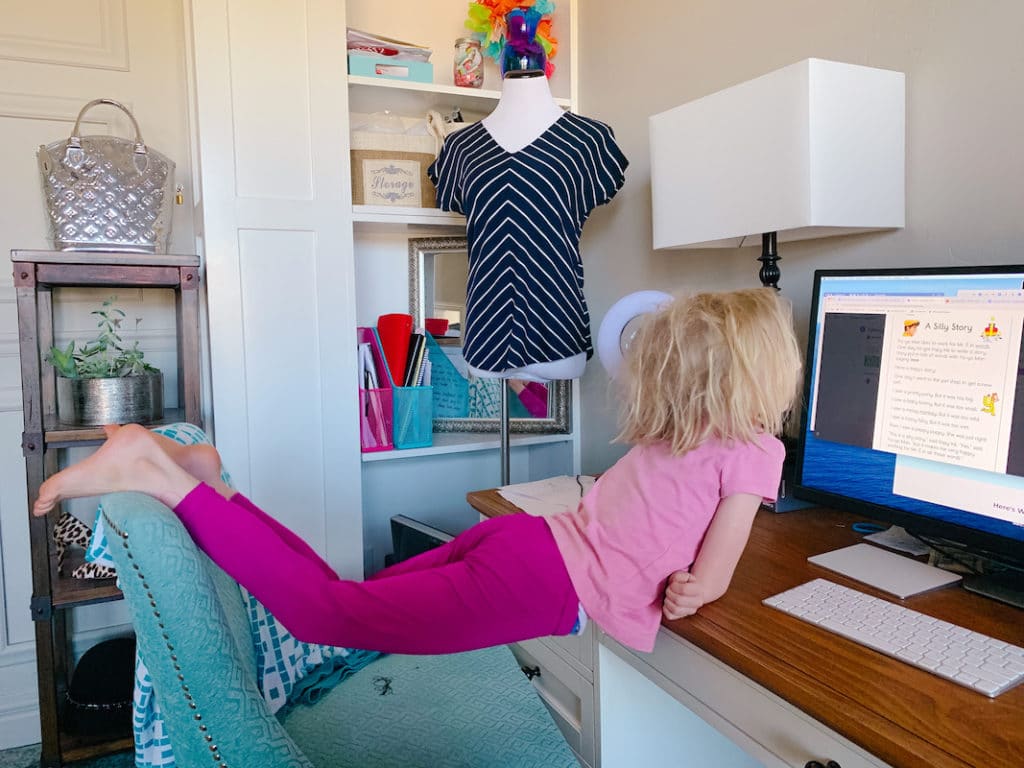 Staying home might mean less movement, especially if you are used to going to a gym to work out. But even removing the steps you were taking to go to the car, from the car to the store, walking around the store, back to the car, from the car to the house back and forth to unload groceries, and all those other little trips and steps you took are now missing. 
Our bodies need movement for our physical and mental health. Make it a priority to move more around your home by taking extra trips up and down the stairs, take a walk, hop on the treadmill, whatever you can do. 
If you usually go to a gym or somewhere outside the home to get a workout, don't lose your momentum! There are tons of online options to get your daily exercise in, and many of them are free! Check out YouTube. Your local gym or studio may have moved their classes online. Our local yoga studio is doing this, and we are supporting them, our communities, and our economy by continuing to participate. 
If you haven't been loving your body with some movement, I wrote all about how to start and stick to an exercise routine, and I shared several of my favorite at-home workout programs here.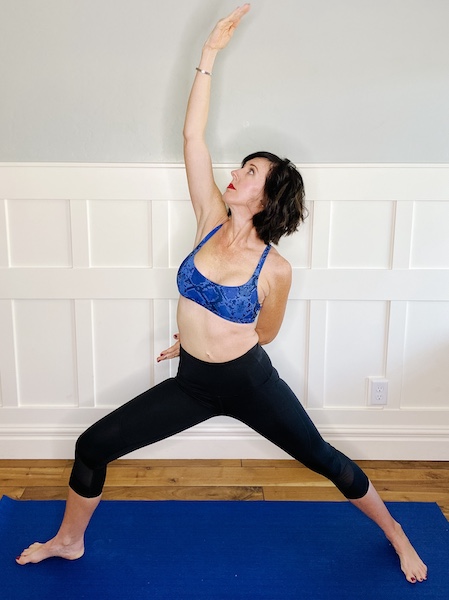 Social Distancing doesn't mean you have to shut the blinds and lock the doors. This isn't prison. You can still go outside for a walk, ride your bike, go for a run, just don't get close enough to get coughed on. Getting fresh air and sunshine is essential for your mental health. It will do you a world of good. 
After realizing I hadn't been outside in a week(!), I stood outside on the steps in the sunshine today, and it was glorious. I plan to do some more gardening this weekend, which makes my soul happy. Just sitting outside on my bench makes me happy. Open the windows, go on a walk, ride your bike, but get some air.
We live in an incredible age when we can connect with anyone in the world with the touch of a button. Facetime, text, phone calls, Facebook, and Instagram are all easy ways to connect with friends and family. Marco Polo is an app you can use to send video messages to friends and family, and it's so nice to see the face you love along with the voice. They can watch and respond when they have time. It's not the same as face-to-face contact, but it's something!
My family communicates on GroupMe, a group texting app, and we are sharing with each other more than ever, even though we were spread across the country before all this happened. We long to connect. 
Especially those of you who live alone, please reach out and stay connected. And those of us who don't, please reach out to friends and family members who are especially isolated. Grandparents, parents, aunts, uncles, neighbors, family friends, or anyone in an assisted living facility or living alone will be struggling with isolation.
There is a difference between staying informed and wallowing in the negativity. I stopped reading the news years ago because it really upsets me. Since this pandemic situation started I've been pulled back into reading everything I can, and my anxiety has been at peak levels the last couple of weeks. I have to stop.
My husband volunteered to be my filter so I can stay informed on the essentials without doing a nose-dive into the rabbit hole of fear. I just mentioned using social media platforms to stay connected, but in truth that can be a source of negativity if your feed is full of anger, fear, sadness, and more news than you can handle. 
Find some specific places on there where you can socialize without the bad news all the time. My Facebook groups are Corona-virus free, so if you want a place to connect and get away from all of the news, please join us there!
There is always something positive. Homeschooling is not my idea of fun, but I am grateful to get extra time with my kids. I'm grateful we get to stay home in a house with plenty of space for all of us, food to eat, water to drink, utilities, and health. We have the option of staying safe, and we talk about it every day.
Environmental experts have noticed a huge reduction in pollution, and this could be the shift that allows more people to have a flexible schedule and work from home in the future. That can being all kinds of benefits to the economy and the environment. 
Think about families who spend hours commuting to work and might be able to work remotely in the future. More families could live in affordable areas and buy a home if they can work remotely. Real estate prices could even out because of that. The impact on the environment with fewer cars on the road could be the change that starts a snowball of cleaner air for all of us.
But there are immediate positives as well. You might have time to focus on some projects you've been meaning to start. I know I'm not the only one who plans to purge my house from top to bottom! Are there any books you've been wanting to read? Organizing photos, writing a personal history, learning a new skill or taking up a hobby you've always wanted to try (or pick up again), or anything else you've been putting off because you were too busy, what have you been putting off?
What good is coming from this new situation?
More than ever you need to make time for your needs. I'm now homeschooling 6 kids on top of running my business, and I have even less time in my days, but getting adequate sleep, getting dressed every day, getting some yoga in, feeding myself properly, and taking some time to myself each day is essential so I can show up as my best self for my family and anyone else who is relying on me. What does self-care look like for you?
I wrote about self-care, how important it is and what it means to me. It's more important than ever.
have something fun to look forward to
During challenging times we need to have something fun to look forward to, something just for ourselves. Make time for a favorite hobby, project, or something just for yourself. Schedule it into your week, add it to your new routine, and have that to look forward to each week.
Since we've been home, we've done tin foil dinners in the fire pit, family video game time, movie nights, making cookies, we have plans to roast s'mores and hot dogs, and other little fun things to look forward to during this time.
Planning something to look forward to longer term is also helpful. A lot of spring break plans got cancelled, and that's a double bummer, so plan your next vacation. You don't have to book it, but plan out where you'll go. How long will it be? Where will you stay? What will you do there? Put it on the calendar and plan for it. You can always adjust your plan later if you need to.
You may not have all the choices you had a few weeks ago, but you have a lot more than you realize. So what's it going to be? ER reruns and tears, or embracing the new normal and thriving?
Ready for a Free simple step-by-step plan to get ready in 20 minutes or less everyday?
As a mom of six kids, pet mom, and business owner, it is vital that my morning routine be quick and easy! And you are likely just as busy as I am, so I'm sharing what has made a difference for me.
My "Get Ready in 20 Minutes or Less" video + 10 Tips Cheat Sheet is available FREE at the link below and will help you look put together, comfortable and ready for anything the day brings you…in record time!