Which accessories should you include in your summer capsule wardrobe?
Are you ready to build a summer capsule wardrobe?
My first attempt at building a capsule wardrobe from scratch was overwhelming. I spent a month planning and researching what to pack for a 3-week vacation in a carry on bag. Technically I achieved my goal of only taking a carry-on bag, but the assortment of clothes I took was so random, most days I looked like I got dressed in the dark!
While it wasn't a raging success, it did get me hooked on the capsule wardrobe concept, and I made another attempt with my summer capsule wardrobe. That one was much better, and each season it's gotten easier and easier. Since that first experiment I've loved having a curated closet.
In fact, I made a business out of it! Each season I create the Stunning Style Seasonal Capsule Wardrobe Guides. I do all the shopping, curate the wardrobe, get the shopping links, create 100 outfits, and a monthly wardrobe calendar showing which outfit to wear each day. Clearly, I love capsule wardrobes, and I'm pretty good at it. The Summer Capsule Wardrobe Guide is coming soon, and you can be the first to know when it is available by joining the waiting list.
Many of you are interested in starting a capsule wardrobe, but feel the same sense of overwhelm I felt at first. What is a capsule wardrobe, and is it right for you? Where do you start? What should you include? So over the next 5 weeks we are going to cover the essentials of what goes in a summer capsule wardrobe, and today we start with accessories.
You can watch the video and/or read the article below:
Shopping your closet is the best way to create your capsule wardrobe because it's fast, economical, and convenient. Hopefully you already have most of these pieces and it's just a matter of pulling them out. That's always my goal with the Wardrobe Guides, to choose pieces you likely already have, and include a few special items to update your wardrobe and make it feel fresh and new. 
Once you condense your wardrobe to a smaller collection of pieces you love, you may discover a gap or two in your wardrobe, but knowing what you don't have makes it a lot easier to know what to buy so you can shop with purpose, rather than picking up random items here and there hoping they will complete you…or your wardrobe
Accessories for your summer capsule wardrobe
Today we are starting an easy category for a quick win: accessories. Not everyone includes accessories in their total number of capsule clothing pieces, but most of us wear them. Accessories are an important part of your overall style and look because they complete an outfit and are a great way to bring in the details of your style. They take a t-shirt and jeans and make them an outfit.
Keeping quality and quantity in mind, like we talked about a few weeks ago with the save or splurge style snack, there is some balance here.
When it comes to quality, I would definitely choose one great quality bag over several cheaper bags. Of course you can have a few bags for your summer capsule wardrobe, but if you are going to buy or include only one, here are my recommendations. 
The quality of your bag will elevate everything else in your outfit, it gets a lot of wear, and a great one will last you for years; you will more than get your money's worth. You don't have to spend a mortgage payment to get a great quality bag, but it is probably going to cost more than dinner with a friend. This is a great item to shop the sales or pre-loved, and I have some articles that help you with that.
Because this is likely an investment piece, there are some questions to consider. First, if you are going to buy a bag, set a budget and stick to it. Never, never ever spend beyond your means. Don't go in debt over your wardrobe. 
Second, what are your summer neutrals? My neutrals shift from season to season, so think specifically about summer. What neutral color would go with every summer outfit? Do you prefer lighter or darker neutrals in the summer? 
Third, what is your style, and how can you incorporate it with the details in your bag? Take the Style Twist Quiz below for a great start on finding the details that suit you.
Next, consider your lifestyle. What is your life like in the summer? If you are anything like me, you are out and about more. I'm going places with my 6 kids in the summer, where during the school year I usually run errands alone. That means in the summer I need to travel light and be hands-free, so I carry smaller crossbody bags. 
This is my go-to summer bag, and if I could only carry one all summer, this would be the one. 
Summer Capsule wardrobe Jewelry
Summer is a time when we wear more color, dress more festively on a regular basis, and have more fun with our outfits because, well, it's summer, and we are outside barbecuing, eating on the patio, and going to lots of parties.
Accessories are a great way to have fun in your wardrobe, incorporate color, and experiment with trends. They are also a great way to incorporate the details that really tell your style story. 
Because summer clothes are inherently lighter, and the details I love are harder to come by, I have a hard time getting my Edgy Classic style in the summer. No jackets and boots, not a lot of texture, leather, zippers, and studs. Summer clothes aren't substantial because it's hot. I rely heavily on my accessories to get my edgy details into my outfit. 
It's easy to find great, inexpensive items and have more options. So unless you are buying something you know you will wear for years and years, this is a category I would choose quantity over quality, but quantity is relative.
What jewelry do you like? Earrings, necklaces, bracelets? What do you wear the most? In the summer, you may prefer lighter pieces because it's hot. Anything that you ordinarily love in fall, winter, and spring might feel too heavy in the heat of summer. 
You don't have to include all of these things. Consider what you actually like and wear, and ignore what you think you should wear.
Earrings are a great way to have fun with your summer capsule wardrobe by bringing color into your outfit and color combining in small doses. Choose at least 1 pair in a neutral metal that will go with everything, for me that would be silver, and then think about any colors you might like that would go with your summer wardrobe. 
What size do you like? Especially now that I've grown out my pixie, I love statement earrings, and that's an easy way to get some edge. It's also a trend I'm incorporating right now. 
How many do you need? Realistically how many pairs of earrings do you wear on a regular basis? What will give you enough variety?
Even though I said quantity over quality, you can still get sterling silver, surgical steel, or gold-plated for a reasonable price, depending on where you shop. So you can still get some great pieces that will last for several years and not blow your budget. Strictly costume pieces also work.
Depending on the neckline of my top and my mood, I may or may not wear a necklace, but if I do, it will be a delicate necklace or a stack of delicate necklaces that reflect my edgy style. The smaller the necklace, the less likely you are to find or notice color, so I stick with my favorite neutral, silver. I have a few delicate necklaces I like to mix and match with to get a variety of looks and impact levels.
If you want to bring some color in with your necklace, a statement necklace will be easier to find and more noticeable.
How you mix and match your necklaces and earrings is up to you. Some women love to wear statement earrings and statement necklaces, others will choose to make a statement with one and go more delicate with the other, others will choose delicate with both, and some will only wear either a necklace OR earrings. There are also who women can't tolerate any jewelry at all. Preferences can also change from day to day.
Be honest with yourself about what types of necklaces you like, and how many you are likely to wear as you consider how many to include.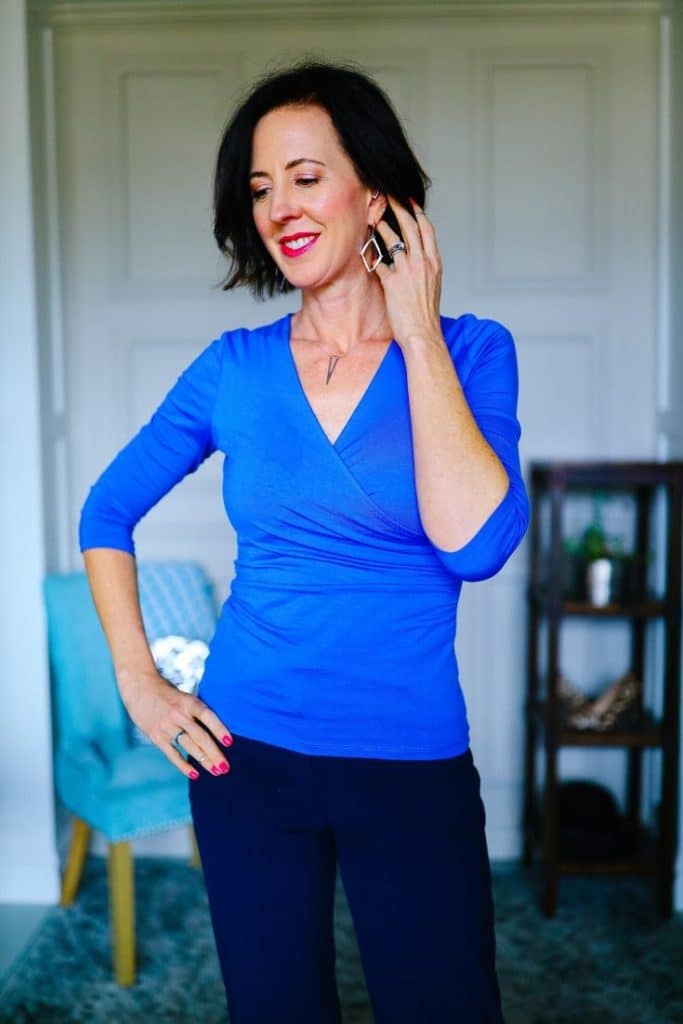 Bracelets tend to be a love it or hate it accessory because they move a lot and can be heavy and bulky. In the summer when you are hot and sticky – my mom likes to call it glistening – it might make you feel too hot and…sticky to have a bangle banging around. If you ordinarily love bracelets, consider whether you have a seasonal preference.
If a bracelet isn't something you love to wear, don't include one just because you think you should, but if you do love to wear them, it's a great accessory to consider for your summer capsule wardrobe.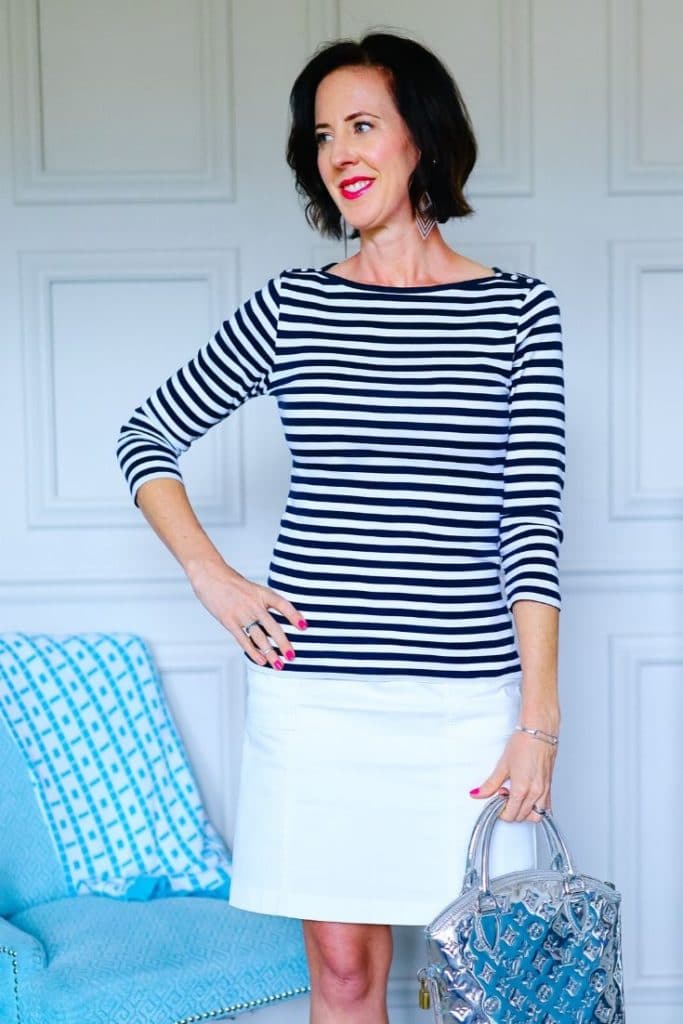 If I have belt loops and I'm tucking my top in any way, I love to wear belts, and I do include a couple for summer. Again, a belt might make you feel too hot or restricted in the summer, and could be an accessory you prefer in the cooler months. 
Cobalt blue is a color I always wear in the summer, and a belt that color goes perfectly with my wardrobe. Other than that I would choose a neutral or two to match either my bag or my favorite summer sandals. I'm a nerd like that. I love to match my leathers.
Scarves are typically a no for many women in the summer, but you can add some color and pattern to that neutral bag by adding your scarf there. There are lots of options, but this article shows some great ways to add a scarf to your bag. This is another easy way to wear one for a crossbody bag. You can easily swap these out to go with your outfit, so if you have some scarves you love, try this.
Try tying your hair back with a scarf to keep your hair out of your face while adding some color and pattern without overheating.
Sunglasses - the ultimate capsule wardrobe accessory
With all that fun in the sun, we need to protect our peepers. As a small accessory, you can definitely bring in some color, pattern, and go all extra. Sunglasses can definitely be a splurge item, especially if you have particular requirements like prescription lenses, but you can also make this a save item and have a few in your wardrobe. 
Do Signature pieces count in your summer capsule wardrobe?
Some jewelry pieces never come off, and while I wouldn't count signature jewelry as part of my total capsule wardrobe number, I do count them as I'm accessorizing my outfits. I wear certain rings, earrings, and a bracelet every day.
I'm super particular about bracelets, and I had a signature bracelet I always wore, but after two years I finally quit wearing it because it had these two spots that rubbed my wrist (we had a love/hate relationship and I finally ended it). For my birthday I got a new signature bracelet, and I love it. I will wear it every day as I did the last one.
With the advent of smart phones, watches have basically become ticking bracelets. I used to love to wear watches, and I've considered getting another one because I found one I love. Because that would be an everyday or signature piece, it would be an accessory, but not necessarily part of my summer capsule wardrobe total.
Join me for part 2 of the summer capsule wardrobe series
I'll be live with another edition of the summer capsule wardrobe series for our regular Style Snack on Wednesday at 11 am MDT/1 pm EDT. Join me here so I can answer your questions live! www.facebook.com/stunningstyleag