What I learned about decorating my house from evaluating my closet
"So," the interior designer smiled at me, "What style do you like in your home?"
"I don't know," I said as I shifted uncomfortably.
"What kind of feeling are you going for?" she tried again.
I shrugged.
"What pieces do you need?"
Blank stare. 
"What colors are you looking for?"
"Blue!!" I practically shouted! I know the answer to that one! I always love blue!
"Lovely! What other colors?" she continued.
"Uh…."
Why was this so hard? I knew what I liked in my last house, but this house is very different, and suddenly I was doubting myself. My last home was on a mini homestead we had created, and we had a French Country Cottage style going. It was perfect for where we lived, perfect for raising six very young kids, perfect for our lifestyle.
Shabby chic is perfect when you have a bunch of little ones because it all ends up shabby before long with the use and abuse of tiny people, but that doesn't work with our new home which is much more formal.
Also, my kids are older now, and hopefully I can buy un-shabby things and they will stay looking nice for a while (is this wishful thinking?). So…what do I like now?
Nothing can make you question everything you know about yourself like a major life transition. Whether you have a career change, a lifestyle change, become a new mom or empty-nester, death of a loved one, getting married or divorced, and even a cross-country move, everything you thought you knew about yourself goes out the window.
Who am I? What do I like? I don't even remember! I went through this with my wardrobe when I left my career to be a stay-at-home mom of triplets. I knew what I loved in corporate wear, but I had no clue about my casual style, and I started copying other women's styles, trying them on like costumes to find out what I liked.
I call them the lost years, and after my sixth baby was born, I realized I hated how I looked, what I was wearing, and how I felt, so I did a deep-dive to find myself again.
With this move into a new house, I suddenly found myself lost again with my style, but this time it was my home décor style, and I couldn't remember what I liked. Overwhelm, confusion, and worry were all I could come up with, until I remembered what I learned about my personal style.
The core elements of what I love don't change from style to style in my clothes – whether they are casual, dressy, yoga, swimwear – I love the same core elements. The same is true with my home décor style. Whether it's French country cottage or a formal, modern design, the core elements of what I love remain the same, and decorating and furnishing my home are very similar to building a wardrobe.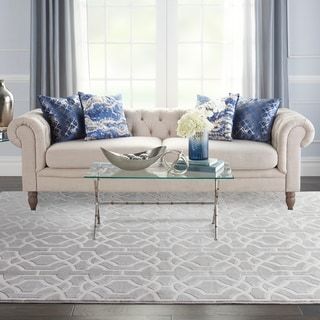 My first instinct is to doitallrightnow, because I want to feel settled, but I don't have to hurry. Yes, I definitely needed kitchen towels and washcloths, basic function items, but the rest can come more slowly. I don't have to have a completely furnished house TODAY. It's ok to have holes in my wardrobe and unfinished rooms as I find the perfect items.
Because one of my other rules is: don't settle. If I rush it just for the sake of having it done, I will end up buying things I don't LOVE, and they won't make me happy in the long run. It's a waste of my money if I wind up replacing it. I spent a few years looking for the perfect moto jacket, and it was worth the wait. I can wait to find the perfect chairs for the living room.
Just like with my closet, I need to start with the basics, like sofas and rugs. They will shape the space, give us a place to sit down, and protect the floors. Then I can fill in with the smaller items like chairs, side tables, and lamps, and make my way to accessories for the walls and shelves.
Just as I do with my clothes I'm looking for a balance of quality, beauty, functionality and durability. I want our family to feel at home in our home, and that means the items we buy need to be high enough quality to stand up to a lot of use, be functional for the ways we need to use them, but still make our home beautiful and a place we love to be.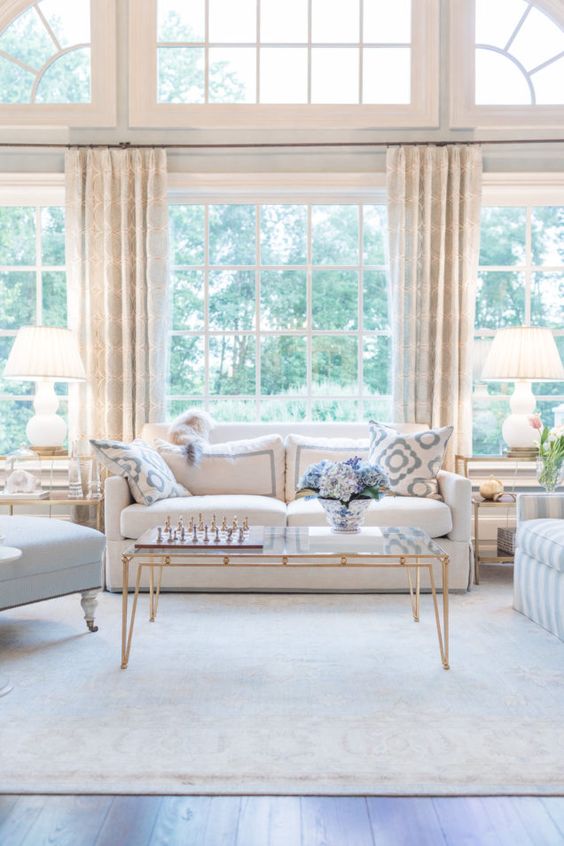 While I love color, I tend to use it sparingly in my outfits and my home. Most of my outfits are based on neutrals with a pop of color, and the same is true in my décor. If I have color on the walls, the furniture is neutral, and only a little color in my décor. If my walls are neutral, my furniture is still neutral, but I will bring in color in the rugs and add more color to the shelves and art. The balance of color is still the same.
I like my investment pieces and foundation pieces to be neutral, and I can switch up the color scheme and style with accessories over the years without feeling guilty over the price tag.
Since I love neutrals so much, most of my color, patterns and shine show up in my outfit accessories and my home accessories. I keep all those neutrals interesting by layering neutrals and texture.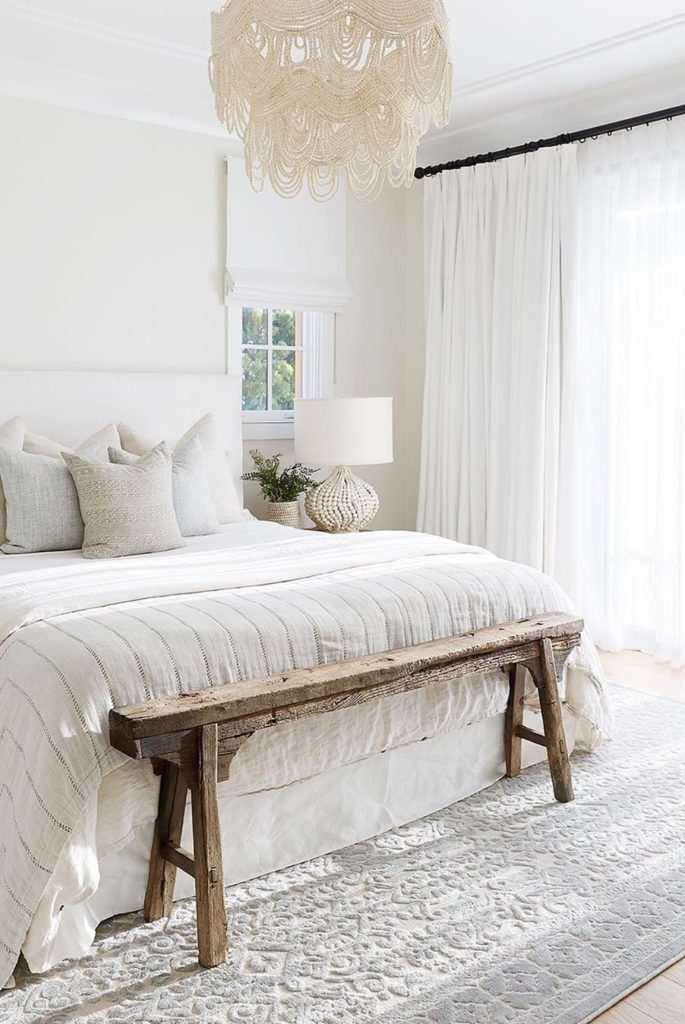 Cool, soothing, spa-like colors, and a palette of gray, white, and layers of different blues with a little red here and there help me feel calm, which was the exact same as it was in our previous home. Just as with my outfits, when I can't control the chaos going on around me, I can control the chaos in my clothes.
With six kids and a dog, the volume level in our home is usually at a 10 out of 10 with all the chatter, clank of dishes, barking, doorbell ringing, laughing. If my walls and furniture were shouting at me too, I might lose my mind. I need my surroundings to be quiet to balance the volume of my family.
I love light, bright spaces, so if there is a lot of natural light and great lighting, I feel ok adding some darker furniture and art, but if not, I bring in as much light and bright as I can. This kitchen has the same look my kitchen has with the white and gold, and I LOVE the empty counters.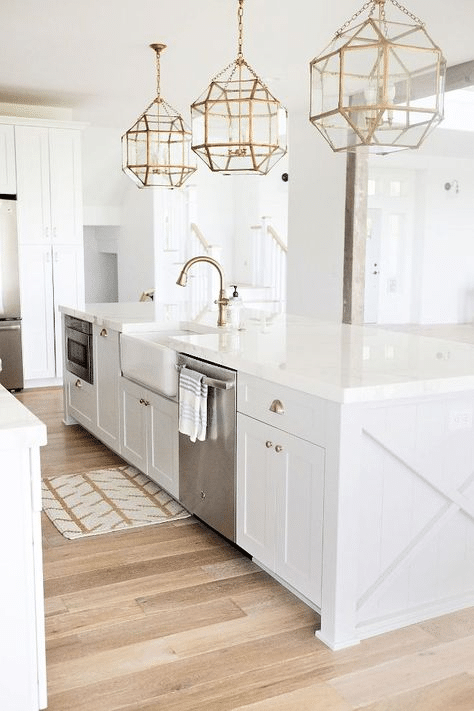 Not surprisingly, I love classic style in my home, especially with the major pieces like furniture and rugs, and by keeping those timeless, I can bring in trends and change up colors with inexpensive and smaller items like wall décor, pillows, and throws.
There are Classic Style Twists in home décor, too, and I am figuring out what details of other styles I can incorporate to really personalize my home and classic style.
The details of my outfits vary from day to day with what my calendar and the weather hold for me. I choose sneakers for field trips and busy days when I'm on my feet a lot because it's what I need, but the details of those sporty sneakers still fit my style.
Likewise, the details of my furnishings can change with each room to make them suit the use of the room and the people who use them. Just because my formal living room is FORMAL doesn't mean my family room, has to be. The living room is the adult-only bonus room, not a kid room. 
The family room is part of our kitchen and great room area, where our family spends most of their time, so it has a cozier, more relaxed feeling. Sectional sofas and chesterfield sofas are both classic, and work in different parts of our home. This room is very similar to what we are doing in our family room.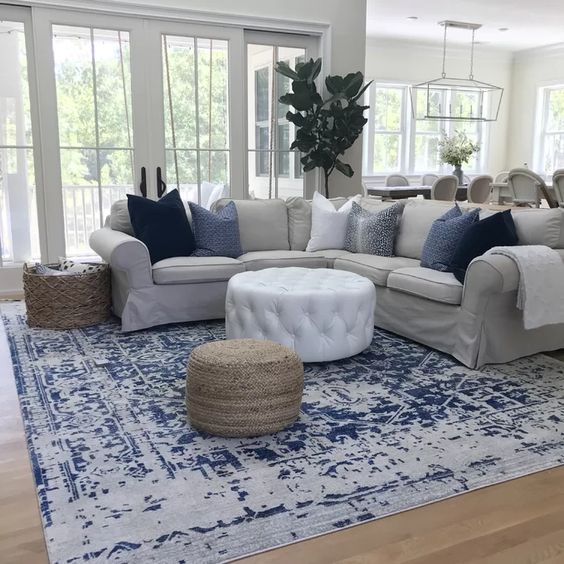 This chesterfield sofa is far more formal but is perfect in the dressier living room space.
In my home and my outfits I like simple, clean lines, not a lot of fuss or clutter. Filling a space with furniture or an empty wall with a picture just for the sake of filling space is not my style. Cozy makes me happy, cluttered does not. Empty counters make a space feel clean to me, so I don't like much décor on my countertop.
Just as I don't like too many accessories or details in my outfits, carefully curated art in just the perfect spot fills me with as much joy as empty walls. The lines and subtle details of my home have a chance to shine just as much as the lines and subtle details of my outfits.
Our living room is very similar to this one, and I'm going for a similar look with white furniture and accessories to lighten it up, keeping the details minimal so the beautiful wood paneling and lines can shine.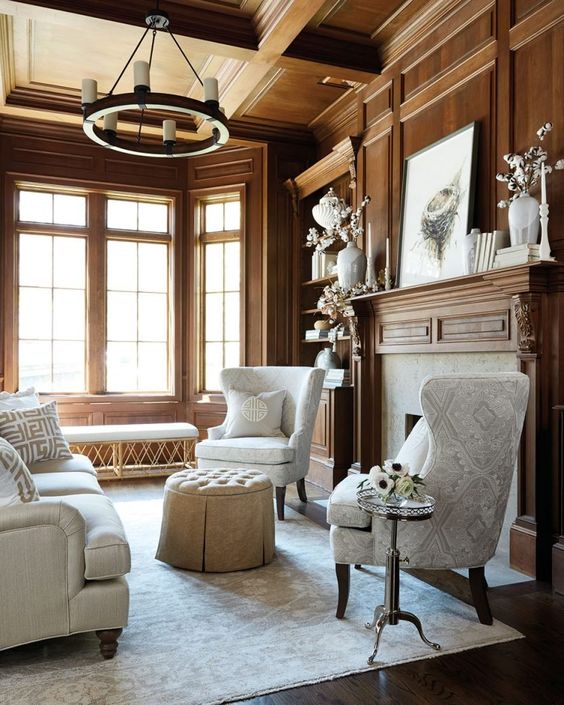 Now my designer and I have thoughtful discussions as we collaborate instead of me staring at her like she's speaking another language. I can guide her in what I do and don't love and quickly say yes or not to different things. It's such a relief to have my confidence back!
What Do You know About Your Personal Style?
Knowing what I do and don't love in my style, whether home decor or clothing, makes shopping and dressing my body and my home so much easier. I have a free masterclass called 5 Steps to Find the Right Clothes for you that will help you start to define what you do and don't love in your wardrobe so you can shop more confidently. It comes with a free workbook to help you work through the five steps at your own pace. You can sign up for the masterclass at stunningstyle.com/masterclass.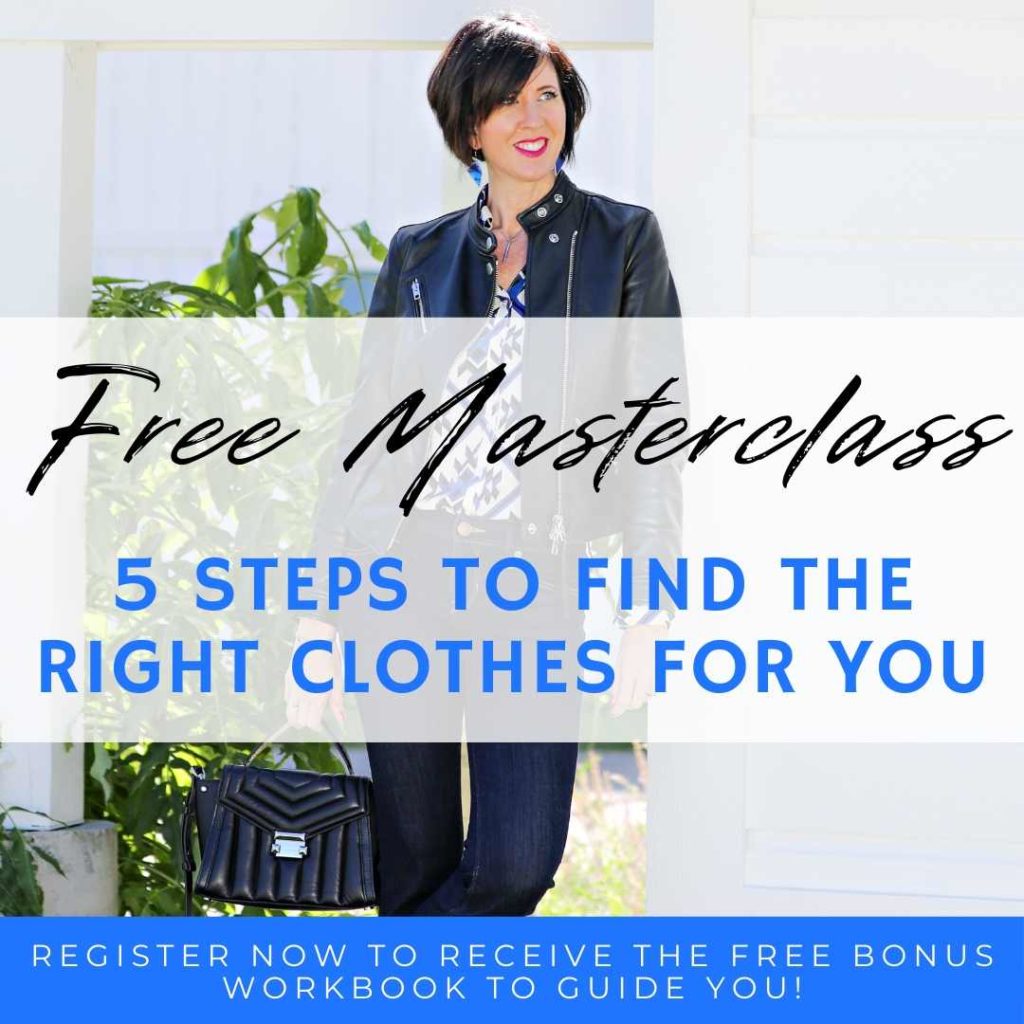 Join the free masterclass today!
This masterclass is a must attend if you...
Attend now to receive a workbook to guide you through the exercises!