I LEARNED TO EAT LIKE A FRENCH WOMAN THANKS TO STRONGER U!
Use my exclusive discount code for $40 off your first 3 months: stunningstyle2020
This summer I had a wake up call about the weight that had crept on (and I share that super embarrassing moment in the video), and my choices were to buy a whole new wardrobe, or lose the weight I had put on. I decided to suck it up, put down the corndog and get back in tune with what my body needs to look and feel my best!
I signed up with Stronger U last September, and lost 13 pounds in 13 weeks (and now I've lost 15 as I work toward lifestyle mode). Stronger U is a nutrition coaching program. They educate you about nutrition and how to create sustainable eating practices and long-term habit changes so you'll never diet again. I had an amazing experience with them! You can see my before and after below the video.
THE BEST PART OF THE PROGRAM
You know what I didn't expect? I didn't realize that going through their maintenance and lifestyle mode would teach me how to eat like the elusive French Woman – she eats all the decadent foods and still maintains her slim figure. Now I understand exactly how they do it, and I am enjoying all the foods I love while staying slim and trim. No gimmicks, no tricks, just normal food and normal eating.
GET BACK ON TRACK WITH YOUR GOALS
This is about the time of year when those New Year's weight loss goals are starting to slide, and Stronger U can get you exactly where you want to be, and teach you how to stay there! Today I'm sharing the 14 reasons I loved my stronger U experience (#14 is the very best reason!), and you don't want to miss the very embarrassing situation that let me know just how tight my clothes had become.
Stronger U is generously offering 10% off for my readers and viewers! The 12-week session usually costs $449, but you get it for $409! To claim the offer, use the sign up link. When you register, use the discount code stunningstyle2020. Soon you will receive your questionnaire, and then an email introducing you to your new coach!
Now for the giveaway! Everyone who signs up for a session with Stronger U through this promotion and subscribes to my YouTube channel will be entered into the drawing for a free second session! One lucky person will get that second session free! You can subscribe to my channel here, and all it means is you will be notified when I upload a new video.
The giveaway is open for a month from January17 – February 14, 2019.
STRONGER U BEFORE AND AFTER PHOTOS
Please know how hard it is to share my before and after pictures. When I took these pictures, it was for me and my coach to evaluate my progress. I had no intention of writing a post or sharing these pictures with the world. To say I feel exposed (see what I did there?) sharing this is an understatement, but I want to really show you the difference Stronger U has made in my body so you can understand the real value of their program. 
My next step is to get fit! I've worked my way up from yoga once a week last September to three times a week as of the New Year, and I'm so excited about getting strong again!
Picture 1 is from a vacation early in the summer. Excuse the pasty glare. The top row was about halfway through my journey, and the bottom row was this morning.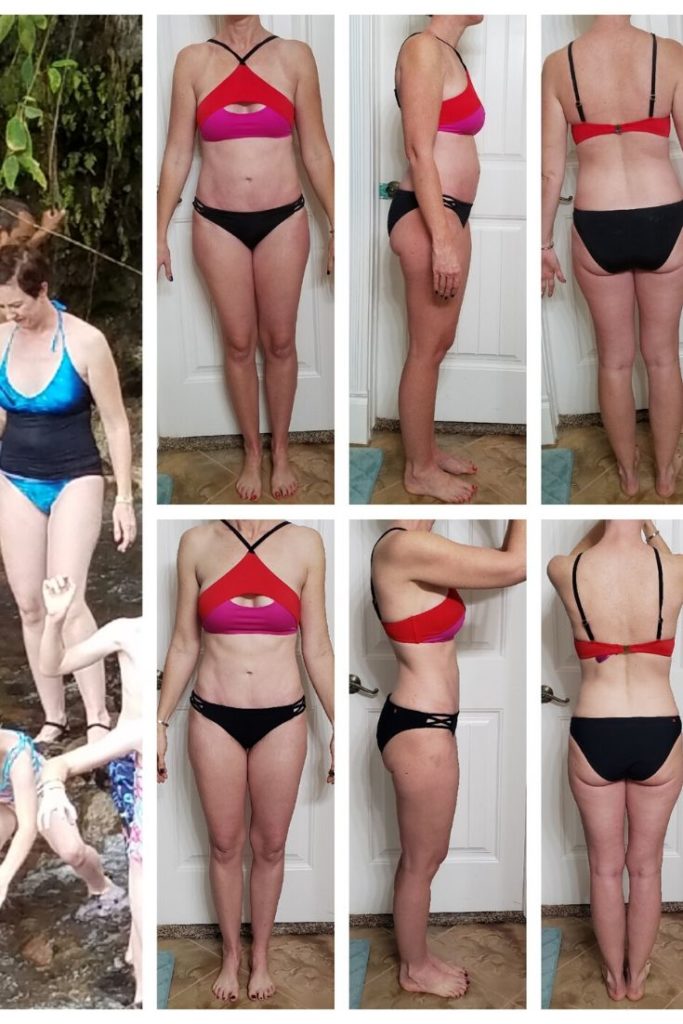 We are proud to partner with Stronger U for today's post. Sponsors are carefully selected in conjunction with our mission statement to bring you content and products we think you'll love! All opinions and editorial decisions are solely my own.
Have you joined my FREE Facebook group? Classic Capsule Conversations is the perfect place to discuss capsule wardrobes and classic clothing style with a community of like-minded women!
This post contains affiliate links, which means if you purchase through my links I get a small commission, but it doesn't cost you anything extra. Thanks for supporting my blog!
Discuss capsule wardrobes and classic style with a fun community of like-minded women in the Capsule Wardrobes for Classic StyleFacebook group! 
This post may contain affiliate links, which means if you purchase through my links I get a small commission, but it doesn't cost you anything extra. Thanks for supporting my blog!
Become A Stunning Style Insider
Make getting dressed the easiest thing you do all day!