How to wear flattering Bermuda shorts outfits
I'm not sure there is anything harder to wear than Bermuda shorts. They are decidedly unsexy, uncool, and unflattering. They are….mom shorts. And yet for some of us, they are the only shorts we will wear. The reasons vary, but they are part of our wardrobes, so it's important to wear them well. They don't have to be frumpy or dumpy if you choose the right ones and style them well.
I can't emphasize this enough. Just like with every outfit, you want to highlight the feminine parts of your figure and provide balance in the top and bottom halves.  Shorts should fit nicely in the waist and skim the hips and thighs, even if that means you get them tailored. It's worth it.
Don't buy men's shorts just because they are longer. They won't fit your body right, even if you think you have a boyish figure. The key is -ISH. You don't have a man's figure.
I love chino shorts. As much as I love a good cut off, chino shorts are easier to dress and not look like you are going to do yard work. They are structured and usually have a nice, tailored fit and are universally flattering. Tailored doesn't mean skin-tight. It's ok if they fall straighter from the thigh to the top of the knee, like most of mine do, but steer clear of a flare cut at this length, and no basketball shorts.
You can also wear a fitted short if that's flattering to your body shape.
Literally and figuratively. I love to pair even a short wedge with my Bermudas as it lengthens the leg and helps with the break in the leg line. It also takes the look of the outfit up a level without being difficult to walk in. I have 6 kids, and I have to wear shoes I can keep up with them in. Even a 1-inch wedge will help.
Probably the hardest shoe to make work with a Bermuda is a sneaker. The high vamp (how high up the front of your foot it comes)and flat heel, combined with the length of the shorts cut off your leg line. Does that mean I don't wear them together? No. Sometimes the day calls for it, but be aware of what it does to your look and compensate accordingly.
Choose a flattering cut top
If your shorts are very fitted all the way down, balance that with a little looser fit (but not drowning you) in the top, and if your shorts are a little straighter like most of mine, choose a fitted (but not skin-tight) top. It should skim your shape, not show what you had for lunch.
Accessorize, accessorize, accessorize
A necklace and/or earrings make all the difference in any outfit. It makes the outfit look intentional and finished, and only takes a minute. The summer temps can make a statement necklace feel too heavy, so even a delicate necklace, or a few delicate necklaces layered together can make a difference. If you want more, pair that with either a statement earring or some shiny studs.
A belt can make a statement and add interest to your outfit without overheating you.
Have fun with colors and prints
Because shorts have a lot less fabric, it's easier to wear a punchy color or pattern on your bottom half without feeling overwhelmed.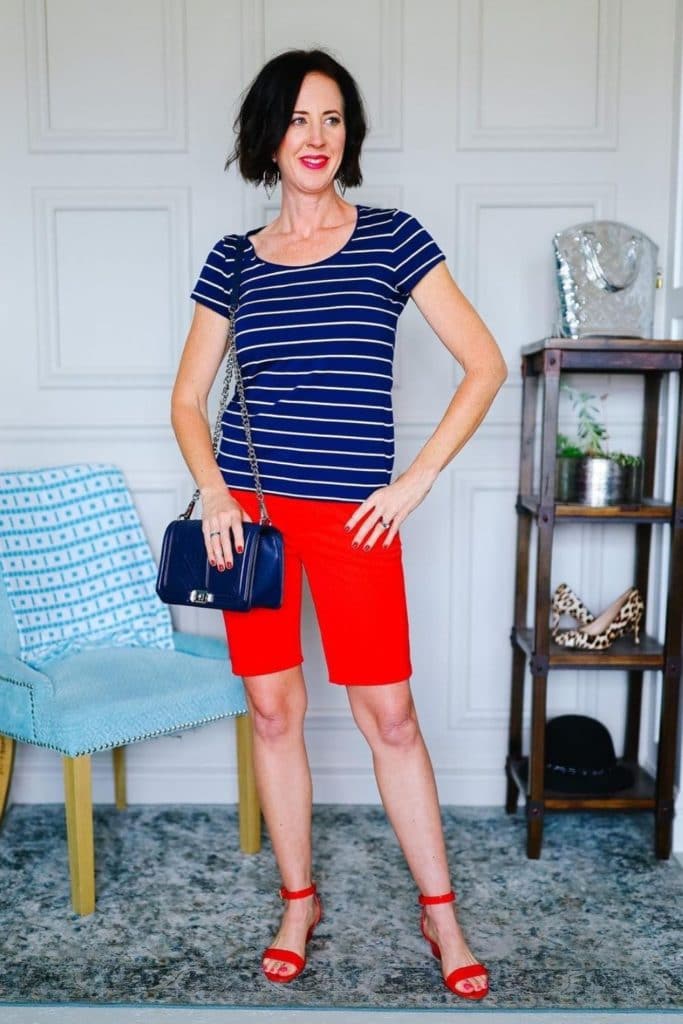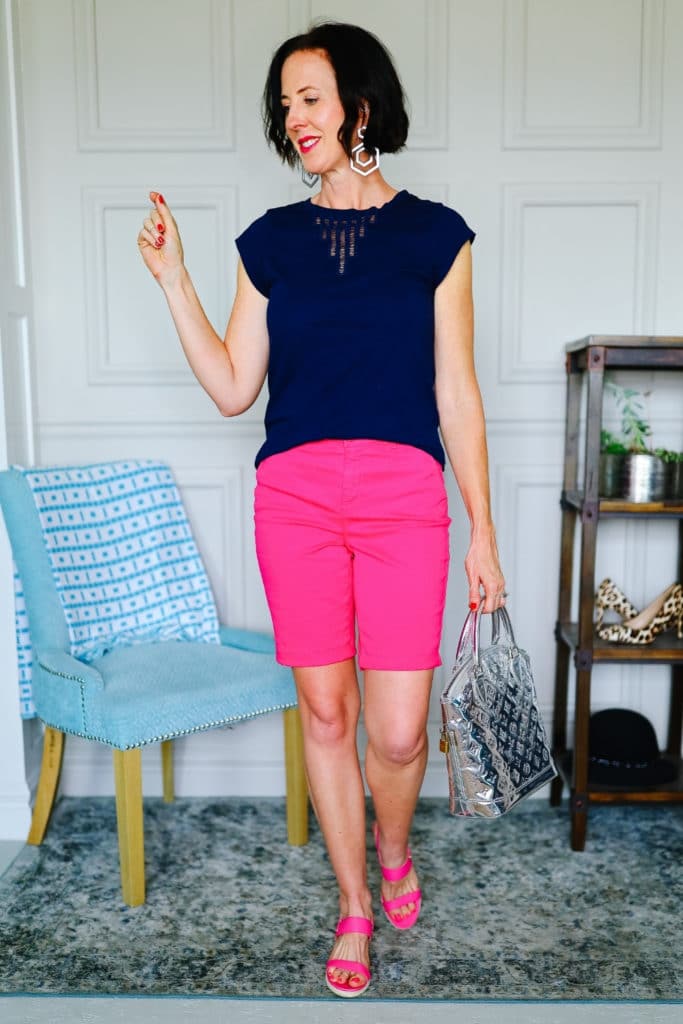 The last tip is a bonus, and its something that a lot of people aren't aware of. The Rule of Thirds is an ancient design concept that is used in all types of visual compositions from architecture to photography, paintings, and more. The Rule of Thirds applies to anything visual, and it suggests that a composition is most pleasing to the eye when its elements are divided into two-thirds and one-third ratios. We don't consciously know why we prefer some photographs or outfits more than others, or why some sculptures are more attractive, but one of the reasons is likely that the artist or designer used the Rule of Thirds.
Achieving this with Bermuda shorts is really, really hard. But for many of us, that's the only length of shorts we wear. It has to do with getting the hem length of your shorts and tops right. The Rule of Thirds can be really tricky, and it's something that we dive into very deeply in my Style Your Silhouette course. We have several lessons on it during Course 2 and it goes well beyond shorts, but it can make all the difference in how your outfits look. It's a huge reason as to why Bermuda shorts are so tricky and often because what you are pairing with them gives your outfit a 50/50 ratio, which just isn't as visually pleasing.
Below are a couple of great examples of high waisted Bermuda shorts outfits that follow the Rule of Thirds.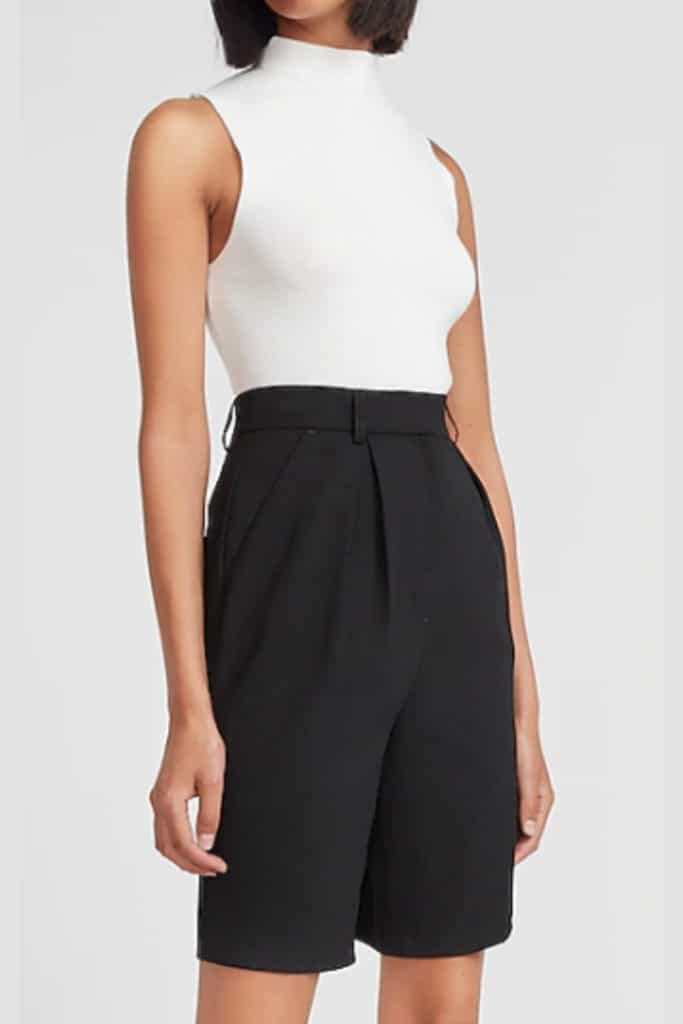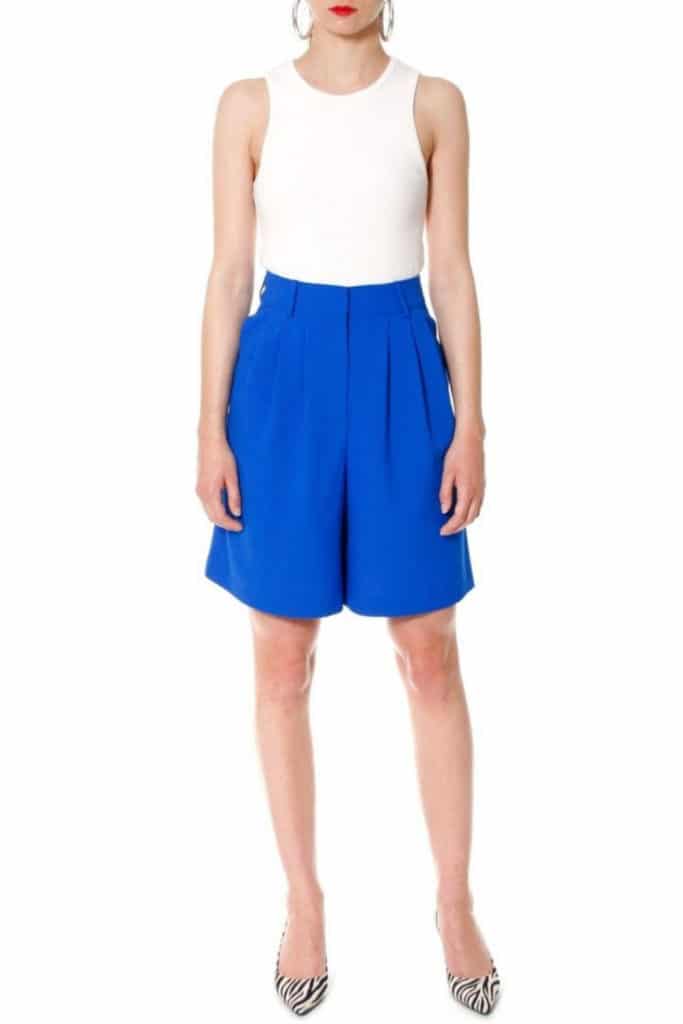 Style Your Silhouette is all about dressing for your body shape and figuring out which shorts, tops, and bottoms best flatter your body shape. If you aren't sure what your body shape is, I've written several articles about each of the individual body shapes and how to dress for them, as well as an article that can help you figure out your body shape along with a free worksheet, all linked below.