Tops are the heavy lifters in your summer capsule wardobe
Can you have too much color in your summer capsule wardrobe?
"That's a lot of…color…for you," my husband said when I came out of our room in my new top.
"I know. It's my fiesta top. Summer is fiesta time."
Admittedly, in the fall and winter I wear a lot of dark neutrals, in the spring I start to lighten up and add more color, so it can be startling to those who know me best when I start to wear a lot more color in the summer.
But…it's summer (hello sunshine and happiness!). Because the weather is warmer, and the clothes are smaller, it's not as overwhelming to wear a Crayola box.
Summer is all about fun, vacations, pool parties, barbecues, fireworks, watermelon, and sunshine! It's fun to have more fun with your wardrobe. And while I love to wear my fiesta top in the summer, if all of my tops were that bold and colorful, my summer wardrobe would not be very functional.
If you missed part one – Summer Capsule Wardrobe Essentials Series: Accessories – it's a quick win to jump start your seasonal closet.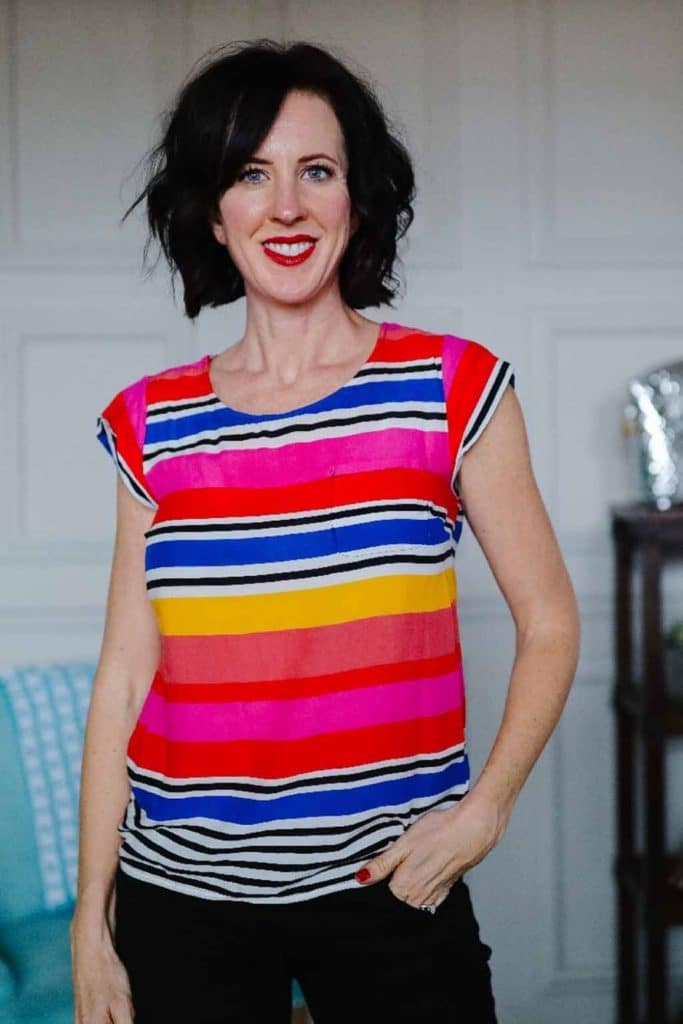 Picking the perfect Tops for your summer capsule wardrobe
For most wardrobes, tops carry the burden of bringing variety, color, pattern, and interesting details. Tops are where a lot of our style and personality will show, and where we can have the most fun (I have never used the word fun this many times in one day).
This heavy-lifting category is also usually the largest in a capsule wardrobe. A capsule wardrobe is curated, selective, and refined to your favorites, which means we demand a lot from each piece. We want balance, versatility, variety, style, function, and fun from our wardrobe, and it's easy to believe every item in a capsule collection has to be special. But just like the ingredients in a recipe, every wardrobe item has a different purpose, and they can't all be truffle oil.
To help you achieve all of those things for your wardrobe as a whole, I have four categories of essential tops I include in the Summer Capsule Wardrobe Guide, which is launching soon! You can be the first to know by joining the waiting list.
Before You Choose Your Summer Capsule Wardrobe Tops
For a lot of reasons (but mostly triple-digit heat), my preferences and requirements for the types of tops I wear in the summer are very different than the other three seasons. There are some questions to ask yourself so you can narrow down what you really want, need, and will actually wear for summer.
To avoid being caught up in what you think you should include, or sticking to the preferences you have the rest of the year, these questions will give you clarity.
Do you need mostly casual or dressy tops?
What types of tops do you prefer? Tees or blouses are the two main options for summer.
What sleeve lengths?
What fabric weight? Do you prefer anything that is light to keep you cool, or do you like something more substantial and structured so it stays put?
What materials? Does the heat mean you only wear natural fibers so they breathe, or because you spend most of the day inside, it doesn't matter as much?
What length?
What kind of fit?
What kinds of bottoms are you wearing them with?
What's your preferred neckline?
Summer Capsule Wardrobe Tops
At Least One Neutral-Colored Top
As we talked about a few weeks ago, neutrals are the staples of every wardrobe, and what every outfit is built on. They aren't as fun to talk about or shop for, but they are critical to a functional wardrobe, especially a capsule wardrobe.
Even though it seems lie a good idea to make your summer capsule wardrobe all about color, that color needs something to anchor it, or you'll look like Rainbo-Brite exploded on you.
Include at least one neutral top in your summer capsule wardrobe. When it comes to pants, I almost always wear a neutral color, but in the summer most of us are more likely to wear a colorful bottom. Unless you want to color block in every outfit, you're going to need at least one neutral top, but let's be honest, one probably isn't enough.
What are your favorite summer neutrals that will go with everything? Some version of white (or off white, cream, ivory, whatever suits you) is always a great summer option because it lightens everything, and makes any outfit feel more summery.
I'd be lying if I said I'm not including a black top, too, because black is my very favorite neutral forever and always. I have 4 neutrals in my summer capsule wardrobe: black, white, navy, and silver, and a top in each color.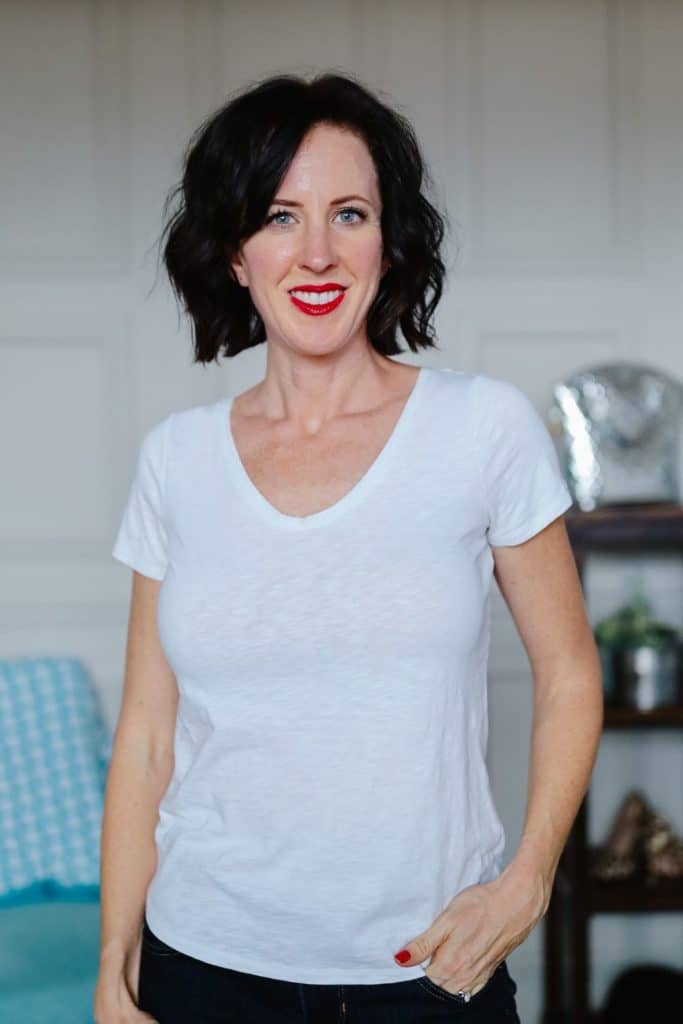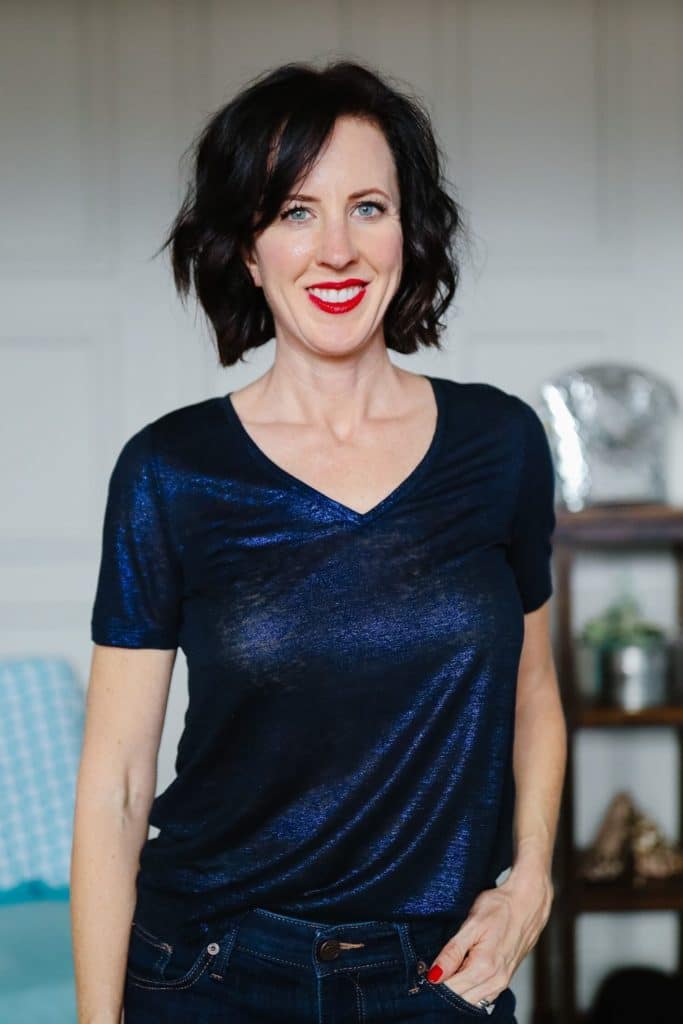 Include at least one solid-colored top, and a great choice would be your favorite or signature color. Who wouldn't want to wear their very most favorite color that gets compliments every.single.time? You will always look and feel amazing in it. If you love the color that much, you probably have more of it in your closet, and it's likely to go with a lot of things in your wardrobe.
A solid-colored top in a color you love will be a very versatile piece, an instant winner, and brighten your day. An easy outfit formula on any day is a solid colored top in your favorite color with a neutral bottom. You'll look and feel great all day. Done and done. It's like wearing happiness.
To butcher one of my favorite movie lines, "Wearing your favorite color gives you endorphins, endorphins make you happy, and happy people just don't shoot their husbands!" 
Words to live by, my friends. (Ok she was actually talking about exercise, but the same principle applies).
Pattern is easier to wear in smaller doses, and a summer top is a great option for including it in your capsule closet. Decide whether you would prefer a neutral pattern, a neutral plus 1 color pattern, or a multi-color pattern.
One method to create a seasonal capsule color palette is to find a great multi-colored patterned piece and build your wardrobe around those colors, and use other pieces to draw those colors out.
My fiesta top is basically a wearable color palette deck. I could build my whole summer wardrobe around this. It's all the colors of summer I love to wear, and will go with basically every bottom I have.
Is there a pattern that makes you feel particularly summary? A floral pattern? A nautical-inspired striped tee? Something that reminds you of fireworks?
In the United States, we have three patriotic holidays. Memorial Day is the unofficial start to summer, when we celebrate all those who have fought for our country. July fourth is when we celebrate our national independence, and Labor Day is the unofficial end of summer and we take a day off from all the hard work we all do that builds and sustains our country. In my state we have an additional holiday at the end of July to celebrate when the state was first settled.
For all of these holidays the official color palette is red, white, and blue, so those colors always figure into my summer capsule wardrobe. I make sure I have at least one top I can wear to feel festive on those days. In my wardrobe it can be as simple as a solid colored red tee or a blue and white striped tee. For you it might be more overtly festive like a fireworks graphic tee.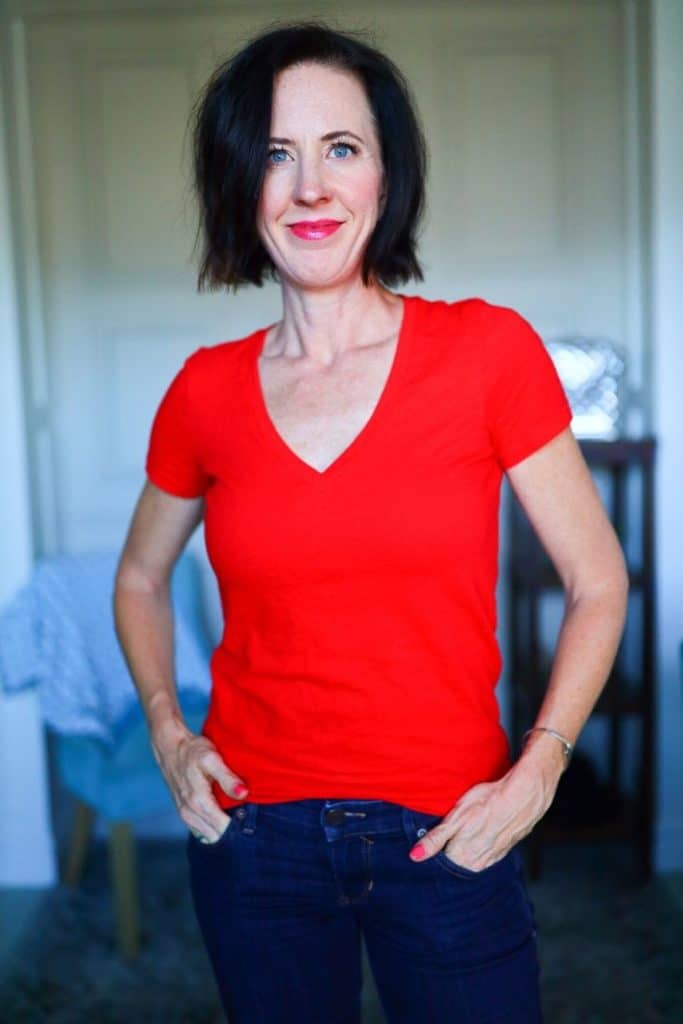 Now that you have these four categories of tops, it's time to decide how many of each get a spot in your summer capsule wardrobe. Do you want more color or more neutrals? More pattern or more solids? Or an even spread?
What will your summer capsule wardrobe look like? A fiesta or a siesta?
If you want all the hard work done for you, curating a summer capsule wardrobe, all the shopping links, 100 outfit combinations and a monthly wardrobe calendar, the Stunning Style Summer Capsule Wardrobe Guide is coming soon! You can be the first to know by joining the waiting list!
Coming next is shoes!