Step Into Summer With The Wardrobe Essentials You Need
Summer Capsule Wardrobe Made Easy
Summer, it's a love/hate relationship. Warm weather, sunshine, water, barbecues, being outside: LOVE. Summer wardrobe? It's a struggle. No season is harder to dress for than summer, which sounds ridiculous. Shorts + Shirt + Sandals = Outfit. Right? Well…yes, but it can get a little boring. When you have a selective number of items in your closet it can feel like even more of a snooze without the layers, booties, scarves, and everything else we use to up our style game in the other three seasons.
What summer capsule wardrobe essentials do you need to keep your outfit game on point? I'm glad you asked because I've got 13 essentials for you, most of which you probably already have. Definitely shop your closet before hitting the mall. But if there's anything from this list you're missing and it suits your personal style, check out my Classic Capsule Wardrobe Guides to figure out how to best fill in those gaps!
A Flattering Pair of Shorts
Unlike jeans, which reign supreme 3 seasons a year, shorts really only have summer in most parts of the country (California and Florida, don't rub it in, ok?). This is their season, and we love the extra air circulation. These days they come in every inseam length, so you can cover as much or as little of your legs as you like.
For many of us, a flattering pair of shorts is a must in a summer capsule wardrobe. They go with just about everything, they're comfortable, and they can be dressed up or down. Depending on your body shape and personal style, your "perfect" pair of shorts could look totally different from someone else's.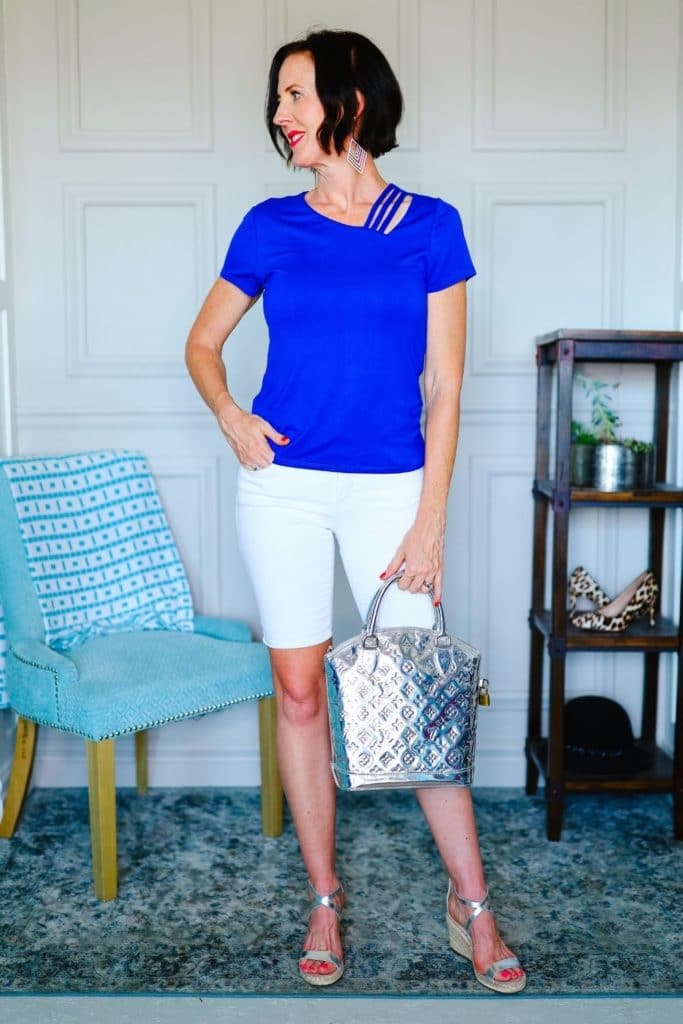 Skirts are a year-round favorite, but my summer capsule wardrobe has more than the other 3 seasons together. They are the perfect breezy alternative to shorts, getting even more cool air moving around your nether regions. Just like dresses, even though they are supremely comfortable, you automatically look more dressed up.
Like shorts they come in every length from mini to midi to maxi, and you can get as much or as little coverage as you like.
Not everyone wants to show some leg in the summer, and cropped pants are a great option. Opt for the wider leg cuts to get some breeziness literally and visually. Choose a length that hits at the narrow part of your lower leg, below the calf muscle, for the most flattering look. Add a lightweight summer fabric like linen, and your summer look is complete. If linen is too casual for your lifestyle, a lightweight gabardine is a great choice.
I'm willing to bet that there's almost nothing in your closet that wouldn't go with a plain white or black tee or top. Basic tees are comfortable and so versatile. Wear it on the weekend with an easy skirt, pair it with shorts and sandals for running errands, or layer a blazer over it with statement earrings for work. You'll probably want a few of these! To keep it from being boring, choose one with an interesting design detail.
Include at least one solid-colored top, and a great choice would be your favorite or signature color. Who wouldn't want to wear their very most favorite color that gets compliments every.single.time? It's a guaranteed winner to make you look and feel amazing. If you love the color that much, you probably have more of it in your closet, and it's likely to go with a lot of things in your summer capsule wardrobe.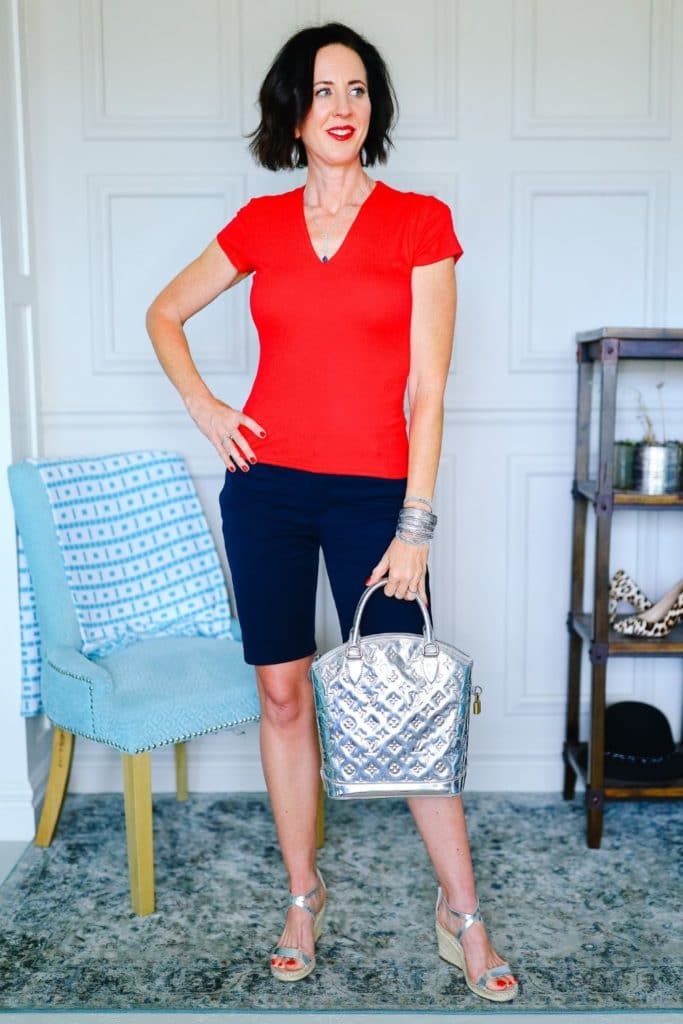 "How many striped tops is too many? I'll let you know when I find out." According to my daughter, stripes are my favorite color, and I definitely have a weakness for them. Classic stripes are so chic and versatile, but it can be any pattern you love. 
Is there a pattern that makes you feel particularly summary? A floral pattern? A graphic tee? Something that reminds you of fireworks? A fruit print?
Pattern is easier to wear in smaller doses, and a summer top is a great option for including it in your capsule closet. Decide whether you would prefer a neutral pattern, a neutral plus 1 color pattern, or a multi-color pattern.
Are You Ready To Create A Classic-Style Wardrobe That Makes You Feel Amazing?
The Stunning Style Society Membership is Your Done-For-You Solution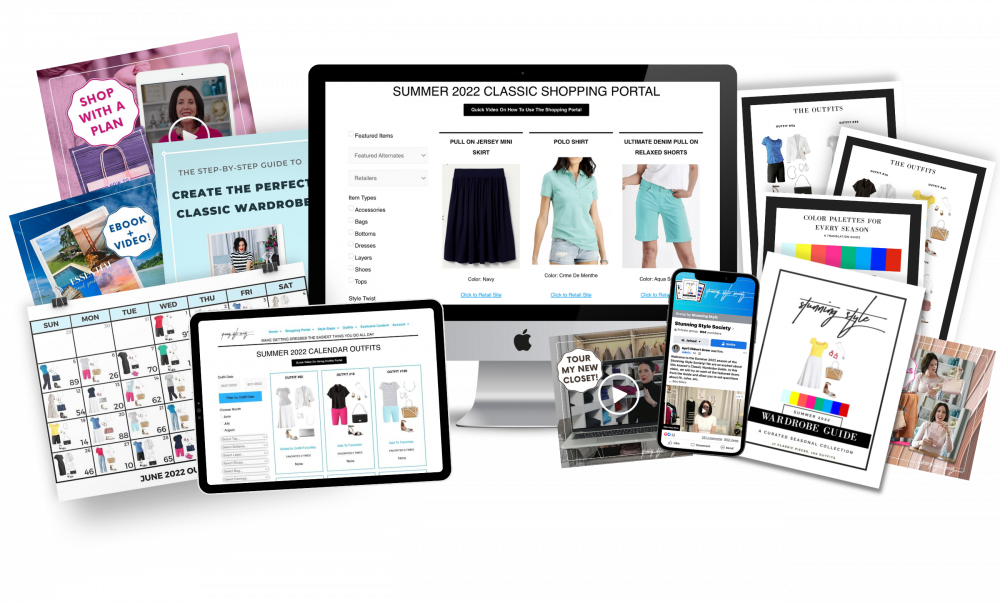 The very first summer shoe you need is a basic sandal in a neutral color that will go with everything in your summer wardrobe. Basics sound boring, but as we've talked about before, they are the foundation of every outfit. And they don't have to be boring!
The perfect basic sandal will be the pair you reach for again and again, goes with everything in your wardrobe, and tells your style story. It's all about the details. It sounds like a lot to ask, but if you are narrowing it down to this one go-to shoe, you want ultimate versatility, which comes by considering color, comfort, lifestyle, and personal style.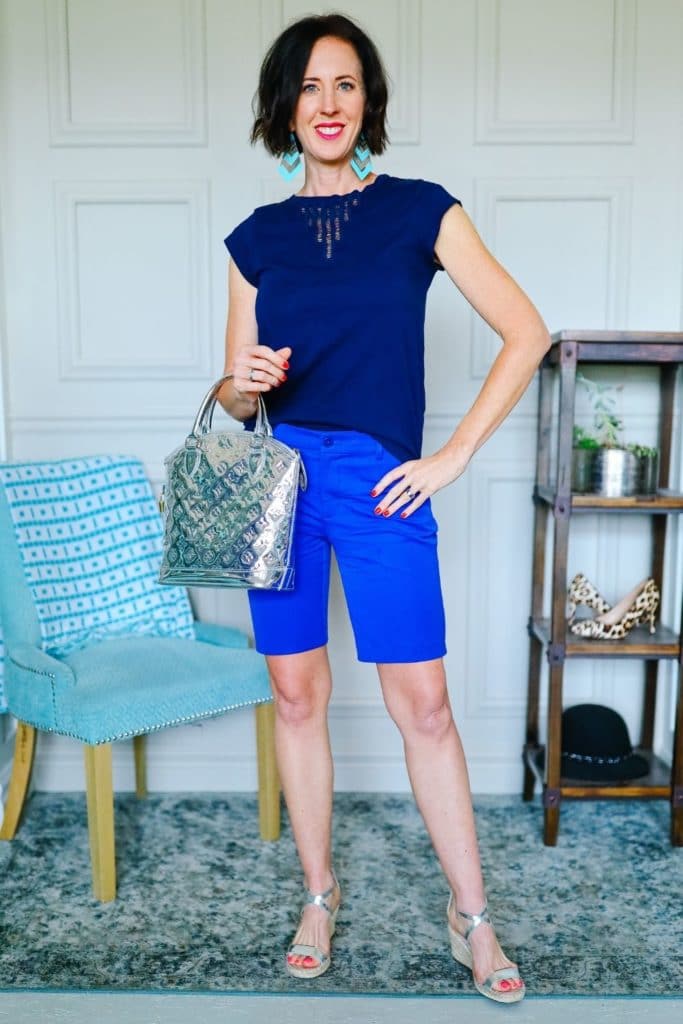 Who says capsule wardrobes have to be boring? Based on your lifestyle, find a pair of statement heels, sandals, or sneakers you absolutely love to add a pop of personality and style to your summer capsule wardrobe. The statement could be a bold color or a pattern, interesting straps or other details. 
Statement shoes are staples in my summer capsule wardrobe. Because clothes are smaller in the summer, it's easier to bring in more color and pattern without feeling overwhelmed. The smaller they are, the easier it is to wear something bold. Soaring temperatures means it is likely to be a sandal, but it doesn't have to be, especially if you can't wear sandals to work.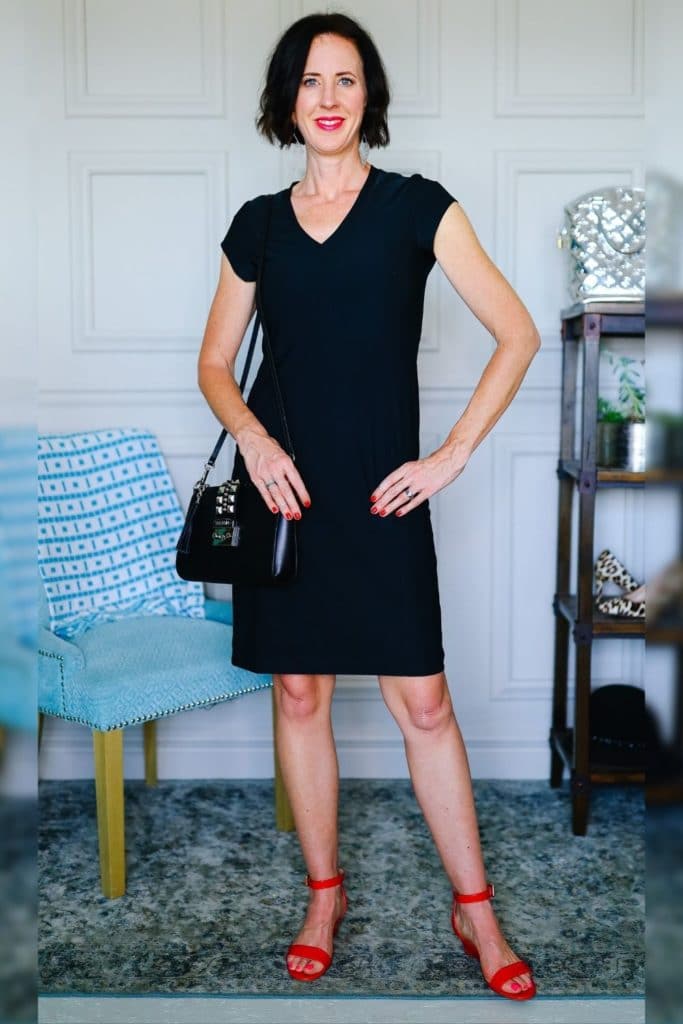 Summer means parks, picnics, barbecues, fireworks, after-dinner walks, and basically getting out and about outside. While your other two pairs of shoes need to be comfortable and fit your summer lifestyle, sometimes you really need an active shoe.
This can be something as sturdy as a hiking shoe, if that is an activity you do often enough to include it as part of your core summer capsule wardrobe, or it can be more like a sneaker, or a water sandal.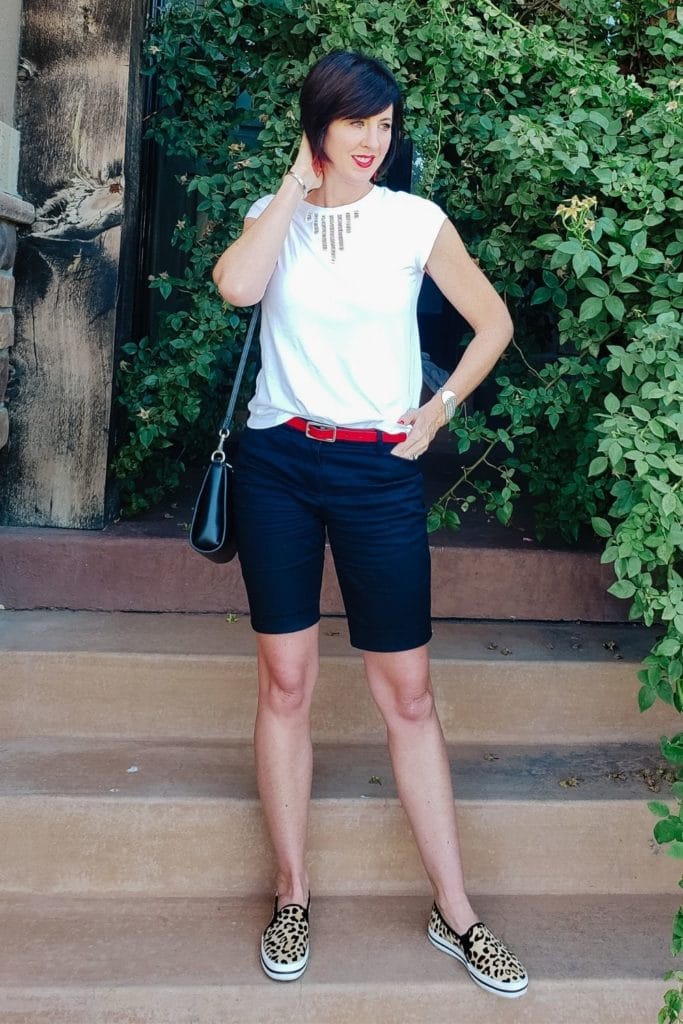 Dresses aren't just for dressing up! They are a favorite summer wardrobe essential for me, and I hunt for new ones every year. If you want fuss-free style, dresses are easy, breezy, instantly chic, supremely comfortable, convenient, one-and-done outfits.
When you put on a dress, you are basically…dressed. Just add shoes and go. No mixing and matching required – it's the ultimate easy button. You automatically look dressed up, put together and chic just because you put on what is essentially a very long t-shirt.
With one go-to dress in your summer capsule wardrobe you can change up how you style it, dressing it up or down as the occasion calls for. They come in every length, style, and material, and there is a perfect one for you.
Best color + figure flattering + comfortable = perfection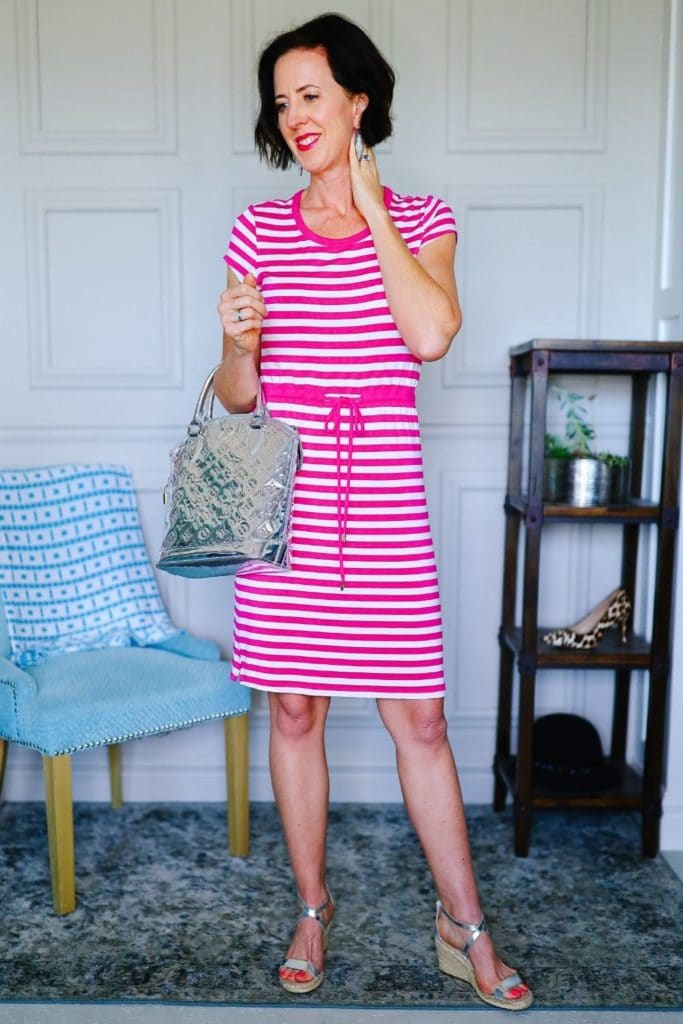 A…sweater? In the summer? Oh yes. Is it just me, or are restaurants, movie theaters, malls, and all indoor public places basically refrigerated in the summer? If you get cold as easily as I do, or if it gets chilly in the evenings, summer sweaters are a great option.
Choose a solid-colored sweater that goes with your color palette. Look for thin, lightweight materials that are meant for summer in a pullover or cardigan style, depending on your preferences.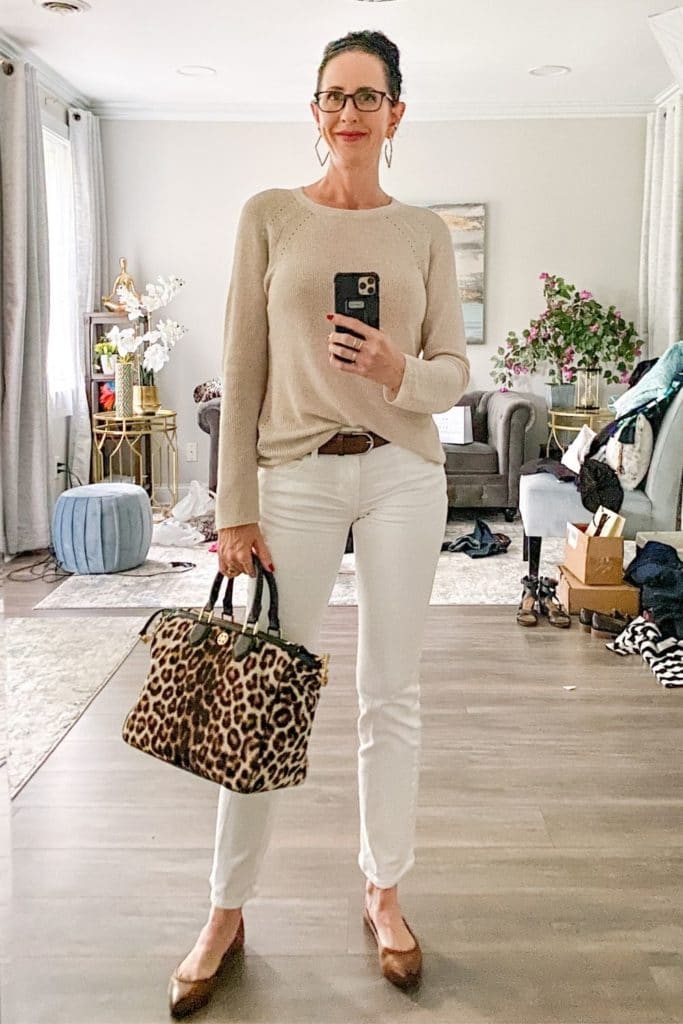 Nothing will elevate your look like a great bag. I'm not saying you need to spend a mortgage payment to get a quality bag, but maybe it should cost more than a lunch date. If you want something luxurious but budget-conscious, look at the pre-loved market, and take your time. 
In the summer I prefer smaller lightweight crossbody bags because I'm out and about with my kids a lot more. I need to be hands-free.
I do like to bring color to an otherwise neutral outfit with a bag, but if I had to choose one bag, it would be black. Sounds so cliche, but for me it's true. What is your go-to neutral? Choose that.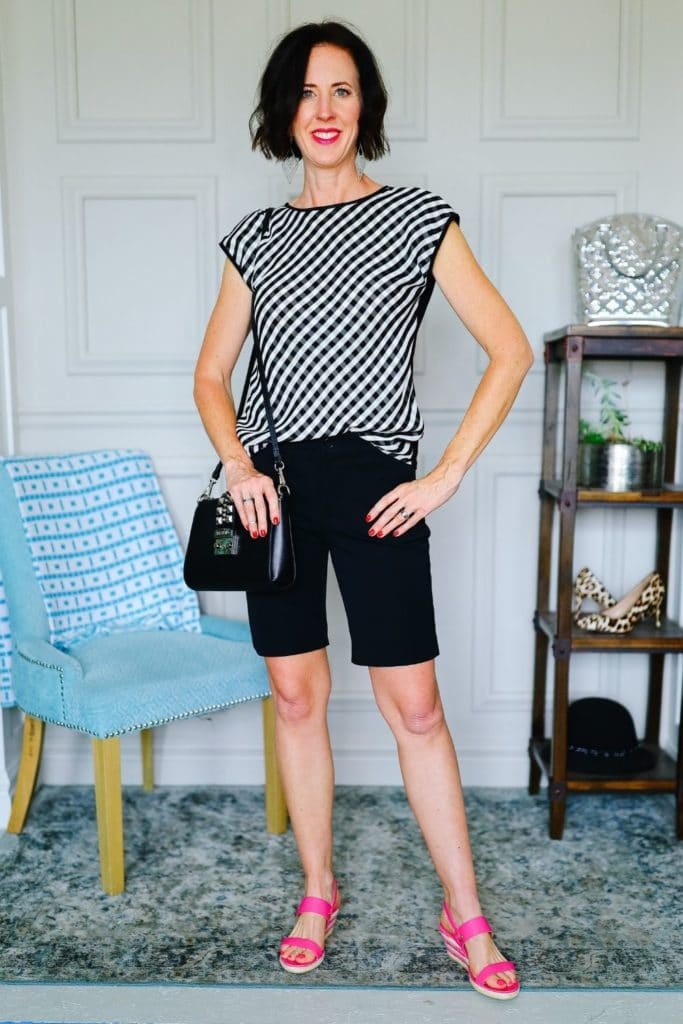 That pair of earrings that goes with everything. The sentimental necklace that you received on a special occasion. The one that perfectly represents your style, and you can throw it on with just about any outfit and feel complete. That's the one you need. 
It could be a statement piece or a dainty piece, but it definitely feels like you. If you are super minimal with jewelry and want something you can wear with anything, anywhere and even sleep in, a pair of hoops are the way to go. They come in every size from huggie to Jenny from the Block.