with the right summer dress, your outfit options are endless
A Summer Dress for Ultimate Versatility
Summer. After freezing temperatures and not enough daylight in the winter and endless rain and weather whiplash in the spring, nothing sounds more inviting than getting outside to enjoy sunshine, hot days by the pool, meals on the patio, evening walks, icy drinks, and barbecues. But that heat and sunshine we long for make summer outfits a challenge.
When we are shivering in our boots we forget how hot hot actually is, and when it arrives, the idea of something touching our bodies, like, you know, clothes, sounds about as inviting as a day trip to hell. With summer outfits there's not a lot of variety in styles, we rarely reach for layers, and all the usual tricks we have for making an outfit shine are off the table. And yet, we have places to go (remember those barbecues?). How do we survive the heat and still look great? It's easier than you think.
No item in your summer capsule wardrobe is as versatile, light, breezy, easy, chic, one-and-done, and all-around workhorse as a summer dress. More than ever, we long for that perfect combination of comfort and style, and dresses are the answer, especially in the summer!
What is essentially a long shirt is your shortcut to instant style. Even though you could sleep in it, something about a dress looks instantly polished and put together. There are a few tips to get the perfect type of dress, and then we will look at one simple trick to change it up for any occasion, from a pool day to an evening out or afternoon wedding.
Obviously we aren't talking about a silk dress, or a structured crepe, the summer dresses I'm talking about have some stretch and give. Really thin knits aren't as easy to dress up, but ponte´ knits can be mistaken for a crepe, and jersey knits show up in everything from swimwear to formalwear.
To get ultimate versatility from one summer dress (though my summer wardrobe has several), look for solid neutrals. Neutrals are your wardrobe staples, and always look dressier and more expensive, especially the darker colors. They're less likely to show wear and tear or spills (I struggle). If you want something lighter in the summer, but your lighter variations can look dressy too! Patterns can also lean more casual, but solids are easy to wear in every variation.
To take your dress everywhere you want to go, knee length to midi length is the most versatile and universally flattering. It depends on what your days look like, but a mini dress is a wardrobe malfunction waiting to happen if you need to get down on the floor with kids or a blanket for a picnic or outdoor summer concert. Nothing is as uncomfortable as constantly tugging at your hem to keep your bottom covered. Mini dresses are also not typically office or wedding appropriate. A maxi dress can be very summery, but it blocks all the airflow we long for, though it does work as a bring-your-own-blanket option. It's also not as versatile style-wise.
Your summer wardrobe can include all lengths of dresses, but when looking for ultimate versatility, knee length to midi will take you everywhere you want to go.
I've already worn this dress several times since I got it, I and love it so much I'll be featuring it in the Summer Classic Wardrobe Guide. It's structured knit with a great shape, including darts, a wide empire waistband, and hidden pockets (swoon!). The slight a-line shape and knee length are universally flattering, and it comes in petite, tall, and plus sizes. The rounded boatneck and cap sleeves keep it breezy and cool, and the knee length is perfect for every occasion. This dress is the very definition of classic and versatile.
Are You Ready To Create A Classic-Style Wardrobe That Makes You Feel Amazing?
The Stunning Style Society Membership is Your Done-For-You Solution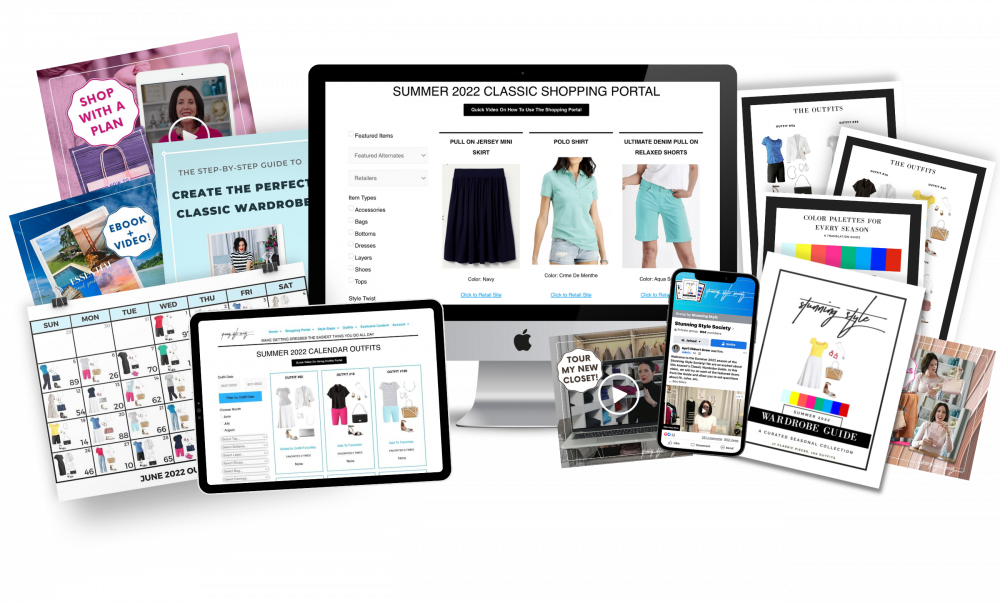 Your go-to dress can double as a swimsuit cover-up, or an easy coming and going summer dress outfit. It's only one piece to keep up with, and you can wear it anywhere before and after if the pool isn't your only destination. Throw on a pair of flip flops and your pool bag, and you are ready for the day. These flip flops are my signature color, and this coated canvas tote is pretty indestructible.
Sandals, especially wedges, are my favorite summer shoe, but not when I'm going to the park or anywhere else that isn't paved. One sprained ankle is enough to last me a lifetime (and my shoes weren't to blame!), so I'm extra cautious on uneven surfaces. Gravel, grass, or even dirt can be uneven and treacherous. I want to be able to run or walk without worry, so I love a summer sneaker with my dress. Throw on an easy crossbody bag, and I'm worry free.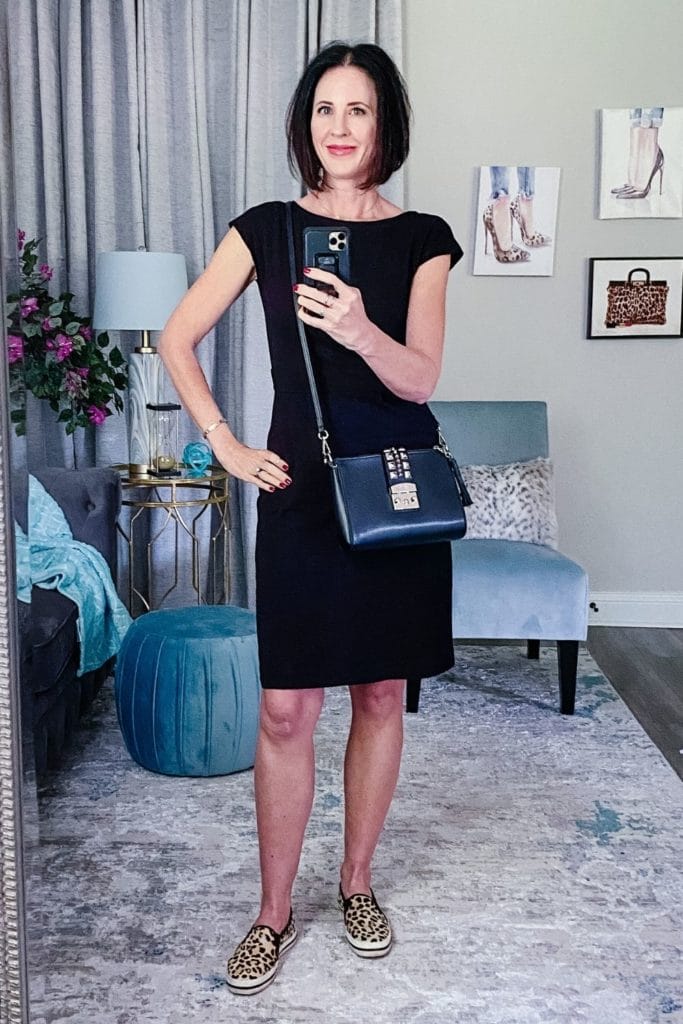 Whether you are a stay-at-home mom, work from home, or need casual weekend looks, an easy, everyday summer look is as simple as a dress and a pair of sandals with a summer tote. Totes are an easy and chic way to carry around your returns as you run errands, carry snacks and supplies for the kids, or even a picnic.
Grab your favorite summer sandals and a straw tote to bring in a summer vibe. This tote is going to be one of the options in the Summer Wardrobe Guide shopping portal. I stopped in my tracks as soon as I saw it. We will be going everywhere together this season.
Baby shower or lunch with friends
When you need a slightly more elevated look, grab those wedges and a smaller, sleeker bag to dress up your summer dress outfit. This is fun time with friends to wear what you love without worrying about spills, snags, or carrying anyone else's stuff.
If you need a dressier look for work, a nice pair of heels and structured bag instantly elevate our simple dress. In the summer you may be able to wear open toe or open heel, but if your workplace is very dressy, probably not both.
Evening out or afternoon wedding
If it's date night or you have an afternoon wedding, it's time to get fancy! Try shiny or metallic heeled sandals and a shiny or metallic bag elevate this dress. Go all out with beading or crystal embellishments.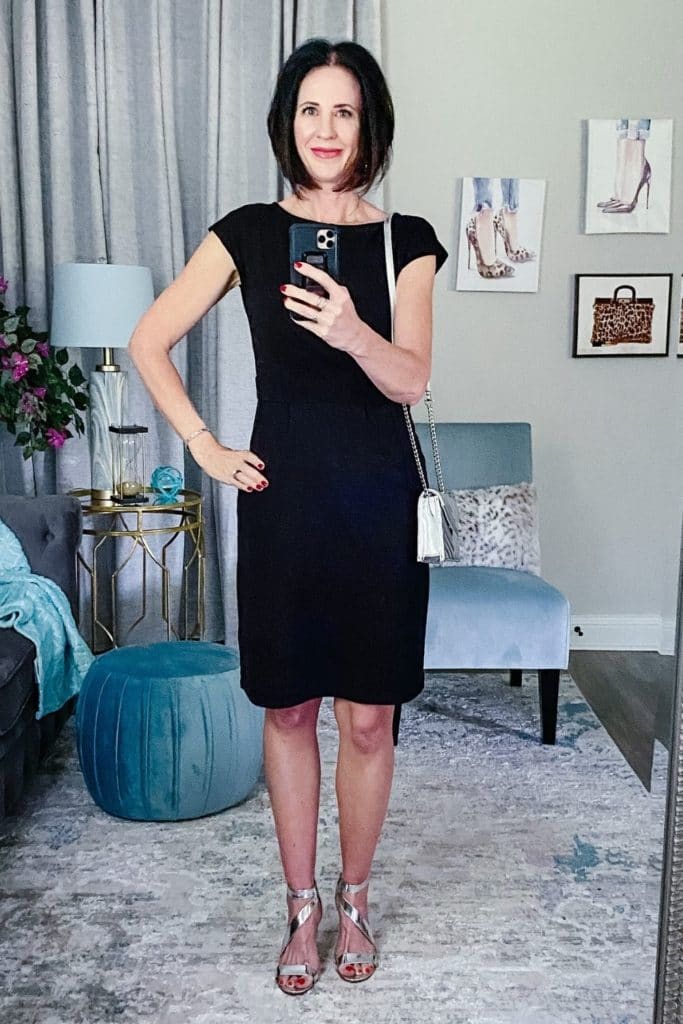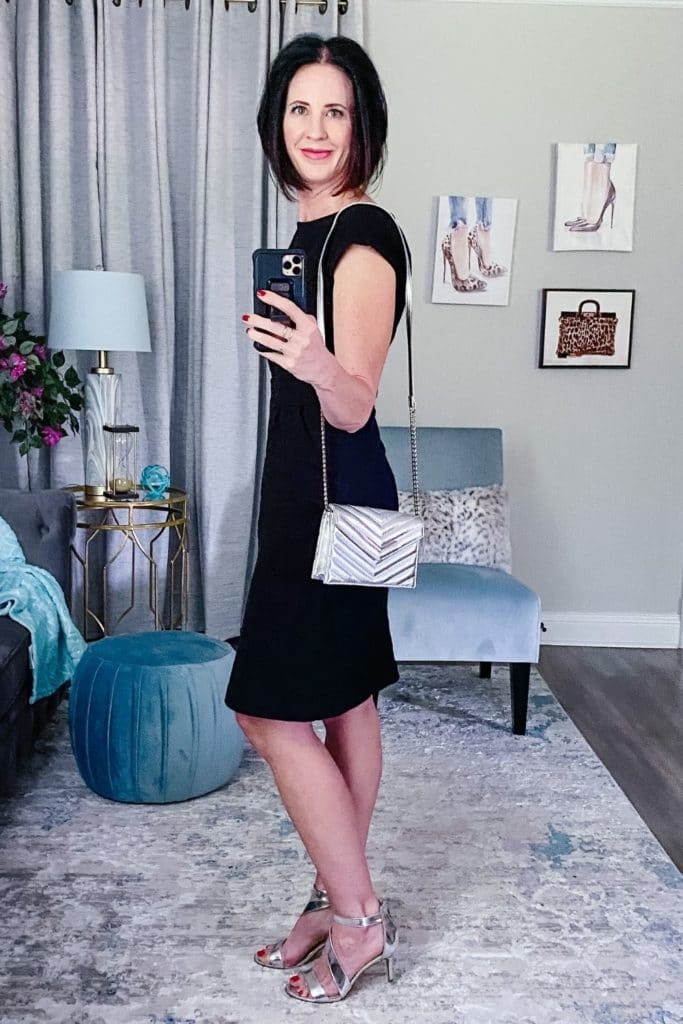 For these examples, the only thing I changed to this summer dress outfit were the bag and shoes. I kept everything neutral to show the impact of only changing these two accessories, but you could add color to make it perfect for you. You can change it up even more with different jewelry, changing your makeup, different hair styles, and many other options, but this one change is the most impactful.
The Summer Classic Wardrobe Guide is coming next week! If you love classic style, joining the Stunning Style Society is like coming home. Get a capsule wardrobe ebook with links to 30+ classic-style pieces in a bold, cool color palette I've personally selected for you. It also includes links to 400+ additional items, 100 inspiration outfit ideas, monthly outfit calendars, and a members-only Facebook group. The doors are only open for one week each season, and you don't want to miss it!
Learn more and join the waiting list to be the first to know when it's available! Your summer wardrobe is waiting for you!