There is a difference between style and fashion, let's break it down!
Sometimes I get emails and DMs from members of my community with a link or a picture of something they saw and thought, "This is so you, April, I had to share it!"
This is so thoughtful, and I always love seeing what they send. It's usually right on the money! How is it that so many women who don't know me in real life can pick things out for me? Because I have a very cohesive and consistent style.
It's not just me, we hear the same thing about other women.
"She has great style!"
"I love her style!"
What separates the women who have great style from everyone else? Do they have some fashion industry insight? Some style superpower? Are they sporting fresh-from-the-runway looks?
Spoiler alert: No. Whether they realize it or not, it comes down to this:
We got super chatty in this Style Snack, so here's a breakdown:
:20 Details of the Shop Your Closet Challenge
7:50 Style Snack Starts
57:35 Q&A
If fashion is what you are after, it's for sale! In every store, on every rack, it can be yours with the swipe of some plastic. Everyone can have all the fashion they can afford. It's available in every price point, but what colors and styles it comes in varies from season to season.
Whether or not the season's trends suit you is luck of the draw, and some seasons you win! Retailers are selling what you love! But more often than not, what's available isn't really you. And still, we buy the fashion religiously, faithfully.
For some, it's because it's what's available, and they aren't sure where to find anything else. For others it's because they want to be fashionable, and, they reason, if they buy what's in the stores, they will be fashionable too.
And others buy fashion because they don't really know what they love, and trying out what's in the stores is like trying on personalities. During my lost years I did this. Motherhood stripped me of everything I knew about myself, including my style, and I tried fashion to see what fit, what felt right, what was me? None of it, I felt awful.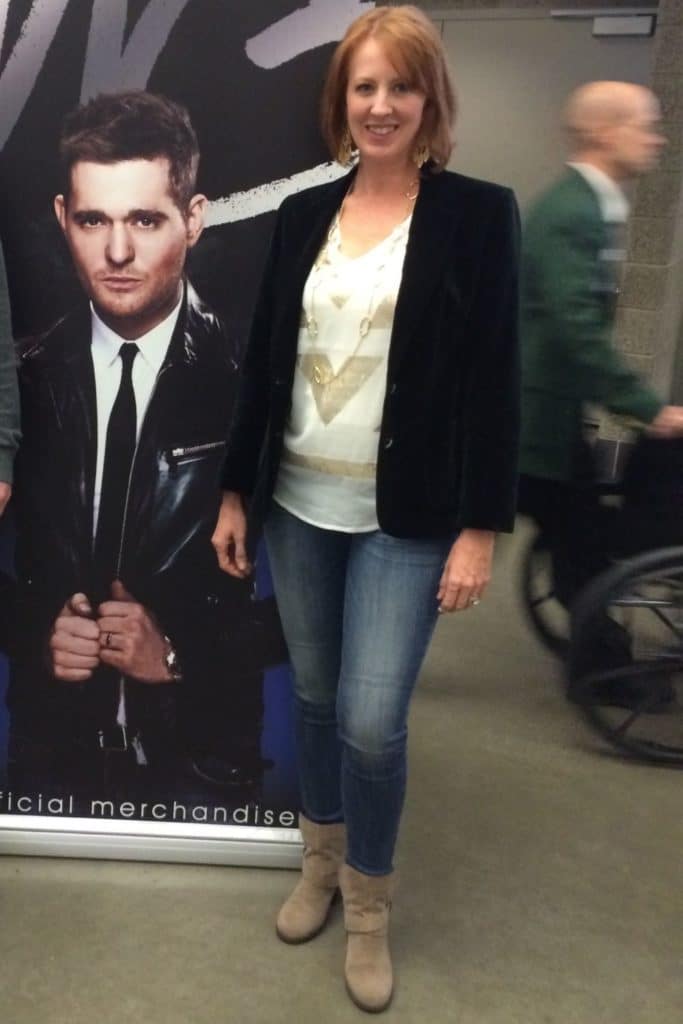 This was me shortly after the birth of my sixth baby in 6 years. I wanted to be cool, fashionable. I wanted to feel pretty for the first time in a long time, so I bought some fashion, and I looked awful. Wearing gold, a long necklace, faded jeans, boots that didn't go with it, and a blazer (I hate blazers). Everything but the blazer was new, and it was all wrong FOR ME. For me, this was fashion, not style, because it didn't suit me.
This is the same concept, but it's style because it suits me. I'm still wearing the same formula here: a neutral patterned top, a black layer, jeans, statement earrings, and flats instead of boots (but the right boots would be perfect too!). The difference is, these items in this combination is so me.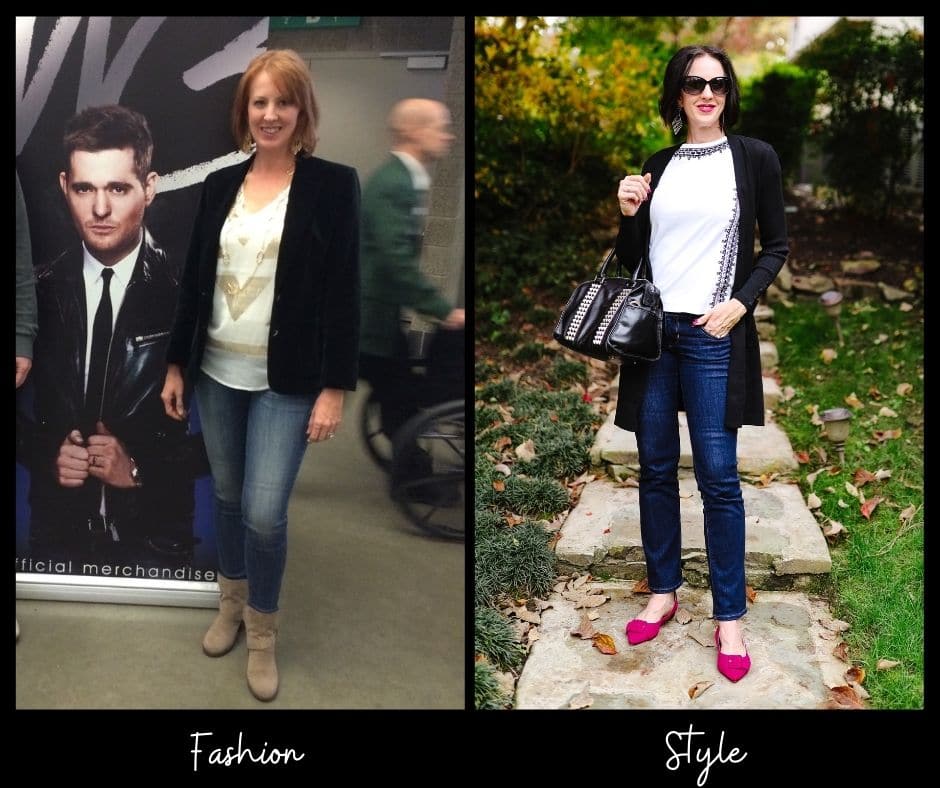 The last thing anyone would call me is trendy or fashion-forward. If you are looking for the latest and greatest to grace the store shelves, I'm not your girl. My look doesn't change from season to season and year to year.
I unapologetically love classic style, and always have. Pencil skirts make my heart beat faster. Button-up blouses are my constant companions. And a fitted black turtleneck sweater might be my soulmate. Give me leopard flats or give me bare feet, I say!
Are any of those pieces fashion-forward? Hardly. Do they turn heads and elicit compliments? Not individually, but MY STYLE gets compliments, even when it's made up of classic, foundational staple pieces.
Like Aristotle said, "The whole is greater than the sum of its parts." In other words, when you put them all together, they make a greater impact than they do on their own, and together these pieces add up to my style.
Does that mean if all women copy me they will be stylish rather than fashionable? Do you have to shun all trends and wear only classics to have style? Definitely not! If it doesn't suit you that would be fashion instead of style.
What truly garners the compliments is embracing my personal style, wearing what truly suits me and makes me shine. If that includes the latest trends, then that's still style, because it looks like me.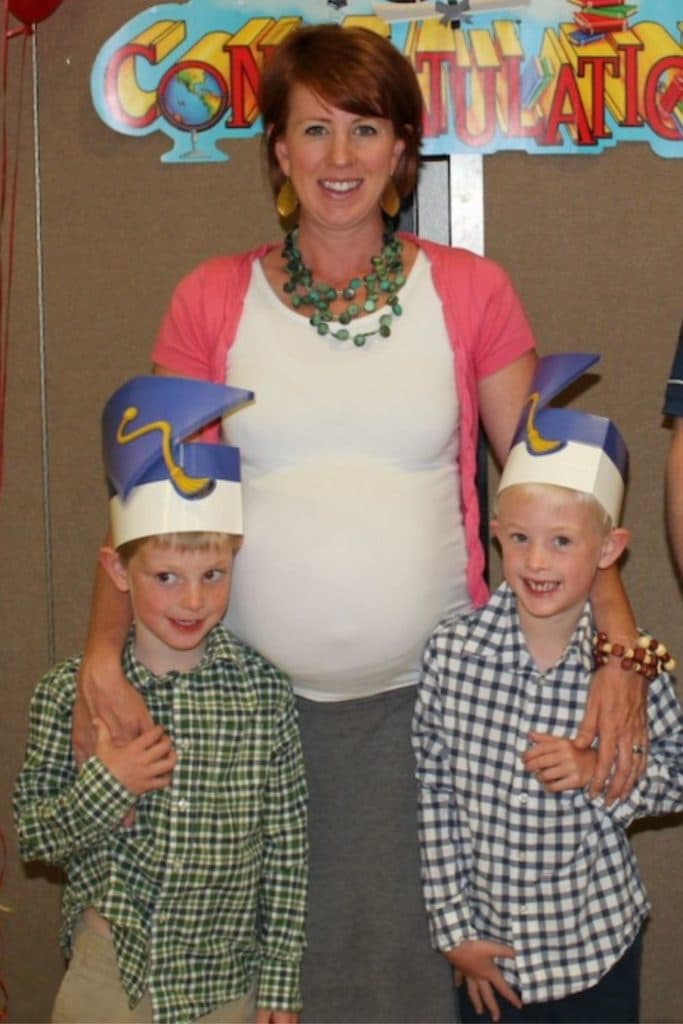 This was me (obviously very pregnant), trying to have fashion. I was embracing a bunch of trends: gold statement earrings, a big chunky colorful necklace, a scalloped edge short sleeve cardigan, and a gray maxi skirt (not sure what's up with the pseudo mullet. Of all the mistakes I've made, a mullet was never one of them!). The colors are ALL WRONG for me (I look sunburned!), the styles are all wrong for me, but I was trying so hard to have fashion.
This is what I would wear for a special occasion now, and it suits me perfectly, from the colors to the types and styles of clothing. It's simple. The other was so fussy and had way too much going on.
What no one tells us is that anything you truly love, that truly suits you, is in style. It's in YOUR style. When you wear what you love and what suits you, you automatically feel confident, and it just looks right!
Wearing something completely on-trend that doesn't suit you will never look right. Even if your look is on-point, it will look…wrong. Have you heard someone say the dress is wearing her? That's what happens when you wear fashion that doesn't suit you. The same is true if you wear something perfectly classic that's not you.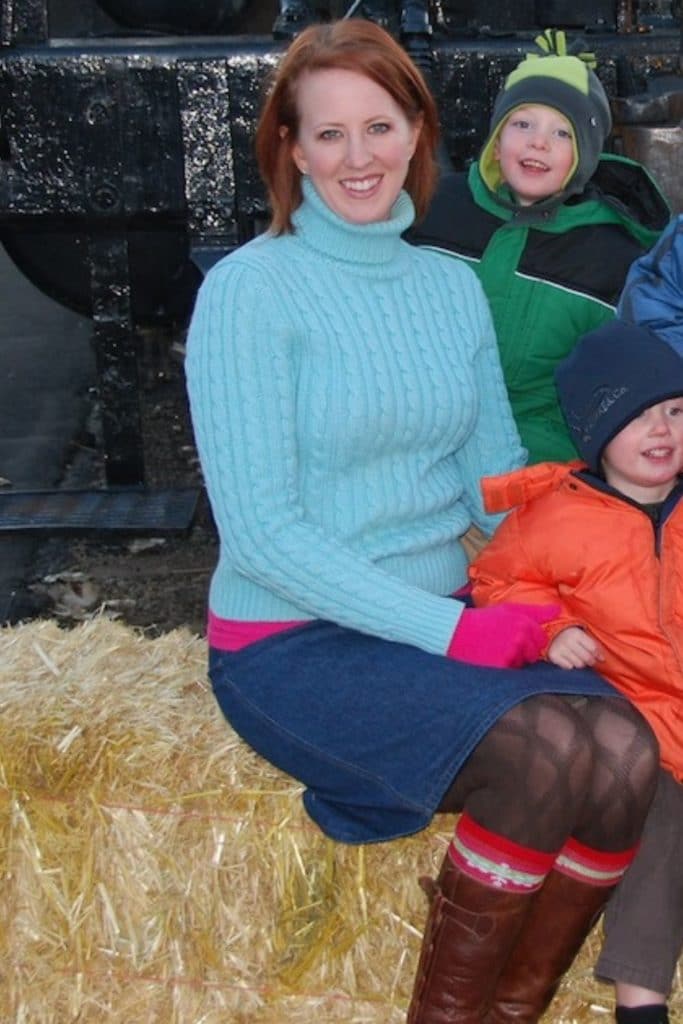 Here I was trying to incorporate a bunch of trends that didn't work. Do you remember when riding boots with socks coming out of the top (ideally with big ruffles at the top?). I didn't have those so I grabbed these very colorful Christmas socks instead! I added the patterned tights, a colorful sweater, and layered with a bold pink tee, which I matched to my gloves. This is fashion. Me trying to make fashion happen, but it was all wrong for me. The individual pieces aren't bad, but the way I was wearing it was fashion.
Here I'm wearing MY STYLE. A bold orange sweater, dark wash jeans, burgundy flats, and bringing in pattern with the leopard belt. I'm wearing just as much color and pattern, still wearing a sweater and denim, but the way I'm wearing it is very me.
When you feel uncomfortable, it shows, and the outfit doesn't look right, no matter how trendy or classic it is. But when you love what you are wearing, you can't help but feel confident, and that shows too.
Women join the Stunning Style Society because they love classic style, but that doesn't mean they wear exactly what I wear. Each of them takes the template I create, and each week we walk through the Style Steps to help them figure out what they love and create a wardrobe and outfits that match their version of classic style.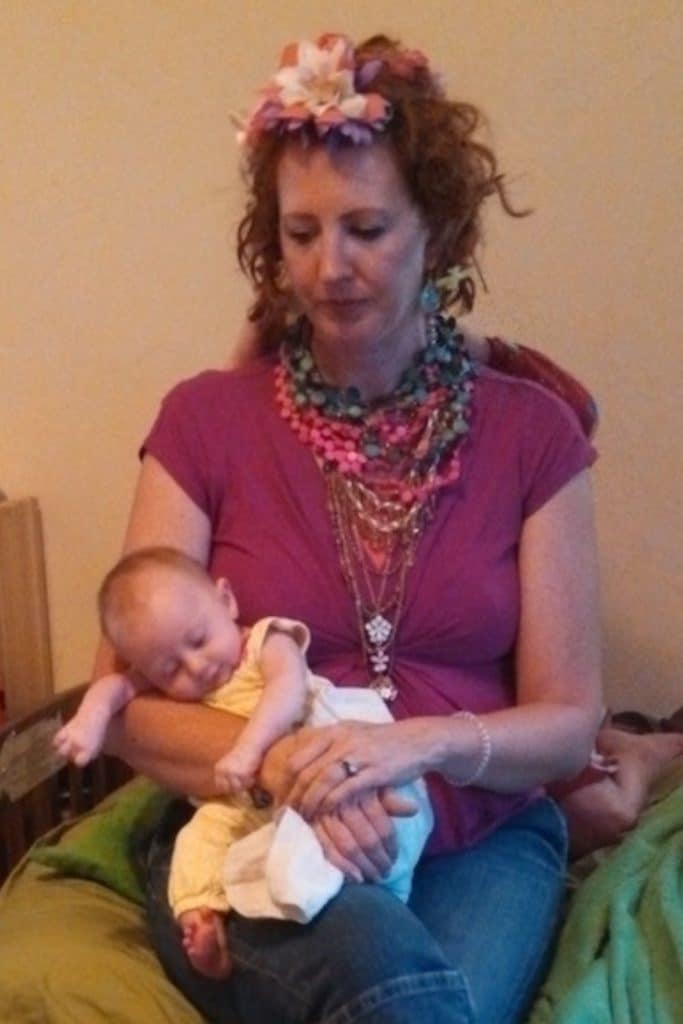 This is a picture of me wearing all my fashion. This is right after my youngest was born. I was fresh off another c-section and felt horrible. With five more little ones who wanted my attention, we came up with creative ways of playing that wouldn't hurt me or stress my incision. They liked to go get all my jewelry and hair accessories and put it on me. 
It's such a sweet memory. But it's also a great way to show you all my fashion all at once, because every single one of these necklaces was fashion. All. wrong…for me. My sister-in-law wears flowers in her hair and looks ADORABLE, so I thought if I wore flowers in MY hair, I would look adorable too. Instead, I looked ridiculous. Flowers are style for her, and fashion for me.
When you know your preferences, your loves, your loathes, your likes, your dislikes, and you can identify them down to the core details and WHY, then you will know your style. I can pick up almost any item in any store and tell you whether I will love it or hate it and, most importantly, WHY.
There were many years I said yes to trends I hated because I wanted to be fashionable, and instead, I felt ridiculous. Now I wear what I love and wear MY STYLE, whether it's trending or not (and it's usually not).
When I came back to my love of classic style, I made a huge mistake thinking, "If I love classic style, I must love and wear all the classic things." So I dutifully bought and wore classic items like polka dots and pearls, penny loafers and peplum. But it turns out, even though I LOVE classic style, I don't like those particular parts of classic style. Learning to say no to the parts of classic style that aren't me was as important as embracing the style I've always loved.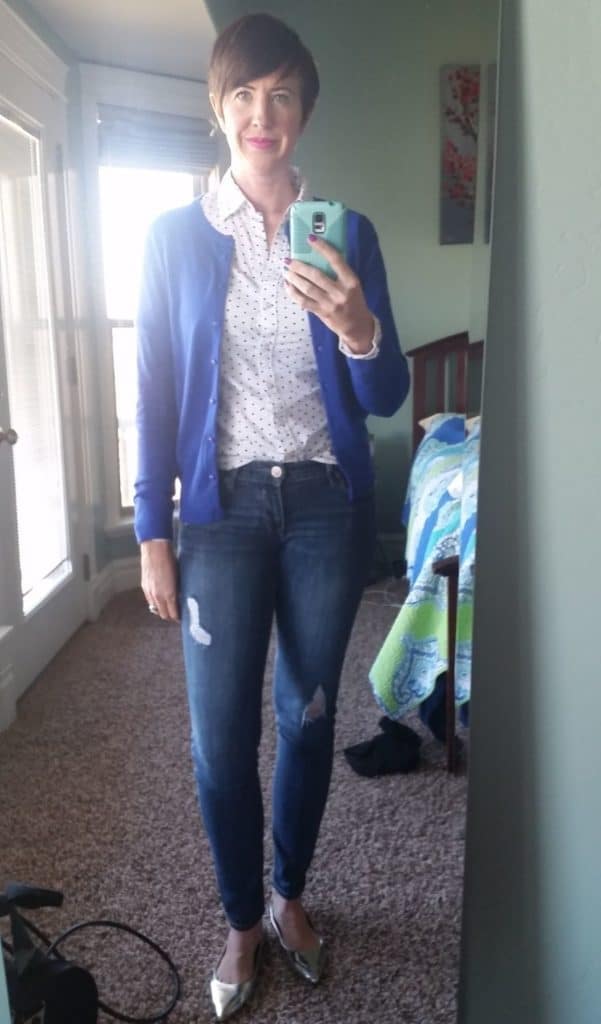 I was wearing polka dots and a Jackie Kennedy cardigan because I thought I SHOULD. They're classic, I love classic style, I must wear them. But I don't like polka dots and this style of cardigan. I finally realized that I can say no to some parts of classic style, and now I do! Even though everything I'm wearing is classic, its still fashion because the details are wrong.
Here I'm wearing essentially the same outfit of a neutral patterned button up, a layer, jeans and booties, but this is style because the details are right for me!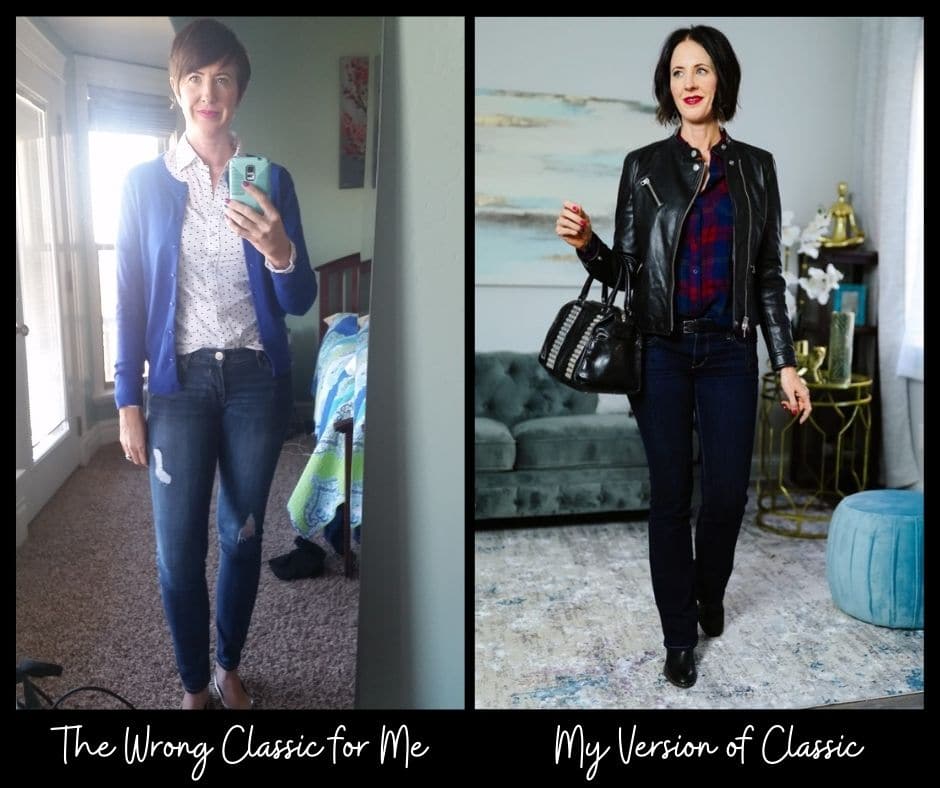 Just because I love classic style doesn't mean I never try anything new. I definitely do. Nothing thrills me more than to find something new I love.
This is the secret to keeping my classic style looking fresh and modern instead of dated and dumpy. Incorporating the trends that suit me, suit my style, and make my heart sing keep me feeling updated and on trend without adopting all the trends and losing my style.
Each season in the Stunning Style Society, we talk about trends to try in one of the weekly Style Steps. Together we dissect the season's trends, decipher how to make them wearable, and decide which, if any, work for our individual styles.
For me, leopard is classic, but also trending, and all the yesses! I was thrilled to bring leopard back into my wardrobe, and I can't seem to get enough! It's very much in line with my style. But for other classic-style women, it's a hard no, and that makes it fashion for them.
Finding a Style that Is So You
One of my favorite things about the Society is I get to know the members and their unique styles well enough that I can say, "That is so her," but even better, they can identify that for themselves.
If you love classic style, and want help creating your style, the Stunning Style Classic Wardrobe Guides are the done-for-you solution. I shop the internet, choose 30-40 pieces as a seasonal capsule wardrobe. The very first thing we do is shop our closets, because the Guides are based on classic wardrobe staples you probably already have.
If there is anything they want or need to update their wardrobes, members get access to a custom shopping portal with these items as well as 5-10 alternates per featured items so they can get the version that is perfect for them!
The Guide includes 100 template outfits you can wear as they are or, as most members do, adapt them to suit your closet and style. Every month you get an outfit calendar so you don't even have to choose your outfit for the day!
Each week we take a Style Step toward curating your seasonal wardrobe. We start by shopping your closet, and move on to topics that help you customize your classic style. At the end of the season you should have an album of outfit selfies you love, and we finish with a wardrobe evaluation and closet purge.
The doors to the Society only open for nine days each season, and the Winter Guide is coming soon! You can learn more and join the waiting list so you'll be the first to know when it's live!
Check out the rest of this series