a capsule wardrobe can seem limiting, but here are ten reasons it gives you effortless style
How does your closet make you feel?
As I scan my neat and tidy closet every morning, passing my eyes over each item like a dear friend, contentment floods me. I have far fewer clothes than I ever have, and yet I love my wardrobe more than I ever have.
Even though I started my capsule wardrobe journey several years ago, the memories and feelings from my previous colossal collection of clothes crowding my closet are as fresh as ever. Every morning I'd find myself sleepily staring at it, feeling like I had nothing at all to wear. Overwhelmed by the options. Shamed by the excess. Frustrated I still had nothing to wear.
If you had to take a guess right now, how many items of clothing are in your closet?
I'm serious — take a minute and think about it. No judgment, no guilt, just a little reflection. Is your closet bursting at the seams? Are there pieces in your closet that have been hanging there for years…with the tags still on them? Do you have anything in your closet that you've literally NEVER worn? What percentage of your clothes do you ACTUALLY wear? 
According to the chief design officer for California Closets, interviewed in The Wall Street Journal, most people only wear 20 percent of the clothes in their closet on a regular basis.
You're not alone! Just like most women, I've been there.
Naturally, when I first heard of capsule wardrobes, I was drawn in, but also apprehensive. I wasn't sure how to build a capsule wardrobe, but I liked the idea of compiling a small collection of *perfect* items to wear seasonally. It sounded so chic, so French! And nothing appeals to me more than French chic.
Every time I looked in my closet I felt overwhelmed by the sheer volume of items in there. Most of them didn't suit me at all. The racks were so stuffed it was a wrestling match to hang things up. Struggling to get things in and out of the racks or to even see what was there sent my anxiety through the roof, and made putting away laundry a chore I dreaded more than any other!
But I also felt pretty attached to everything in my closet. Actually, I felt pretty attached to what I had spent on the things in my closet. Even though they were all clearance rack conquests, it was a monument of guilt. I never wore most of it, but getting rid of them felt wasteful.
Then there is my love of variety, or the idea of variety. If finding something to wear was difficult with hundreds of options, it'd be downright impossible if I cut that number down — especially if I took the advice of everything I read and limited myself to 10, 33, or whatever random "magic" number of pieces. How many clothes do I need? Capsule wardrobes sounded restrictive and, frankly, a little boring. Or are they?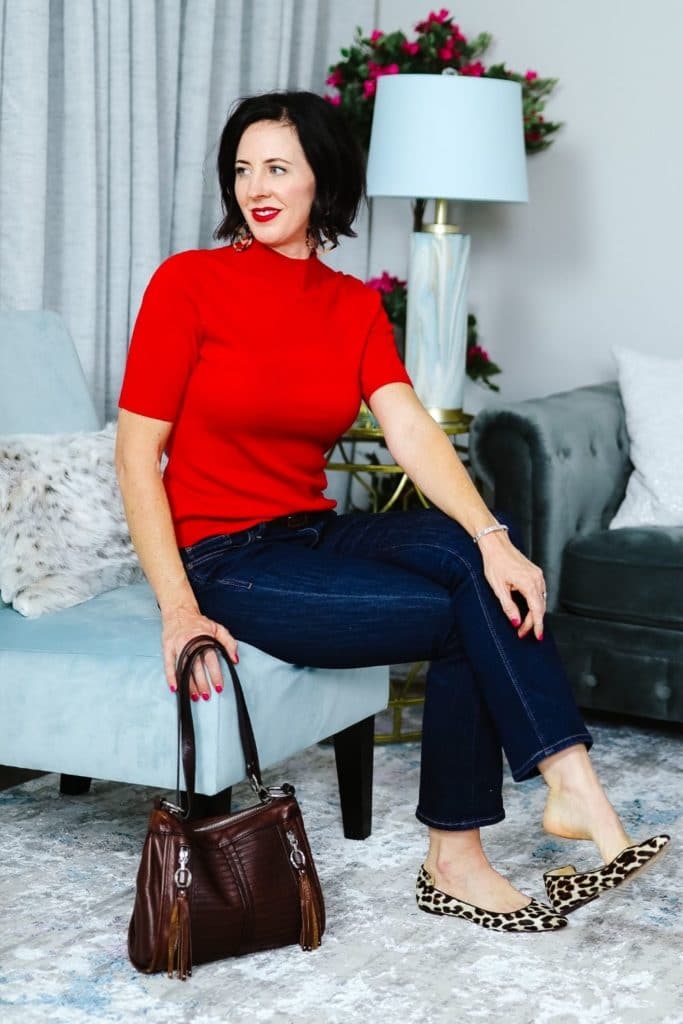 A capsule wardrobe done my way
The truth is that I usually wore the same things over and over. They were the items I really loved and could access easily. The other items were things I wanted to like, or that I liked on other people, or were too good a deal to pass up, or were buried so deep in the tightly packed racks that I forgot they were there! (P.S. it's not a good deal if I never wear it)
Once I decided to take the plunge and create a capsule wardrobe my way, everything changed for me. It was so FREEING. I finally felt like every piece in my closet helped me express who I am. I felt happy and well-dressed no matter what I put on in the morning. It was easy to see what I had, and it was so easy to get dressed.
My capsule wardrobe isn't limited to an arbitrary number someone else made up. It's limited by what I love and wear, and what makes my wardrobe feel complete. Whether that is 30, 50, or 100 items, I get to decide what feels right. It's made my life and wardrobe so much more manageable, and today I want to share 10 things you'll LOVE about having a capsule wardrobe.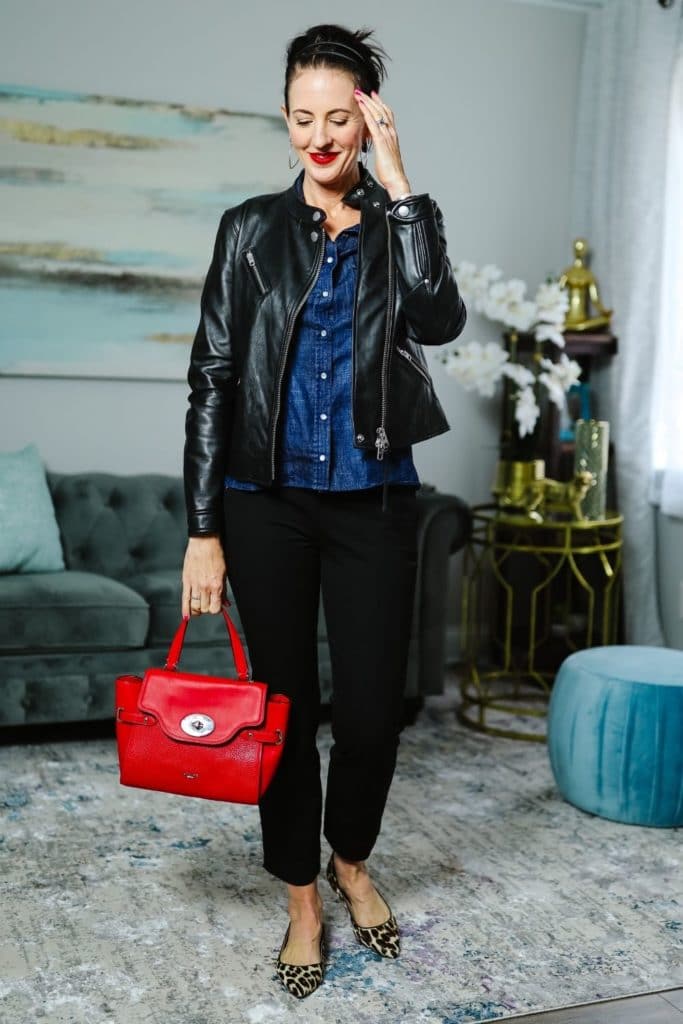 10 THINGS YOU'LL LOVE ABOUT HAVING A CAPSULE WARDROBE
1. More Time, less stress
What would you love to spend more time doing? A hobby you love? Family or friends you want to spend more time with? A stack of books you never seem to get to? A NAP??? (sign me up for one of those please!!)
It may seem like narrowing down the pieces in your closet would make it harder to find something to wear — but actually, a capsule wardrobe has the opposite effect! When you fill your closet with only pieces you love, fit you well, and go with everything else, getting dressed in the morning is a breeze. Reducing the volume of items allows you to see exactly what you have so you can decide quickly, spend less time agonizing over what to wear, and start the day off right.
Have you ever exhaled in relief after turning off the TV or radio and realized it was way too loud? Getting rid of all the unnecessary noise, because that's what it is to me — noise, in your closet will leave you with more mental and physical space for the important things. No matter how small your closet feels right now, you'll be surprised by how roomy and organized it feels with only the essentials hanging up! Decluttering your space works wonders for your mental and emotional wellbeing, too.
3. creating outfits is easier than ever
Thoughtfully putting together a capsule wardrobe will make it easier for you to create cohesive outfits on the fly because everything works together, everything is perfectly you, and it's easy to grab a top, a bottom, some shoes, and go. As daunting as creating one sounds, the Stunning Style Classic Wardrobe Guides make it a breeze because I've done the work for you!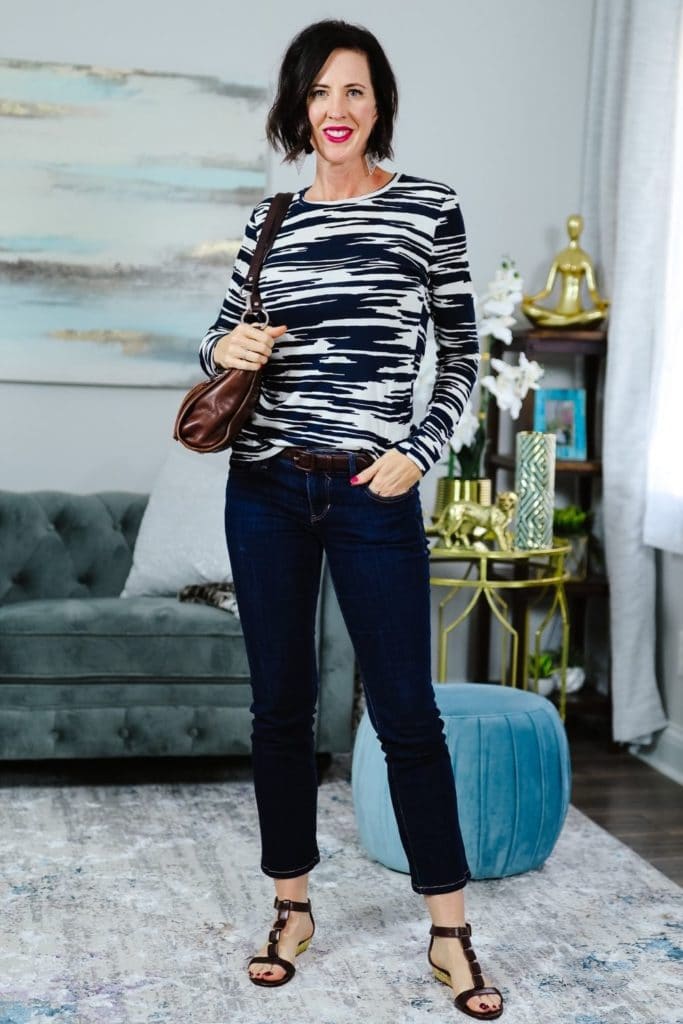 When I first considered creating a capsule wardrobe, I was concerned about how I could possibly make the same pieces work for both my casual and dressy styles (I dress up for church and dates with my husband and pretty much any excuse I can find!). But I've found that having a capsule wardrobe full of versatile pieces helps me show my individual style every day. 
No matter where I am, I'm never trying to dress like someone I'm not. Simply swapping a pair of jeans for a skirt can take a look from casual to professional. Part of my style is combining a casual and work capsule wardrobe, even though I work from home. This half-sleeve black turtleneck is incredibly versatile in my wardrobe, whether I'm dressed up or down.
5. Saying goodbye to wardrobe guilt and shame
Walking into my closet with the packed racks came with a wave of guilt and shame as I saw all the things I had spent money on and hadn't touched since. Leaving those clothes in my closet, never to be worn, was just as wasteful as throwing them away because they weren't being used. 
Donating or selling them gave them new life and a chance to be worn and loved by someone they did suit. Embracing a more selective approach by sticking only to clothing you really love and take care of is satisfying on every level! When you're intentional about the clothing you purchase, you love everything in your closet, and you rid yourself of the guilt of wasted money. 
If shopping were an Olympic sport, I'd win a gold medal. It's always been fun for me. But I've reached a point in my style journey where I'm extremely content with what I have! I rarely shop for myself anymore, and when I release each new Wardrobe Guide, I only pick up a few things each season. To say that everyone who knows me, including myself, is shocked that I don't shop much is an understatement. When I do go shopping, I usually leave empty-handed.
It turns out, what I thought was a need for lots of variety was actually because what I had didn't reflect who I am. The constant shopping was a result of not really liking what I had. Most of it didn't suit me because I had lost my personal style when I became a mom. Now that I know my style and exactly what I do and don't love, I have a lot fewer clothes, but everything in my closet is my favorite, and I'm never bored. 
7. You'll be able to splurge
The monthly amount I have for my clothing budget hasn't changed in years, but I'm able to buy much nicer quality and more expensive things because I'm not constantly shopping and wasting what I have on things I don't love. Now when I see a splurge item, I can often buy it right then or save for it. 
But what if you're just getting started finding your style or creating a capsule wardrobe? I always encourage members of The Society to shop their closets before they do any other shopping. A lot of pieces you really love that are already hanging up in your closet — they're just overshadowed by a bunch of things you DON'T love. 
Even after you've gone through your closet and figure out if there are things you need to purchase to fill in the blanks, buying quality clothes you'll really love and wear for seasons to come can be much more cost-effective in the long run than buying cheaper and more often, and since you've stopped buying things that aren't you, you'll have the money to do it gradually.
Once you've got your staple pieces, then each season you can splurge on a few pieces to update your wardrobe and make it feel fresh again.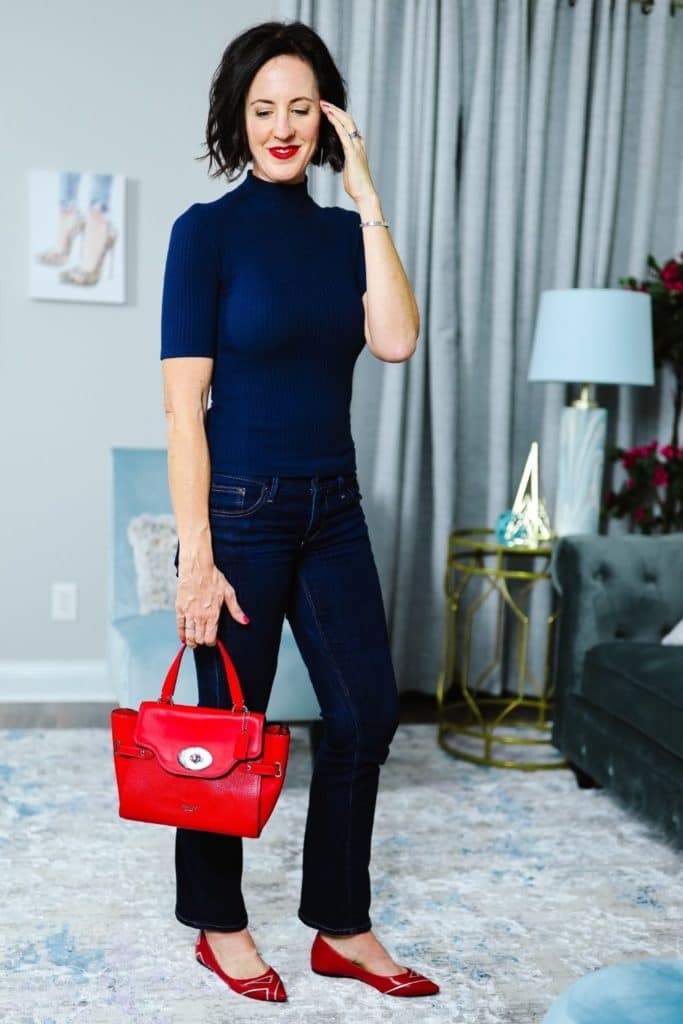 8. Capsule Wardrobes inspire creativity
Sticking to a capsule wardrobe will help get your creative juices flowing. You'll be surprised at how many different stylish looks you can put together with just a few pieces. The Stunning Style Classic Wardrobe Guides include 30+ pieces, and I use those to create 100 outfit combination ideas you may never have thought of otherwise! That is a different outfit every day of the season. How is that for variety?
9. Your Individual style will come through
I've never seen your closet, but I'm willing to bet that not every single piece in it reflects your personal style. When you choose to be extremely selective about what you keep and buy, you can really express your unique style every day. With fewer pieces it's easier to curate the ones that are perfectly you, and every outfit will make you feel fantastic.
10. You'll look amazing every. single. day
Do you know how that feels? It feels ah-mazing. When I'm wearing an outfit that makes me look and feel fabulous, I feel like I can do anything every day. Creating a capsule wardrobe full of pieces and outfits that speak to you, and when you wear what you love, you will look and feel your best, express the truth of who you really are — not just on special occasions, but every single day. Because don't you always deserve to feel great?
Ever since I first created a capsule wardrobe for myself, I've never looked back. I love the freedom, versatility, and creativity that I've experienced ever since I simplified my life and embraced a curated mentality. I love that I have more money to splurge on those amazing pieces that I wear and wear and wear again. I don't see it as eliminating things; I think of it as keeping what I love.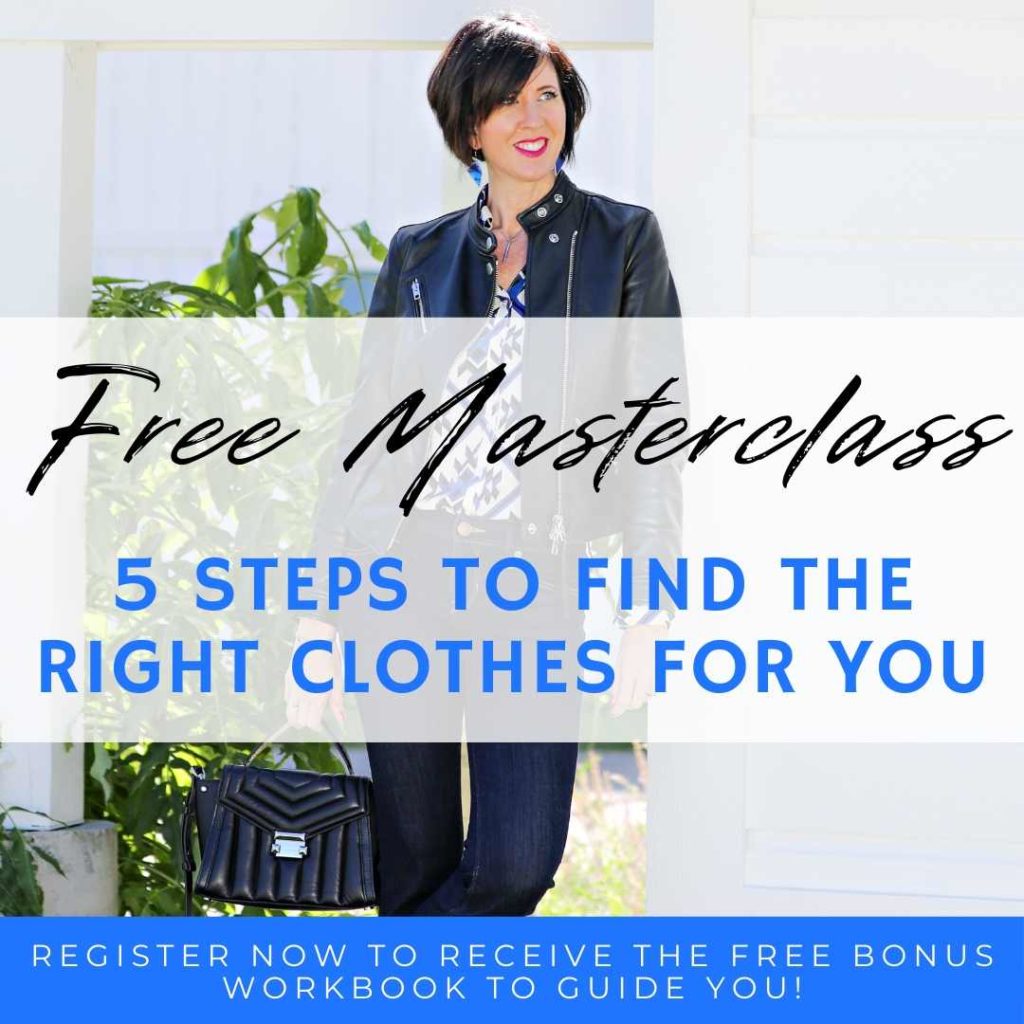 Join the free masterclass today!
This masterclass is a must attend if you...
Attend now to receive a workbook to guide you through the exercises!
CHECK OUT THE REST OF THIS SERIES​