Learn how to build a capsule wardrobe that's not a carbon copy of someone else's style
DO YOU TRULY LOVE YOUR WARDROBE? (I didn't)
It felt more like a jungle than a closet as I forced the tightly packed clothes apart. Swatting away the store tags – still hanging from too many of them- like mosquitoes buzzing around my face. I mopped my brow and sighed. I needed a machete.
Instead of facing the dread of digging through the hangers to find something I didn't want to wear, I abandoned the expedition and turned to the pile of those few tops I didn't hate as much, and could easily grab (again).
In a world of fast fashion, and trends that come and go even faster, it's easy to accumulate too many clothes that don't communicate our individual style, and we feel guilty getting rid of.
Decision fatigue is a crisis, and the daunting task of a daily jungle excursion to get dressed is enough to make you stay in your pajamas every day!
A few years ago I was tired of the closet full of overwhelm, and I decided to learn how to build a capsule wardrobe. I loved the idea of a curated closet full of pieces I LOVED. And that's when the closet purge began.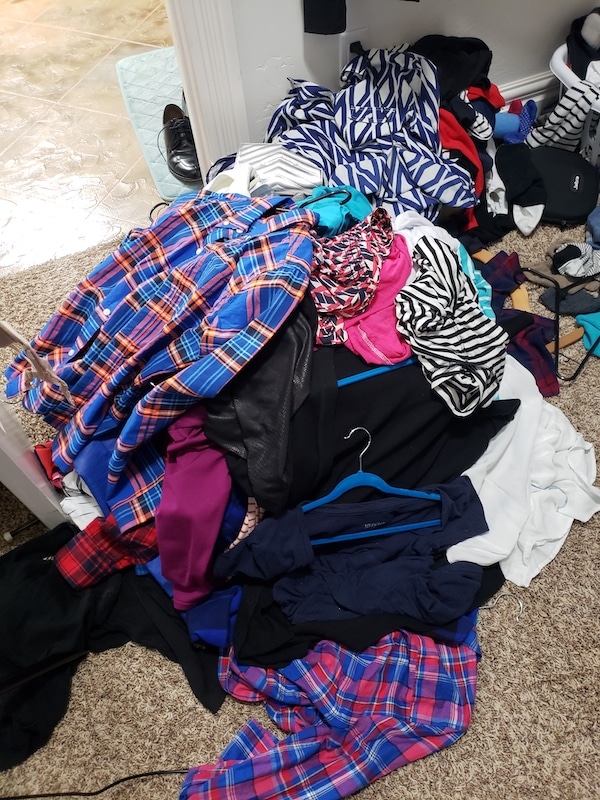 is a capsule wardrobe too rigid or just right?
What makes capsule wardrobes so amazing? My closet, drawers, and overall life are less cluttered. Getting dressed in the morning involves less guesswork, less time (I can do it in 20 minutes!), and no weapons. Everything goes together, and best of all, no matter what I put on, it'll be something I really love and carefully thought about including — not just something I bought on clearance and now feel obligated to wear at least once.
But then again, capsule wardrobes can seem a little restrictive and…boring. Where's the personality? Where is the flare? Where…are YOU? It can be pretty daunting to imagine narrowing down the pieces you wear, especially when your closet is currently overflowing with OPTIONS (I know that is what some of you are thinking). And even more daunting to think you might disappear into a one-style-fits-all uniform of neutral basics that don't tell your story.
I'm going to let you in on a secret: capsule wardrobes are not one-style-fits-all. Putting together a capsule wardrobe doesn't mean you have to suddenly wear only one color, toss out all of your shoes, shun all prints, and go spend hundreds of dollars on a bunch of items you'd never pick out otherwise, all in the name of a concept that is equal parts alluring and frightening.
Creating a capsule wardrobe really means shopping your closet before the stores, refining your individual style so that you shine through in every piece and every outfit, thoughtfully choosing pieces you really love, and simplifying your life. And as long as you follow a few simple steps, there's nothing scary about that.
Here is a sample of outfits from my fall capsule wardrobe. I don't feel restricted or bored. I love every single one of these pieces and every outfit. Can you spot all the items I've repeated?
How to build a capsule wardrobe that looks like you
Here's how to start putting together a capsule wardrobe that really rings true to you and your individual style.
1. figure out your signature style
First, think about your favorite pieces of clothing in your closet. Your go-tos, your wardrobe workhorses, your laundry basket regulars. Do you gravitate toward timeless, classic looks? Do you feel the most comfortable in tailored, minimal pieces? Do you crave an element of cuteness and fun in each outfit? Or maybe you love a look that strikes a balance between edgy and sophisticated? Think about what clothes and details make you feel the most beautiful and the most you.

If you feel like your closet represents the clearance section rejects you scooped up only for the the thrill of the deal instead of showcasing the real you, consider that for the same amount of money you could have spent more per item on fewer things you truly love and wear rather than a closet full of things you don't love…or wear.

Not sure what your style is? It's easy to admire what you like on someone else instead of what actually suits you (I made that mistake for years). Take the Style Twist Quiz and find out what your style could be. It'll be a lot easier to build a capsule wardrobe you love once you already have a vision for it.
My signature style is usually a combination of black, white, and blue, with a pop of color. Usually red or pink. I need a core of Minimal Classic with some edgy details added in. Learn how I figured out my signature color palette and more about how to find your style.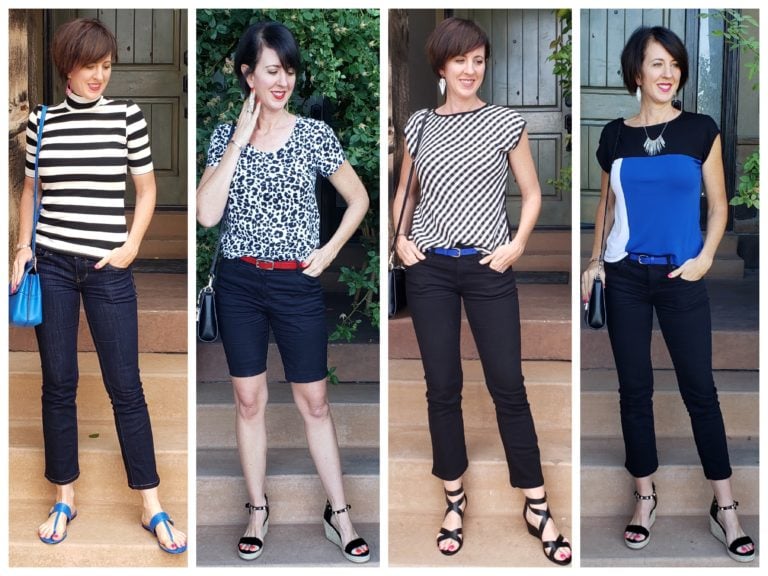 Start with the basics and fill in with details that let your style shine through. Don't let that scare or bore you before you start. Basics are the foundation of every wardrobe, but ESPECIALLY a capsule wardrobe. They are called foundational pieces for a reason, because they are a basic framework to build upon. Foundational pieces hold up the rest of your outfit.
Flour, water and salt on their own seem boring, but they are the beginning of every bread and pastry out there.
Basics don't have to be blah! When I was learning how to build a capsule wardrobe my biggest concern was that I'd get bored or that my outfits would be too vanilla. These are my top 12 items to include in your capsule wardrobe essentials.
This outfit is a basic v-neck sweater and black ankle pants with flats and simple jewelry, but it's anything but boring.
3. Choose a color palette - and stick to it
A successful capsule wardrobe doesn't have to avoid color altogether — the secret is to choose a cohesive color palette that's flattering on you. Look for colors that work both with the current season and your own coloring.
One method is using color theory. There are four categories of colors: hues (pure color, think primary colors), shades (pure color with black added), tones (pure color with gray added in), and tints (pure color with white added). This basically follows the seasonal color analysis method. Hues are Winter, shades are Autumn, tones are Summer, and tints are Spring.
I'm a Winter, and I only wear that color palette (with a few other neutrals I've added back in like brown leather). That means my wardrobe is extremely cohesive. All of the colors in my wardrobe are hues and harmonize perfectly, which means I can wear just about anything together, and I don't have to limit the colors in my capsule.
I think most of us have a general idea of what looks good or bad on us. Mustard makes me look like I have the flu, and that means I can rule out Autumn, for example. I get compliment after compliment when I wear cobalt blue or black, so that clues me in that I'm a Winter (though I was professionally draped when I was eight and my mom was into Color Me Beautiful). 
Once you know your season or color palette, you'll know what colors you should be filling your closet with from now on.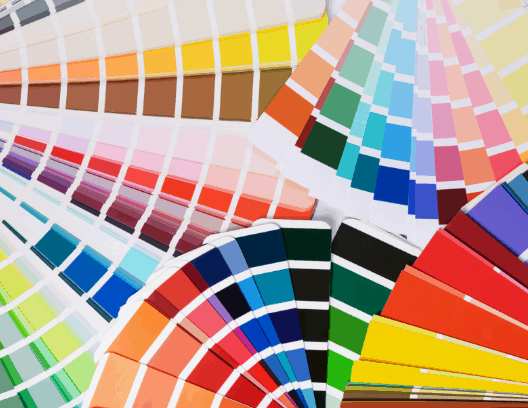 Now that you know what you love and what colors you look best in, head straight to your closet first. Look for pieces you already have that express your personal style and flatter your look. Choose pieces that you'd be happy to wear on a regular basis. Look for clothing that goes well with your designated color palette. If it works with your palette, it'll work together! Find the clothes that express you instead of stifle you.
Hint: If you have items that you put on and immediately take off, they aren't your style for one reason or another. For me that was fit and flare skirts. I adore them on others, but I feel like a five-year-old when I put them on. Now I know they are all wrong for me, and I don't even consider them. I feel the same way about anything loose and drapey. It's just not me, but it might be perfect for you!
5. Incorporate your classic Style Twists
Now that you know what your Twist is (or are. You can be a combo of multiple), look for the details that will tell your story. Your wardrobe basics don't have to be basic. A basic striped tee can have leather trim for an Edgy Classic vibe, or a peplum hem for a Cute Classic look, a cowl neck for a Soft Classic detail, a moisture-wicking fabric for a Sporty Classic outfit, and if you are Minimal Classic, keep to a timeless look.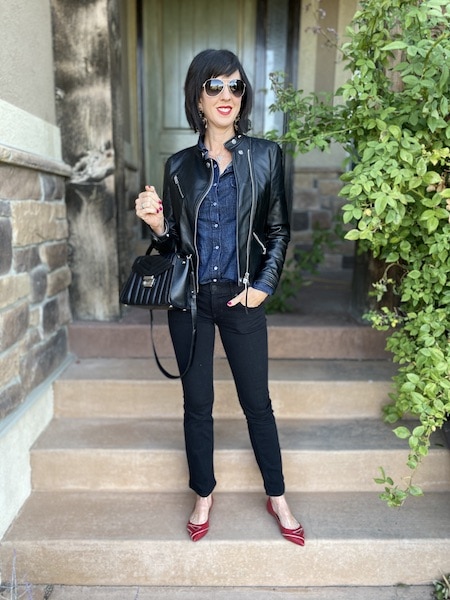 Assess what you already have, narrow it down, and figure out what's missing. Do you have a lot of tops and only one good pair of pants that work with the season, fit well and look great on you? Do most of your shoes usually sit untouched or make you feel meh? Do you have a few go-to accessories you love and could wear with most outfits? Figure out what's missing from your capsule wardrobe and make a shopping list.
In fact, I've done a lot of that work for you — check out my seasonal capsule Wardrobe Guides for a piece-by-piece, outfit-by-outfit guide catered to your Minimal Classic style, and the shopping links are labeled by Classic Style Twist so you can choose the items that suit your personal style perfectly.
a capsule wardrobe is one thing that is all about you
Of course, there's plenty of room for customization when building your capsule wardrobe. Many try to narrow down their capsule wardrobe to a magic number. Personally, I don't feel the need to be so rigid when it comes to dressing myself — or anyone else, for that matter.
To me, the purpose of a capsule wardrobe is to simplify your closet, be intentional about what you buy, and show off your signature style from season to season. If that means you need 54 pieces instead of 33, then go for it! You might really like more variety in your shoes — do it.
The whole purpose of a capsule wardrobe is to serve you and your needs, not the other way around. If 20 is your magic number, don't stress about adding more. Only you will know how many pieces you need for your capsule wardrobe.
Start embracing and expressing who you really are with a capsule wardrobe that's full of pieces and outfits that speak to you and about you. Armed with an understanding of what styles you love most, what pieces you look best in, and detailed guides on what outfits and pieces to wear every single day of the week, you'll look better and feel more confident than ever before. No machete required.
are you ready for some classic style inspiration?
This post may contain affiliate links, which means if you purchase through my links I get a small commission, but it doesn't cost you anything extra.
more resources for your style journey