8 tips to quickly and easily update your capsule closet, keeping your style fresh from season to season without spending a fortune.
Is a capsule closet forever?
"So once I'm done creating my capsule closet I'm done shopping forever, right?"
My friend would rather take a hot poker to the eye than shop. She hates going to stores, despises the dressing room, and to be honest, she is busy! Like all of us, she wants to look effortlessly stunning everyday, but doesn't want to have to think about it. Her life is full of more important things, and spending a lot of time on her wardrobe isn't one of them. The curated ease of a capsule wardrobe immediately drew her in. 
But I had to be honest with her. "Once you get your capsule wardrobe pulled together, most of the work is done, but each season it will require a quick review to see what still works and what needs to be replaced."
Whether you've already got a capsule closet that needs updating or you're creating your capsule wardrobe for the first time, here are my 8 top tips for how to update yours from year to year without spending a fortune or a lot of time.
To keep your classic capsule wardrobe fresh, current and looking pristine, you'll still need to do some minor updating from season to season. While you'll likely want to keep most of last year's pieces, swapping out a few old pieces for new ones can catapult last year's classic wardrobe straight into the present. 
Keep the foundation of your capsule closet classic
Capsule wardrobes are perfect for classic style women. They're a curated collection of beautiful, quality pieces that go together perfectly. Simplicity at its finest. And most importantly, they're the best way to hone your own unique Classic Style Twist and dress your best — every. single. day. You can take the quiz below to learn what your Twists are.
Most of my wardrobe consists of timeless pieces. Classic style women prefer clothing that's chic, flattering, and stylish, rather than trendy clothes that look tired after a season or two, and that is the foundation of my wardrobe. While I definitely add my own personality to my wardrobe and think everyone should, I favor clothing that's classic and timeless for the majority of my closet.
I'm so inspired by tailored cuts of clothing, fine natural fabrics, and quality shoes and handbags. Though my look remains relatively unchanged as trends come and go, my classic style always looks fresh, never dated. While I appreciate a tasteful pop of color and trends that naturally blend with my style, I enjoy the comfort of neutrals, especially black and navy. I try to dress in a way that makes me look and feel beautiful and confident.
REview what you have in your capsule closet
Review each item and see if it's still in good shape. Is it faded, pilling, torn, stretched or ill-fitting? I can't believe how many times I've pulled out last year's clothes to find out someone shrank them! Or maybe I indulged a little more over the holidays than I realized. Regardless, sometimes I find out that what fit like a glove last year fits more like a sausage casing this year. 
Even high-quality pieces eventually wear out over time, and last winter I had to retire a beloved sweater because I've worn a tiny hole in the hem where it rubbed on my jeans over the years. I found a replacement in the same color, and I snatched it up!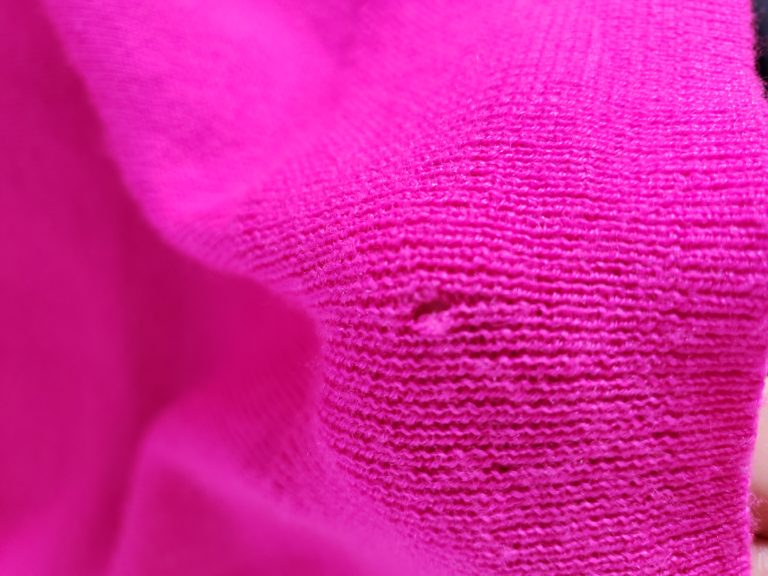 Do you still love every item? Tastes change, and what you used to wear on repeat may feel tired this year. Trends also change, and while most of my capsule closet is classic in style, what keeps it current is the modern details and trends. Do you still love that cold-shoulder top? If you do, keep it! If it feels dated, let it go. The whole point of a capsule closet is to have a collection of clothes you love to wear and that reflect your personal style. What you loved last year might have changed this year, and that's okay! 
REmove everything you don't love anymore
I know you have them. Those sad clothes that sit in your closet untouched, unloved, unworn. (And some of them still have the tags on them after all this time). Some were impulse purchases. Others were clearance rack deals that were too good to pass up. They could have been gifts. And then there are the items you admired on someone else, but they don't really suit you. 
They might occasionally leave the hanger for a quick try on, and then you promptly take them off. There is something about them you don't love. What is it? It could be the color, the style, the fit, but there is something off about them. It's time to let them go. Let go of the shoulds. If you are keeping them because you think you should, I give you permission to stop. You are never going to wear them. The guilt of purging your closet is real, but it is so freeing when you finally do.
I don't know about you, but when I go to the grocery store without a list, I come home with lots of ice cream, a huge bill, and not a lot of meals. And the same goes for clothes shopping! Once you've decided what stays and what goes, make a list of everything else you'll need to round out your capsule closet. Here are my suggestions for the capsule wardrobe essentials every woman needs.
Not sure what to look for? Don't worry! I've made putting together your capsule closet effortless with my Stunning Style Capsule Wardrobe Guides. These seasonal Guides feature a curated capsule collection of 30+ pieces catered to your Style Twist, along with outfit ideas for every single day of the season. I even include multiple shopping links to each piece!
Next, shop the rest of your clothes. Who knows? Maybe something you bought for a winter capsule in the past will work for your fall capsule this year. Or maybe you're craving a color that you hadn't thought of last season. Go through your whole closet, piece by piece — I bet you'll find clothes you love that you completely had forgotten about! I find that my tops cross over from spring to summer to fall more easily, and my bottoms crossover from fall to winter to spring more easily. There could be even more crossover when you consider layering. 
Think outside the season when shopping your closet and you might be surprised at what you already have.
Invest in quality, long-lasting foundational pieces
If you want to avoid having to replace everything in your capsule wardrobe from year to year, seek out durable, classic, high-quality foundational pieces you genuinely love. You'll find they're worth the investment. If you need to replace an important piece like a coat or a great pair of jeans, look for something that will last a long time. After all, buying a new $50 coat each year is more expensive than buying a $200 coat that's timeless & will last you forever.
When shopping, I tend to spend the most on shoes, bags and outerwear. The quality in these items really shows, and it elevates every outfit every time. They also tend to be made of more durable materials, so they can last forever. Most clothing items are more likely to get a hole in them or fade with repeated wear and washing, no matter how high the quality. The one clothing item that is worth spending money on is a fantastic pair of jeans. Worth. Every. Penny.
I spend the least on trendy items. I enjoy them for a season or two, and by the time they wear out, I'm usually done with that trend anyway.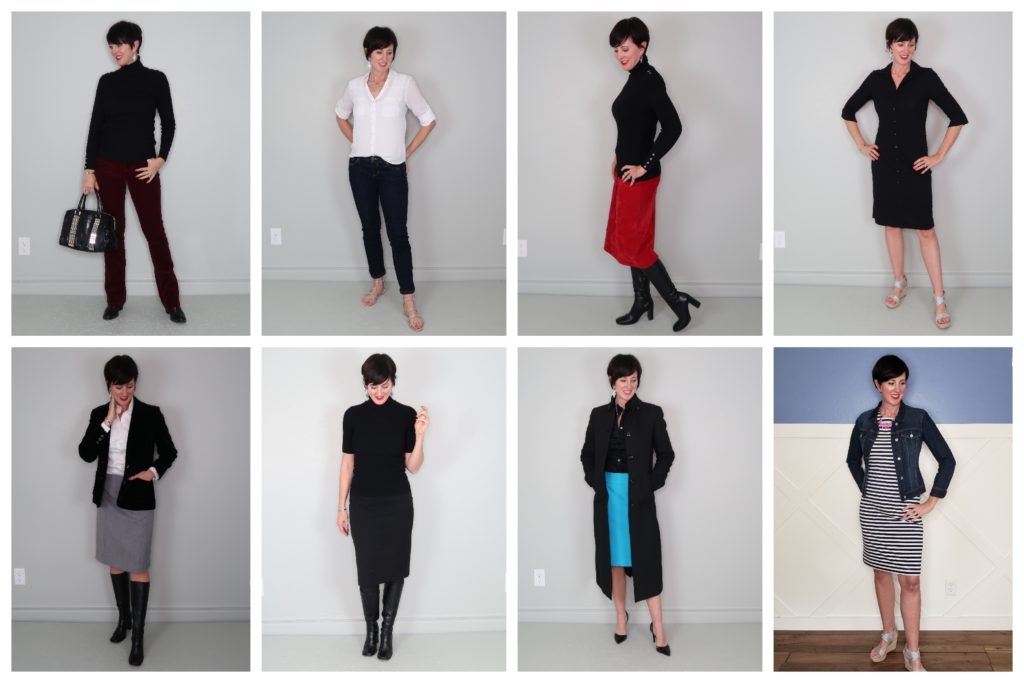 When it comes to trendier pieces, look at them for what they are. Accept the fact that they may only be stylish for a few seasons, and spend accordingly. Shop around for deals online. Opt for less expensive trendy pieces, like a necklace or t-shirt rather than a coat or a designer bag. Comb your local thrift store (some of the women in my Capsule Wardrobes and Classic Style Facebook Group swear by that!). If you're not sure how much you should spend on your capsule wardrobe I shared my tips here.
When it comes to updating a classic wardrobe, it's all in the details. Pairing a classic shirt dress with a trendy pair of shoes can make you look like you just walked out of a magazine… even if your dress is 10+ years old. Adding in just one or two updated elements to an otherwise classic outfit can make all the difference.
Learn from your shopping mistakes
Shopping mistakes are only mistakes if we repeat them. Figure out what you don't love about each item so you don't spend your money on another item with the same qualities you don't love. A capsule wardrobe doesn't mean all your purchases are perfect, and it's easier to see where you went wrong from year to year. This seasonal review can really help you refine your style. I shared my own closet purges and why I got rid of certain items here and here.
You don't have to buy all new clothes every single year in order to keep your capsule wardrobe looking fresh and updated. If you stay true to your own classic style, shop your closet, invest in quality foundational pieces, and look for deals on trendy pieces, you'll be able to keep your capsule wardrobe looking brand new each and every year. (And you won't even go broke doing it!)
Looking for more inspiration for this coming season's capsule wardrobe? My detailed Wardrobe Guides feature a curated capsule collection of 30+ pieces (along with shopping links!) catered to your Style Twist and 100 outfit ideas. Updating your capsule wardrobe has never been so easy!
If you've been nodding along with this article, you're a woman with classic style. Check out these posts  to find more style inspiration. Or take our Classic Style Twist quiz here, and then read about the different Twists here to learn how to bring your own personality type through while still embracing classic style.
Have you joined my FREE Facebook group? Classic Capsule Conversations is the perfect place to discuss capsule wardrobes and classic clothing style with a community of like-minded women!
Become A Stunning Style Insider
Make getting dressed the easiest thing you do all day!