Here's what I wore this week through the crazy weather changes as we approach spring. I always check the weather before I get dressed. My husband teases that I think weather.com is God's own personal website, and whatever it says WILL happen. One morning I looked out that window and said, "But it's not supposed to snow today! The snow was supposed to end last night." He just shook his head at my total shock and dismay.
The snow continues to come down, but my consolation is I get to wear my cozy sweater and my amazing red coat. I wore over the knee boots for the first time. I bought them a few months ago, but kept putting off wearing them because I have a very short torso and very long legs, and I try to wear things that keep me looking more balanced and proportional. I was worried they would accentuate it. Wearing the longer sweater helped keep the balance and gave the illusion of proportion. Coat J. Crew, Sweater Croft & Barrow (but similar here), jeans Express, over the knee boots Report Signature, necklace Sole Society.
We worked on some things around the house and then I went to dinner with a friend. We went out for sushi, and she thought it was really funny that I had this huge piece to eat. I nearly choked on it. #ineedaknife. Sweater no clue. It doesn't have a label in it. It must have been scratchy and I cut it out, but similar here. Jeans Express (destroyed by moi, similar here), boots Michael Kors, coat 32 degrees (similar here and here)
Another comfortably stretchy outfit for church. The sweater and skirt both have a lot of stretch for wrangling 6 kids. These shoes are surprisingly one of the most comfortable pairs of heels I own. They look really vampy, but the heel is only 3 inches. I have to walk the halls a lot at church because I help with the nurseries, taking supplies back and forth and finding parents when diapers need changing. These give me no trouble.
My SIL is coming over today to help me with another big purge project. We work so well together, and we love to do projects. Of course the kids think it's awesome because it's cousin play time. I think we will tackle the kitchen. I'm dressed for comfort and cold weather because it's snowing and freezing cold! I have this cardigan in 3 colors and I love it! I've also been wearing this flannel a lot since I got it this fall snatch it up now while it's on clearance! Cardigan and necklace (similar here) Banana Republic, flannel J. Crew, jeans Express, booties Sam Edelman (similar here, and here).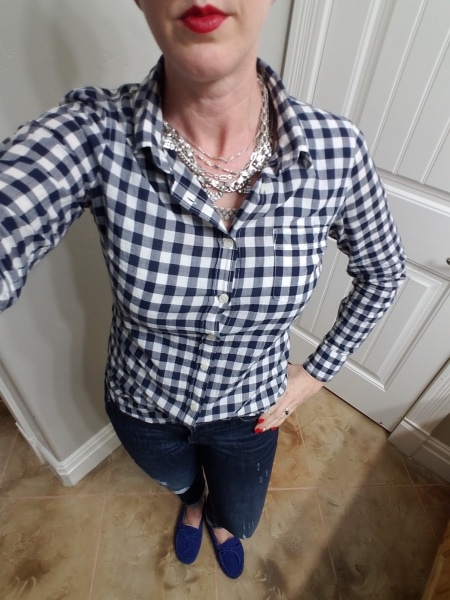 I had to say goodbye to my sister-in-law tonight. She's been here the last two days helping me purge as her going away gift. My stupid brother took a job in Florida and is taking one of my best friends away. I will miss her so much. I've known her since college. Anyway, we did both kitchens, the family room and the pantry. She is my project buddy. We never just sit and talk, we get to work. Now I have to do it all alone, and that is no fun. Shirt J. Crew (I've had this one for three years and still wear it a ton), jeans Express,  moccasins Bearpaw, necklace Stella and Dot.
If you don't want to wait for Wednesdays to see what I wore, you can also follow me on Instagram where I post my outfits daily. @stunningstyleag
This post may contain affiliate links, which means if you purchase through my links I get a small commission, but it doesn't cost you anything extra.
more resources for your style journey