Ah, the elusive unicorn, a travel shoe that is both comfortable enough to walk 10 miles a day and cute enough to wear in Paris. I have purchased and returned many, many pairs of shoes looking for this mystical creature. I've also purchased, worn and discarded many, many pairs of shoes looking for this mystical creature. I've discovered some great options, and I want to share what I've tried and liked. Some are cuter than others and some depend on the weather and activities of the day.
Before we start, let's define my point of view so you know where I'm coming from when I talk about comfortable shoes. I was born with old lady feet. I have very little padding on the bottoms of my feet, my arches are so high that the middle part of my foot doesn't even touch the ground. My feet hurt. When we travel, we walk 5-10 miles a day (I wore a Fitbit to Italy and England just to find out), and that kind of walking just kills my feet. I mean, at the end of the day I'm near tears because my feet hurt so much, and I don't sleep well that night because they ache so much. There are blessed women who can make these trips in a pair of wedges, Converse or any old pair of flats or sandals with no complaints. I am not that woman. I decided long ago that I didn't want to ruin my trips with painful feet, so I will be the first to admit I make sacrifices in fashion to make my feet happy and my trip more pleasant.
I don't wear some of these shoes in my real life because I prefer edgier looking shoes. In general they are too soft looking for my personal style. I also don't usually walk 5-10 miles a day in my real life and don't need the additional support or comfort. If I could find an edgy-looking comfort shoe, I'd buy it in every color.
BALLET FLATS
Let's start with the cutest and most versatile: the ballet flat in its many varieties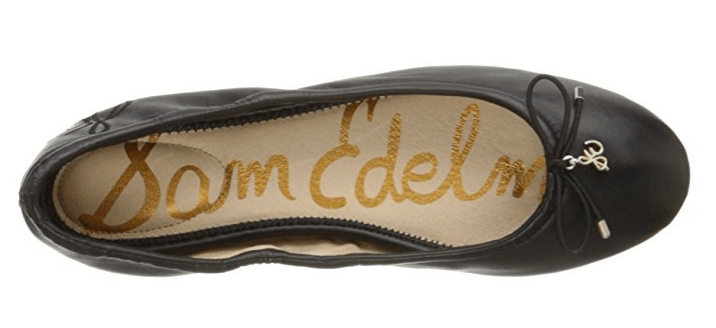 This is the Sam Edelman Felicia flat. It is nice buttery leather with a padded insole. I wore them in Amsterdam and the French countryside with no problem. I chose to wear them when we wouldn't be walking as much because the day was broken up with long train or car rides. I thought they would be ok the day we were biking around Versailles because the walking would be much less. I. WAS. WRONG. What was the difference this day? The heat and slightly swollen feet that come with a hot day. Those other two days were very cool, and this day was HOT. I rubbed a horrible blister on one of my toes that hurt for a month, and I still have a callous from it (I need to get out my pumice stone). Not only that, every time I put my toes on the ground to stop or start peddling, the back flipped off. The elasticized edges made it so I had to use my hands to get them back on each and every time. It was a huge pain and painful. HOWEVER, I still recommend them as a travel shoe for light walking days and cool weather. They are also excellent for stashing in your day bag for wearing to dinner after a day of sightseeing so your outfit is a little chicer. I think they run a bit small, and I always buy a half size up, especially if I'll be walking a lot. These flats come in every imaginable color, with new options coming out every season. These are great for your everyday wardrobe as well
ECCO BLUMA BALLERINA FLAT
Before we went to Japan last spring, I found a pair of the Ecco Bluma Ballerina Flats and decided to try them on a whim. I bought the cobalt blue because blue is my favorite color, and to me it's a neutral. My whole Japan wardrobe was black, white and blue, so they went perfectly. They were extremely, extremely comfortable, and now they are one of my top three travel shoes. They go on every trip. I loved them so much I bought them in the black and pewter color as well. I tried them out with no-show socks at home, and the way they overlapped with the edge of the shoe was super uncomfortable for me, so I prefer to wear them barefoot. I took them to New York City two months later and still loved them. They are going with me to Paris again this summer. My blue ones didn't need any breaking in, but my black ones did. For me they run true to size, and they have become the ultimate travel flat. They don't look as bulky on the foot as they do in the picture. You can click on any of the pictures to find the shoes. Depending on your wardrobe, one of these neutrals is sure to work for you.
This is the Teva Northwater Mary Jane/Flat, and they have become my go-to, all-purpose travel shoe. I bought it before our Italy trip and ended up not taking it (mistake). Then two years ago when we were going to New Orleans, the weather forecast was for torrential rain that only a Southerner (which I am) understands. We could have been crossing filthy, flooded streets and puddled sidewalks. I didn't want to ruin any of my good shoes or slip on the wet pavement. The Northwater is a water shoe as well, so it has great traction and support, it dries really fast and is easy to clean. They were perfect for that wet trip and extremely comfortable. I also ended up sprinting a mile in them (I'm not exaggerating, I actually sprinted a whole mile, but it was an emergency. I had to sprint in them again in San Francisco when my daughter had an anaphylactic reaction and we were trying to find medical care on the pier), which was not part of my plan, but they worked great for that, too. The arch support is so fantastic for my feet. At the end of long days of walking, my feet feel pretty great. I mean I can still feel that I've been walking and walking and walking, but they feel way better than other shoes. These are by far the most versatile, comfortable, neutral, all-purpose travel shoe I have ever tried, and as long as the weather is reasonably warm, they go with me. 
They aren't the cutest, but they aren't that noticeable either, which is almost as good. I don't like the gray portion, so I'm going to color that black to make it solid…eventually. Every trip I wear them on, women stop to ask me about my cute Mary Janes. These can also be worn as a flat because the ankle strap can flip back across the heel. They are very easy to take off and put on, with a snap closure. They have a nice wide toe box so my toes are never cramped or pinched, which is also great for when your feet swell a little after all the walking. I don't have wide feet, so I can't say if they would still be extra roomy for those who do, but for my medium width foot, the toe box is downright luxurious. I can wiggle my toes.
They are great for walking, climbing around, walking on the beach, light hiking and climbing, or going in the river. I wore them in the French countryside climbing up hillsides to old fortresses, the cliffs of Etretat and down on the beaches of Normandy. I wore them walking the streets of Paris, and I WISH I had worn them to bike around Versailles. I wore them to Point Reyes, Muir Woods, Stinson Beach, and all over San Francisco. I most recently wore them to Disneyland, and they were perfect. They are coming to Costa Rica with me soon. They really just disappear into my outfit and aren't noticeable. Are these shoes I would wear in my normal life? Only when I volunteer at my son's swim meets, we go tubing in the river or in the mucky bottom of the lake, but for travel they are great. I always want to look nice when we travel, but I also want to enjoy my trip and not be limited by my footwear. We paid way too much money to miss out because my feet hurt.
For our trip to Italy I tried Clarks sandals. I wish I had bought them in black instead, but I got red. They are a little geriatric looking from the side, but that thick sole is what makes them comfortable. These sandals are fairly classic, but the sole is kind of chunky. These are pretty comfortable and not bad looking. I wore them a lot in Italy. I don't wear them in my real life, though. For me they are strictly a travel sandal. They are comfortable, but not miraculous. This particular sandal is no longer available, but some other options are above and you can click on the pictures to find the sandals shown.

The Teva Kayenta sandal is as comfortable as the Teva Northwater above, and cute. They have arch support and a comfortable footbed. They have the added benefit of being water sandals, so they have a great sole for traction on slick surfaces, climbing around or rainy sidewalks. I wore them in Cinque Terra and Tuscany for easy hiking and sightseeing the mountainside towns. They were ideal for going from hiking to beach and back again in warm weather. They were cute at Disneyland with city shorts and a tee. I never wear these in real life unless we go to the lake or the river. I bought blue because I like blue and it goes with everything in my wardrobe.
My next recommendation for your everyday travel is the Sperry or boat shoe. I call it the chicer sneaker. They are as comfortable as sneakers, but much sleeker. I personally prefer the low profile Angelfish Sperrys. I have three pair. The tan ones are a great neutral for any outfit, the black ones that are quilted and Chanel-esque are chic, and the suede navy ones are a little fancy with the crystals on the toes. Confession: The navy ones were baby blue when I bought them, and I hate that color. It doesn't go with anything I own, and I rarely wore them, even though they are so, so, so comfortable. I bought some navy suede dye and did an easy little DIY. Now I wear them all the time. Another great thing about Sperrys is that you can wear them barefoot or with loafer socks, they are great for most weather, and they are a boat shoe. They are meant to be worn on wet, slick surfaces, so they do have good traction. I wouldn't climb the hillsides in them or wade through puddles, but they are a great all-purpose shoe. I've worn them all day in a theme park, standing in lines on pavement and walking around. I've worn them all over New York City. Sperrys are perfect for slipping on and off at the airport or on the plane. They are easy to dress, and very comfortable. Sperrys are very padded and have arch support. I wear my Sperrys all the time in my real life. I love them.
American tourists have been blasted for decades for wearing the obnoxious white, mom sneaker. They are as ugly and un-chic as you can get, and it was a seeming testament to our nation's poor taste in everything. Well guess what? Sneakers are all the rage right now. If supermodels can wear them for street style, we can wear them to the Eiffel Tower. I still don't recommend the super ugly big white ones, but there are lots of fantastic sneaker options. Just don't assume that because it's a sneaker it's comfortable or cushiony. I have some sneakers that are so cute, but I would never wear on a day of lots of walking. The ones I'm wearing below are Via Spiga silver mesh and black and really cute. They don't have a lot of cushion in them, and to be honest, when I wore them in Japan and New York, I liked the Ecco Bluma flat better for comfort. I wore these when it was colder. I wear these in my real life and love them.
SOME OF MY FAVORITES IN ACTION
Today I'm wearing an outfit I would wear in any European city, and I took pictures with each of my favorite pairs of shoes to show you how they look.
So there you go! Years of experimentation and trying out various shoes for long days on your feet. Do your feet hurt like mine? Are you on the hunt for the perfect travel shoe? Have you found it? If you have please tell us!!
Are you following me on Instagram, Facebook and Pinterest? I share on all of those as well!
This post may contain affiliate links, which means if you purchase through my links I get a small commission, but it doesn't cost you anything extra.
more resources for your style journey