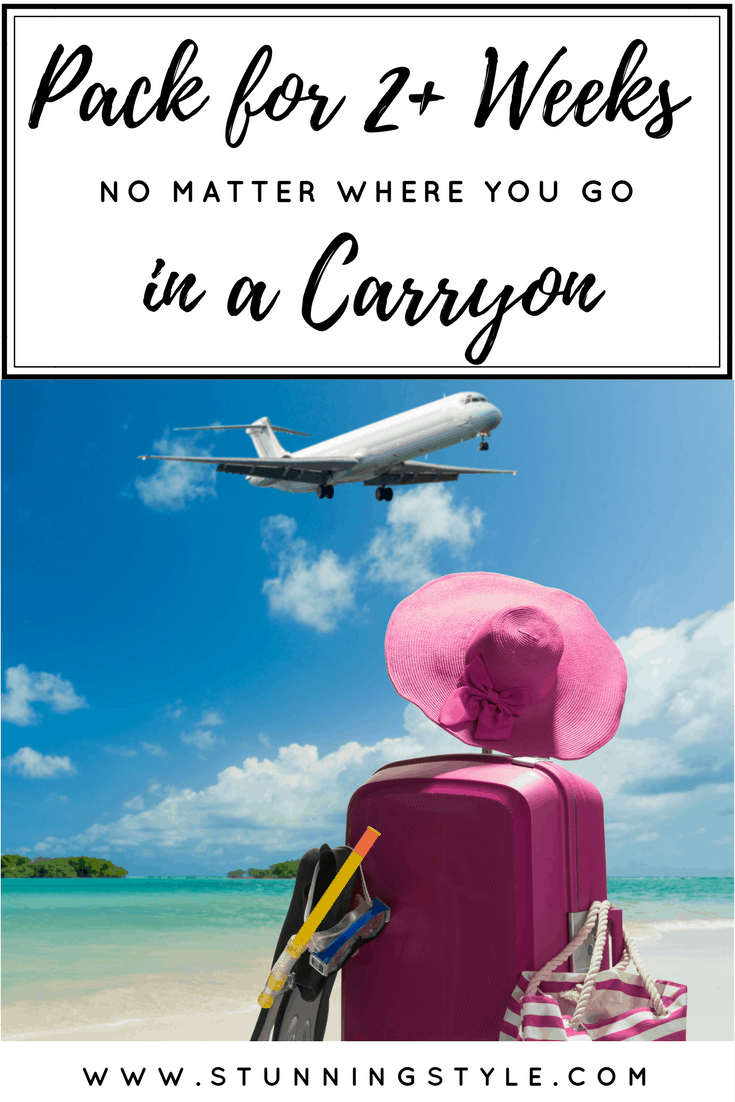 Since school got out we've gone on two big trips back to back. We went to Costa Rica for two weeks, came home for a week and then went to Tennessee for another two weeks to visit my family. Those trips require two totally different wardrobes, and for this trip I packed more like I normally do.
I'm a minimal packer. I used to take two large suitcases when I traveled, and it was a nightmare to carry around. Three years ago I decided to try packing in a carryon, and it was so liberating. I could never go back to the old way. Each time I pack I refine my process. My first attempt was very…eclectic, but now I have it down to a science.
THE WHY
Why pack in a carryon for long trips? So many reasons. I never check my bags anymore, and that means my bags never get lost. I don't have to wait for my bags at baggage claim, I can just leave. If I check in online the night before, I don't have to stand in line at the counter to check in and check my bags. I use the e-ticket on my phone and go straight to security, and that means I don't panic about time if the line is long and slow (which it always is). I'm not encumbered by multiple large, heavy bags. I've got my carryon and personal item to deal with on trains, in Ubers, on cobblestone streets. Some destinations like Santorini or Cinque Terra are all uphill, cobblestone streets and no elevators or help. Our hotel in Santorini was all stairs up and down to everything. Cinque Terra has very few taxis. I cannot imagine if I'd had more or larger bags. We often change cities frequently, as often as daily, which means I'm repacking my bag daily. The more you have, the more there is to repack.
THE HOW
I have two different approaches based on whether or not I have access to laundry and time to do it. This trip we went home to visit my family, so I had a washer and dryer, and that is what I will share.
I typically pack neutrals with a base of black, white and blue (you can choose the neutrals that go with your wardrobe), and then I choose one or two colors to use as my splash of color. Everything in my suitcase can be mixed and matched endlessly, so I have numerous options. You can see an example of this in my Japan packing tutorial.
This time I took a couple of colored bottoms, which meant that not every single item coordinated, but it was ok because I had a washer and dryer. When we travel internationally I'm more careful to take things that coordinate. Also, Europeans don't wear anything other than black, white or blue bottoms, so I wouldn't take those there anyway.
I typically take 1 bottom for every two or three tops. If it's going to be really hot, I like to pack casual knit dresses as well, but the weather was cooler (highs in the 70s and overcast) because of a tropical storm in the gulf.
Here is what I packed: 4 shorts, 1 jeans, 6 tops, 1 cardigan and 1 leggings (for travel days), 3 shoes (the 2 sneakers were purchased on the trip), 1 dress for church, 5 necklaces, 2 bracelets. I always take a pair of jeans and a cardigan because I get really cold, and if the weather is cooler, like at night, or in a movie theater or restaurant, I want that option.
Bottoms: White shorts, red shorts, black moto shorts (dark wash denim version comes and goes online. Currently out of stock), pink shorts (similar here), jeans
Tops: Pink and black colorblock (similar here), multicolor top (similar here), chambray popover (so lightweight and fabulous), black/white/blue colorblock (similar here), black tee (similar here), black and white stripe tee (similar here).
Travel clothes: Cardigan (also similar here, here, and here), leggings. These two items go on every long trip for my travel days. This was a 14-hour travel day with six kids and no husband, and I was so glad I was comfortable, yet put together. I always take a cardigan on planes because I'm so cold-natured.
Shoes: Black sandals (similar here), silver sandals, blue suede heels (similar here, and here), black snake skin slip on sneakers, silver sneakers (similar here, here and here)
Dress: (similar here, here, here, here and here)
Accessories: Layered necklace, red necklace (similar here), chevron necklace (similar here and here), spiky necklace (similar here and here), blue necklace (that my daughter calls the Heart of Te Fiti from Moana). Black stud bracelet (similar here), black strand bracelet (similar here, here)
Here are the possible outfit combinations of these pieces.
Here are some of the outfits I wore while I was there. I could have worn a different outfit every day for over 3 weeks
Next time I'll share my other packing method for when I don't have a washer and dryer. Was this helpful? Do you have any questions? Would you like to see more packing posts? How do you pack?
This post contains affiliate links, which means if you purchase through my links I get a small commission, but it doesn't cost you anything extra. Thanks for supporting my blog!