I flinch as the familiar sound of my phone alarm rings in my ears again. It's 2:45 p.m., and time to leave for my mommy Uber driver job. First stop is the school to pick up my kids. We pull into the garage by 3:30, and I have 15 minutes to feed them a snack and instruct them to change clothes before my alarm jolts me again at 3:45. Time to load all six of them in the car and take my daughter to dance. Home again at 4:15, we have 30 minutes to get through their after-school routine before my alarm calls once more and we leave to take another daughter to dance and drop her brother at swim team. The afternoon continues on, leaving every 30 minutes to drop off or pick up one kid or another until we get home for the last time at 8:15.
After-school sports leave us so busy I'm not home long enough to boil a pan of water and cook pasta, much less prepare a full dinner or eat it. I rely on slow cooker meals, so dinner is ready when we have a brief window to eat. I don't want to feed my kids a steady diet of drive-thru heart attacks, so I do my best to provide a home cooked dinner most nights.
The truth is, many days are so chaotic I either forget or don't have time or energy to even put together a slow cooker meal, but I have secret helpers for days when even a simple homemade meal is impossible. School is back in session, and the hectic schedule is back. It's time to pull out my list of secret weapons that simplify my most chaotic nights.
I have found 20 quick, easy, and healthy meal starters at Costco for nights when I am in such a bind that our choice is fast food or fasting. Some of the helpers are economical, and others are priced for convenience, but they are all healthier and more cost effective than a burger and fries. Not all of these will be available at every Costco, and prices may vary.
If you want a beautiful, elegant, home-cooked meal, worthy of June Cleaver, all you have to do is pop the spatchcock (split open so it lays flat on the grill or pan) chicken in the oven. My favorite side dish is roasted potatoes with garlic and rosemary, which Costco also sells, but I usually have time to make my own since the chicken is taken care of.  Steamed frozen veggies or a salad, and rice, baked potatoes or sweet potatoes complete the meal quickly. Put on your pearls and your June Cleaver fantasy is complete. If your family can eat bread, a side of French or sourdough bread is perfect. Gluten-free, dairy-free, Paleo, Whole30.
A pre-cooked rotisserie chicken is the fastest and least expensive ready-to-serve family meal anywhere. Costco rotisserie chickens are delicious, and large enough to feed my family of eight. They come hot and ready, and I've stopped during a 30-minute window between kid drop offs to pick one up and serve immediately. I've also bought them a day or two in advance and reheated in the oven at dinner time. Steamed frozen veggies or a salad, and rice, baked potatoes or sweet potatoes complete the meal quickly. If your family can eat bread, pick up a loaf of French or sourdough bread while you are there, and grad a salad kit while you're at it. Done. Leftovers equal quick dinners or lunches, like homemade chicken noodle soup, chicken tortilla soup, Mexican chicken salad, strawberry poppyseed salad, and more. I use the carcass to make homemade chicken stock in the slow cooker. It's the best stock you will ever have. Gluten-free, dairy-free, Paleo, Whole30.
How many meals can you think of that start with grilled chicken? I use these more for myself for quick and easy lunches like a green salad with chicken, chicken salad, strawberry poppyseed salad, lettuce wraps, etc. For the kids I use them in quesadillas, nachos, burritos, tortilla wraps, salads, paninis, etc. For dinner, add them to any sauce for extra protein and flavor. Pre-grilled and sliced chicken is a more expensive convenience food, but versatile.
Mediterranean chicken skewers are a Greek food lover's dream come true! I tuck these in the back of the fridge on the very top shelf where my kids can't see. While they are at school, I kick up my feet, enjoy the flavorful skewers, and pretend I'm back on our Greece trip 12 years ago. I love Greek Salads and rice bowls, and Mediterranean chicken skewers are a match made in heaven. For the salad I add tomatoes, cucumbers, kalamata olives, green onions, Romaine lettuce, red onion slices, banana peppers, and feta cheese. For the bowls instead of lettuce add lemon rice. Another great addition is bell peppers. Gluten-free, dairy-free, Paleo.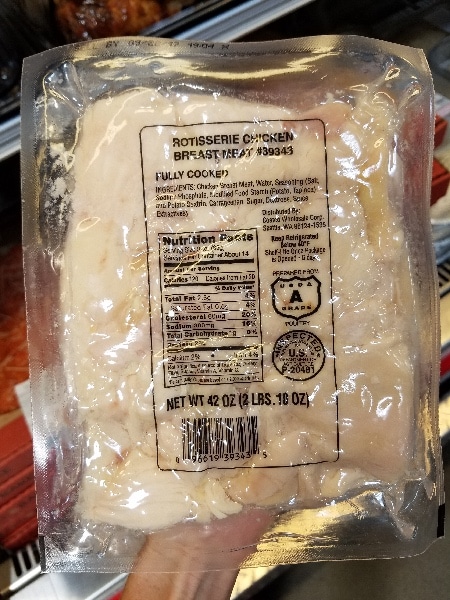 The first time I roasted a chicken as a newlywed, I pulled all the meat off the bones after dinner. My husband's mouth gaped in astonishment as he said, "I haven't seen a chicken picked that clean since I was in Guatemala." Well, sugar, you married a Southern girl, and that is what we do in my family when you want chicken. When I was a kid, one of my jobs was pulling the chicken meat off the bones after my mom boiled a whole chicken for meals like chicken and dumplings or chicken ala king. It's what we do with the Thanksgiving turkey, too. I've always hated this job. It's slimy, messy, tedious, and takes forever, but I also can't stand waste, so I get every last shred.
Let me introduce you to my best friend: a package of boneless rotisserie chicken! Some wonderful soul at Costco does the job FOR ME!! It's a bag of infinite possibilities. We use it in Indian curries, and it's the secret to my homemade chicken noodle soup in 30 minutes or less. It's perfect for chicken tortilla soup, Mexican chicken salad, strawberry poppyseed salad, and more. I use it on salads, in burritos, tacos, sauces, soups, wraps, and any recipe with cooked chicken. Who knew my best friend came wrapped in plastic? It's an enormous package, so when I bring it home I divide it into smaller portions before I freeze it. Gluten-free, dairy-free, Paleo. I forgot to get a picture of the price tag, but it's $11.99 for 2 pounds 10 ounces of breast meat.
As much of a foodie as I am, I still love good hotdogs. Sausages are a grown up hot dog. Add a drizzle of honey mustard and a pile of real, naturally fermented sauer kraut, like Bubbie's brand (not the stuff in a can), and I am in hot dog heaven. Eat them in a bun or without, serve with fresh, sliced veggies or a salad, roasted potatoes or sweet potatoes, and dinner is ready. Gluten-free, dairy-free, Paleo.
Sausage links are more of a breakfast food, but who doesn't love breakfast for dinner? My husband travels often for work, and one night when he called home and asked what we had for dinner, I said "We had breakfast. At first I felt bad about it, but then I realized you are probably eating at Wolfgang Puck in Beverly Hills, and then I didn't feel bad anymore." As he started to protest, he slipped in, "No, we ate there LAST night!" Uh huh. I figured. My family loves my homemade sausage, but sometimes I need something faster. These are already cooked, and only need to be heated. The quick and easy way is in the oven, and you don't have to babysit them. Sausage is perfect with pancakes, waffles, scrambled eggs, hash browns, poached eggs, avocado toast, or breakfast burritos to go with them. Each pack comes with 42 sausages, so I can make three meals for my family of eight. Gluten-free, dairy-free, Paleo.
I have a homemade Korean meatball recipe my family loves, but if I need the quick and easy option, we love these. In under 20 minutes jasmine rice sings in the Instant Pot and frozen stir fry veggies are crispy fresh in the steamer basket. Dinner is done! These are not gluten-free because of the soy sauce. I don't have Celiac, and a minimal amount of gluten doesn't bother me. Dairy-free, Paleo. The package includes two pouches of about 30 meatballs each, providing 2 meals for my family.
We love to move across continents with cuisine. Costco sells another quick and easy meatball, but with an Italian spin. Cook pasta and add these to sauce for the main dish. Add a salad and bread, and everything is on the table in the time it takes to made the noodles. If you can eat gluten-free pasta, lucky you! Even gluten-free pasta tends to upset my stomach, so I love to add meatballs and sauce to a bowl, and steam diced cauliflower to it as faux noodles and eat it that way. I don't chop the cauliflower as small as cauli-rice, but pea size to macaroni size is perfect. The smaller the pieces, the less cauliflower-y it tastes. I also love zucchini zoodles (spiralized zucchini) and butternut squash spiralized noodles. My local grocery store sells these in their deli case. The meatballs are gluten-free, dairy-free and Paleo.
Smoked pulled pork is an all-American favorite, and is a fakeout takeout meal without the hefty price tag or hours of work tending a smoker. My husband and kids love pulled pork sliders with barbecue sauce, buns and a side salad. I eat mine as a salad with my special dairy-free creamy BBQ dressing. It doesn't have to be American food only. Smokey pork is an incredible nacho topper, burrito filler, and all-around Taco Tuesday home run hitter. Gluten-free, dairy-free, Paleo, Whole30.
Our family LOVES Indian food. What my husband and I don't love is the $200 bill that comes at the end of a meal out with our kids at a mid-priced Indian restaurant. They asked to go out for Indian food at least once a week, so when we found all of these Indian food options at Costco, Indian food Sundays became a tradition. My personal favorites are the Maya Kaimal brand sauces because they are so flavorful, and have just a little heat. Not jalapeno spicy, but a few of my kids prefer the milder versions. We add rotisserie chicken or shrimp to those and serve with jasmine rice and naan.
Some in my family prefer the Suhki's brand, which are much milder in flavor and heat. They are more expensive because they include the chicken. The sauces are all gluten-free. Both brands' tikka masalas have dairy in them, as does the naan. Once when we were out of the rotisserie chicken, my husband put the Mediterranean chicken skewers in, and it added a whole new level of flavor. Completely inauthentic, but delicious. That's a much more expensive option, but it was so good. A combination of half mediterranean chicken and half rotisserie chicken is awesome and cuts the cost.
For our family we use two of the Maya Kaimal sauce tubs for one meal, 1/3 of the rotisserie chicken package, half a package of naan, and 4 cups of uncooked jasmine rice. Instead of $200 this meal costs us less than $20, and we get to enjoy the symphony of flavors every week instead of every few months.
The tedious job of chipping away tiny pieces of egg shells is enough to almost make me eliminate boiled eggs from my diet, but they are a quick and easy lunch option, or addition to a meal. They are perfect to put in tuna salad, on toast, in a salad (like a cobb salad), or eat plain, and since these are pre-peeled, boiled eggs are back on the menu! They are convenient, portable and perfect to eat on the go. Gluten-free, dairy-free, Paleo, Whole30.
We have fish once a week, and without gluten and dairy, it can be hard to get creative with something so bland, and still be efficient with my time. Alaska cod with lemon herb butter is ready in 15 minutes, the perfect amount of time to prepare a salad or steamed veggies, and a baked potato, sweet potato, or rice. I drizzle the extra sauce on the veggies to up the flavor factor. The fish has butter on it, so there is dairy, but in these small amounts it doesn't bother my stomach. Gluten-free, Paleo.
Any holiday that calls for the American flag, shorts, and fireworks is a burger holiday. Also Saturday nights. As an American, it is my right and my heritage to enjoy a good burger. My doctor has asked me to cut way, way, way back on my pork and beef consumption because of the fat content, so chicken burgers are a great option for me, or anyone who wants a break from red meat. They are great on a bun, as a lettuce wrap, or served on a plate with any of your favorite burger toppings. They are also less expensive and less fatty than restaurant burgers. Gluten-free, dairy-free, Paleo.
Remember those amazing Italian meatballs above? I have a homemade sauce I love to drown them in, but it takes time and pre-planning because it needs to simmer for hours to really combine the flavors. If I'm short on time, I grab a jar of organic marinara sauce to heat my meatballs in. Gluten-free, dairy-free, Paleo.
I love smoked salmon, and so does my family. It's delicious with cantaloupe in a cold plate (pictured above from a trip to Paris), in a Manhattan bagel with cream cheese and red onion, on avocado toast with a poached egg, in a tortilla wrap, on a sandwich, as a salad topper, and one of my favorites, on eggs Benedict (I die!). Gluten-free, dairy-free, Paleo, Whole30.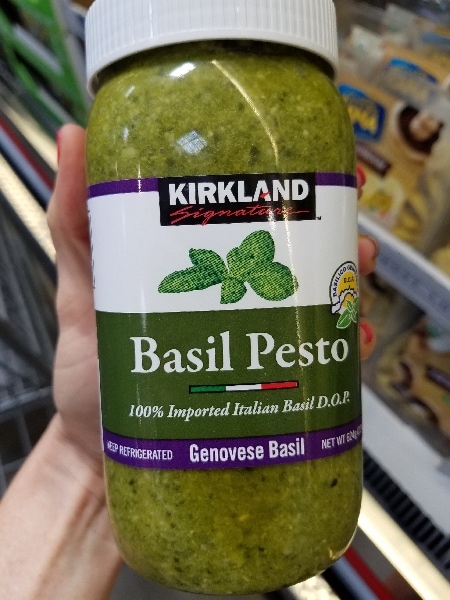 Eating fresh pesto while dining al fresco on an Italian bridge is one of life's true delights, and Costco sells a jar of memories in the refrigerated section. Pesto is a simple addition to add big flavor with minimal effort. Remember my best friend the pulled rotisserie chicken? Toss the chicken in pesto and serve on pasta or over a salad or in a wrap, or on a panini with tomatoes. It's incredible spread over bone-in chicken and topped with walnuts and baked. Mix with mayonnaise for a great spread. Instant flavor and deliciousness can be yours year round. Once open, freeze the rest of the pesto in ice cube trays to have small portions available any time you need and Italian escape. It has cheese, but not enough to bother my stomach. Gluten-free, Paleo, Whole30.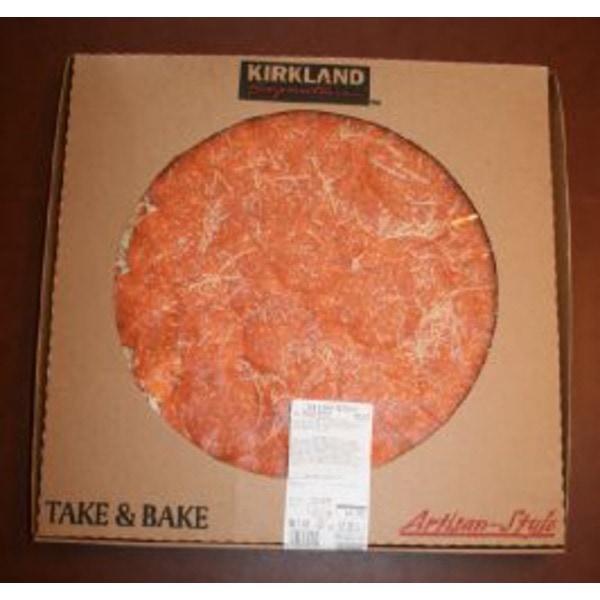 Ok, pizza isn't a health food, but my family loves pizza Friday. Since my kids were tiny, Friday nights have been full of fresh dough, flour spattered clothes, pools of tomato sauce, and a buffet of topping choices. Now that we are so busy, by Friday night, I don't always have the energy for the clean up. Delivery pizza can add up for a big family, so I keep a few of Costco pizzas in the freezer for the nights I just. can't. At $10 each, they are probably as big as two Little Caesar's pizzas, they are right in my freezer, and they have to be less bad for you. They have cheese, pepperoni, supreme, and Hawaiian. While I heat up pizza soup for myself, I throw a couple of these in the oven for the kids.
The school year chaos whips and batters me with winds from every direction, but I refuse to live my life in the drive-thru line. Even on the busiest nights, I whip up easy, homemade meals in a few minutes with the help of key items I keep on hand, and it costs less than a fast food meal. Do you have any easy meal starters? Share in the comments below! I'd love to add to my repertoire.
This post may contain affiliate links, which means if you purchase through my links I get a small commission, but it doesn't cost you anything extra.
more resources for your style journey