I glided out of the Coach store like Audrey Hepburn with the garment bag draped across my arm. A few months before, I decided I wanted to buy the perfect trench coat, and I was willing to save my money and make my first investment purchase. I had birthday money to spend, too, so I knew I could get a nice one if I was smart.
I researched for months to learn everything to look for in a trench. Fabric, cut, details, color and labels. I dedicated a Pinterest board to it. I researched outfit ideas. The iconic Burberry trench was still out of range for me, but I knew I could find something perfect that met all the guidelines I had mapped out from the experts. With a late spring birthday, the timing of my purchase meant it would likely be on sale.
After watching and waiting, I got the perfect trench coat that met all the criteria I had gathered, and within my budget! I couldn't wait to wear it to France and Holland later that summer! Nothing is more Pariesienne than a trench coat.
When I wore it I felt glamorous, chic and put together, except for when I didn't. The double-breasted cut (which was on the expert list of requirements) drove me crazy when it wasn't buttoned, and it rarely was. All that extra fabric flapping in front of me made me feel frumpy. Look at that first picture! There was so much fabric going on I got it all buttoned wrong. The classic, perfect, not-too-dark-not-too-light, year-round, must-have khaki color washed me out, and it didn't go with most of my wardrobe. Wrangling that dangly belt, dragging it on the ground, and shutting it in my car door felt like a full-time job.
I followed every rule and requirement and found the perfect coat, but it wasn't perfect for me. My special investment birthday purchase was a bust, and I felt sick about spending the money on it, so I finally sold it.
Last January, I found the truly PERFECT trench coat for me. Not perfect for the experts, the magazines, or the French, but perfect for ME. It's single-breasted! No more swimming through folds of fabric. It's black, which I look amazing in. I positively glow in black, and it matches my entire wardrobe. It has leather sleeves and collar, zipper details on the cuffs and pockets, knee-length, and I tamed the belt. It's edgy, classic, sleek, dangerous, and…it's Burberry. Every inch of it is me, me, me. It was on sale! My husband was so taken with it, and me, and me in it, and my excitement that he bought it for me as a gift. Can you even?
An expert would tell you my trench coat is trendy, not classic, but it is perfectly classic for me, because it embodies everything about my personal style. I'm edgy, classic, sleek, and dangerous. I'm not a trend-follower. I know what I like, what I look amazing in, what I feel great in, and black, leather and zippers are it. And always will be.
Trench coat season is coming, and finding the perfect trench for you requires some soul-searching. Do you LOVE khaki? Does it warm your skin or make you look like you ate some bad seafood? Do you love black? Or do you feel overwhelmed, drained and washed out in it? Is navy your perfect classic? Do you want to stand out with a bold color, or make a fun statement with a flared hem or some ruffles? Do prints make your heart sing? Are polka-dots your favorite pattern? Would you feel more comfortable in a subtle color with a softer fabric and a looser fit?
Ignore the experts. There is no such thing as the perfect, one-size-fits-all, we-must-conform-or-be-cast-out item in any category, and I learned that lesson the expensive way. A trench coat can be functional, a statement piece, a trendy item, a classic basic, a fun accessory, and everything in between.
It also doesn't have to be iconic, expensive, or an investment piece. It can be a $25 trendy item that lasts a year and you part with it merrily. It can be a forever piece that you save and save for and feel glamorous and luxe when you wear it. Maybe you want 3 or 4 different ones for different outfits and moods. I now have 3. A bold orange hooded one from J. Crew, a short bold turquoise one from Kenneth Cole, and the black Burberry that I want to be buried in.
Don't let anyone tell you that you have to have a trench coat, because you don't. Maybe a trench coat is not your thing. Find what is, and feel amazing in that instead. Below is a round up of some fabulous trench coats that are available this season. Which one makes your heart sing? Which one will make you glide, bounce, skip, hop or cartwheel out of the store with a garment bag draped across your arm?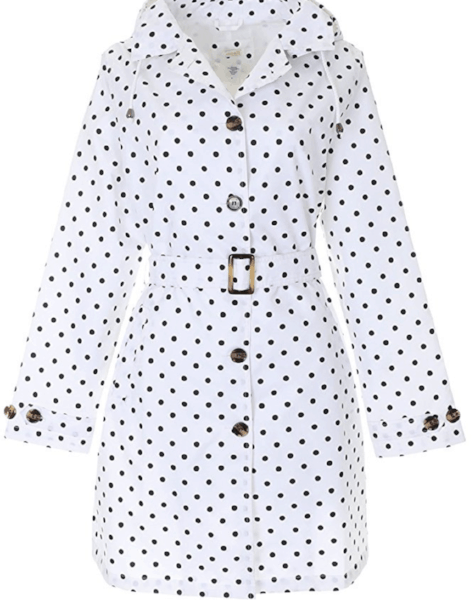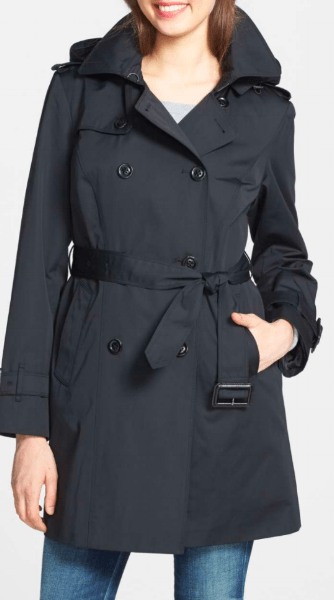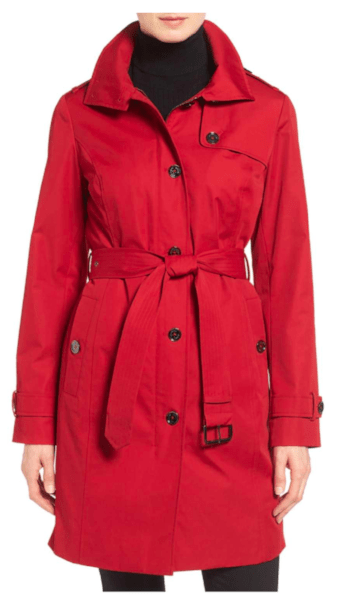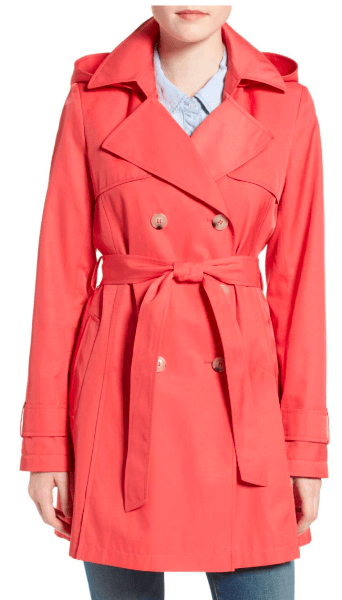 If you love bold colors and a bit of whimsy, this fit and flare-ish pleated trench is adorable and allows for more movement. Also, it's half off right now.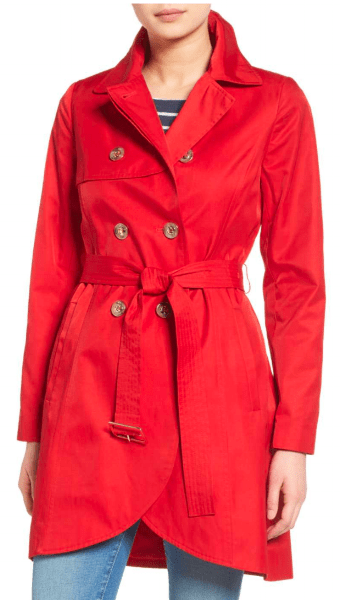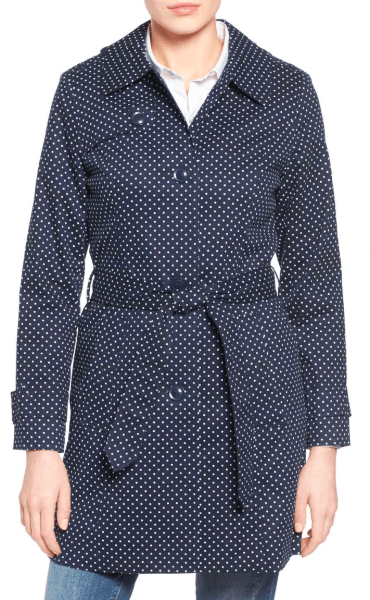 I love my bold orange trench, and get compliments on it whenever I wear it. If you want to add a little edge, the zipper details on the pockets bring just enough without being goth.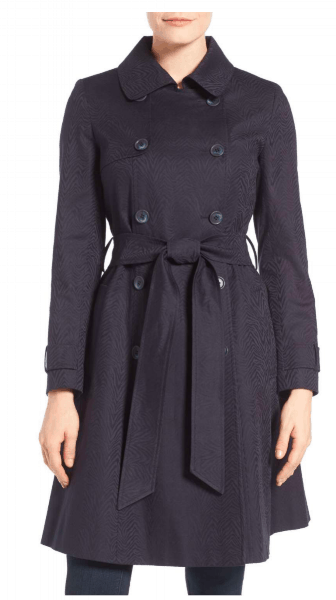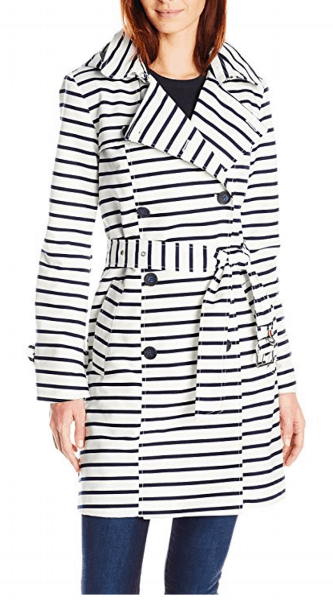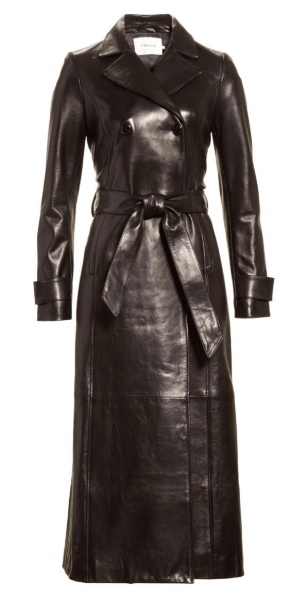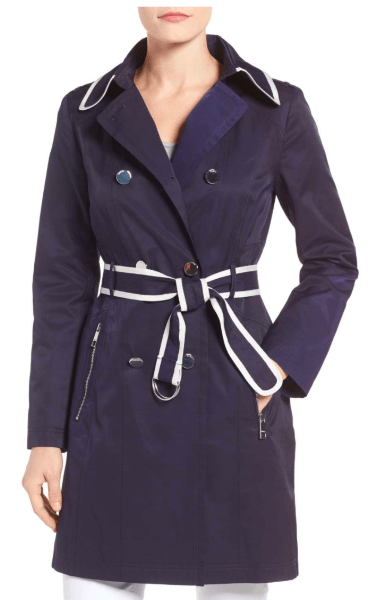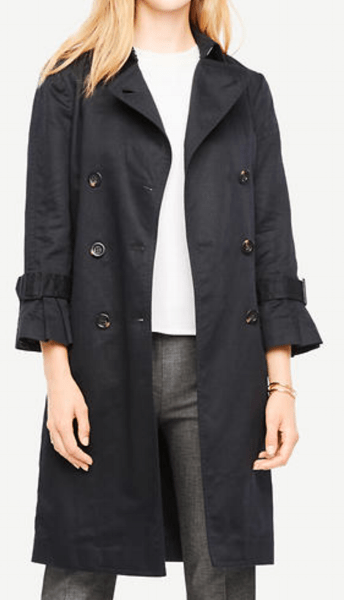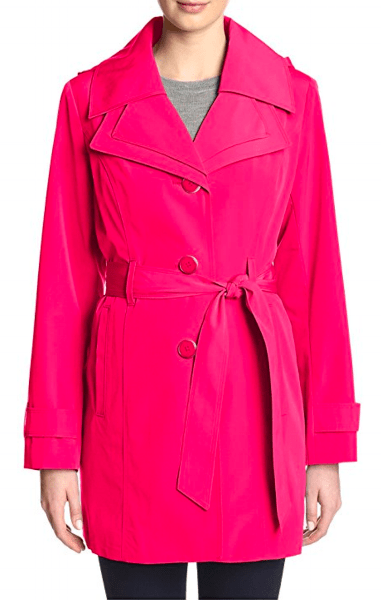 There are so many great trenches out there that I keep adding. I'm in love with this one, particularly in navy. Gingham lining? It's perfect! The sleeves unroll to full length, it zips up the front and snaps, AND is single breasted AND has a hood AND the hardware appears to be silver!! It's definitely a more casual style, which is perfect for my life!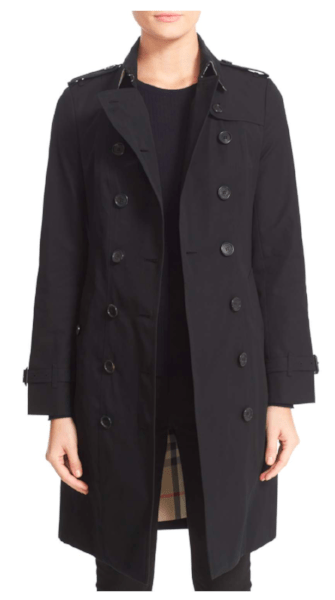 Which one of these do you love?
This post may contain affiliate links, which means if you purchase through my links I get a small commission, but it doesn't cost you anything extra.
more resources for your style journey