For years I've told my husband I want to have a warm and sunny mid-winter getaway. Two years ago we went to Palm Springs. Last year we went to Miami. The weather was nice, but not nice enough to go to the beach or pool.  This year, we decided to go early for our anniversary while it was still cold and miserable, and go somewhere sunny, warm, beachy, and relaxing. Our trips are always exhausting, seeing all the things and going all the places. We are both so tired and worn thin right now. We wanted a break, not an adventure. We didn't want to travel far to do it, so we went to Cancun, Mexico. We haven't been in 14 years, but I definitely want to go back. Today. It. Was. Perfect. Would you like to see a travel diary of our trip? Let me know in the comments below.
When we left we were still having unusually warm weather. It's been like spring all winter. My crocuses had bloomed!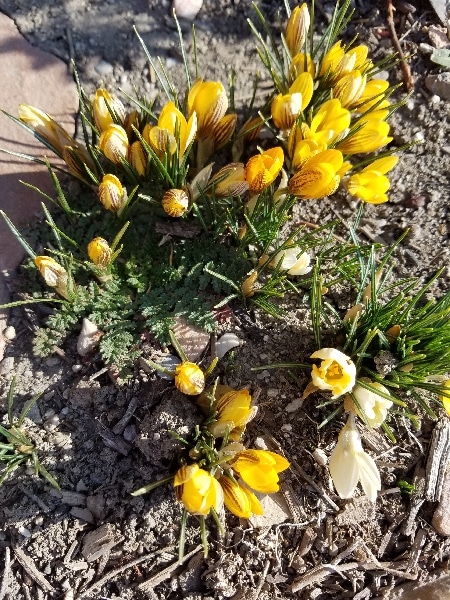 While we were gone, winter finally happened. We got the first snow of the year. Temps dropped to the teens (instead of the mid 50s), and when we got back from Mexico, I walked through a snow drift in flip flops to get to the car at the airport. It was not awesome.
I've continued to take inspiration from the spring edition of the Stunning Style Wardrobe Guide and adapt the style and colors to cold weather. Because I carried over some of the colors and pieces from the winter edition, I've been mixing and matching pieces to get the colors I'm craving without sacrificing warmth.
So here is what I wore before and after our trip to Mexico!
"April, thank you for the countless hours of work you've put into this. I've been working on my personal style for two years now, and your work closes the circle. This system has given me a framework and a direction that I was missing. Now I can begin to build a wardrobe that is uniquely me, using the pieces you've curated as building blocks and/or inspiration. ????"
— T.M.
I paired this pink and cobalt flannel with a navy short sleeve sweater instead of a full sleeve sweater. I was in full prep mode as I got everything ready to publish on the blog in advance, prepped everything for the kids and the sitter while I was gone, parent teacher conferences that day, and, oh right, packed and prepped myself. I didn't want any jewelry. The color from my shirt and shoes were enough.
I wore outfit #31 from the spring edition of the Stunning Style Wardrobe Guide. It was warm enough to go from the car to the airport, but not warm enough for the refrigerator temperatures on the airplane. Seriously, you could have chilled meat in there. Even my hot-blooded husband was freezing. When we arrived in Cancun, I took off my jacket and the short sleeves of my tee were perfect. 
And yes, I did get a faux glow the night before. No need to blind anyone on the beach with my winter-white skin.
Jeans. Wedges similar here. Links to the t-shirt and jacket included in the spring edition of the Stunning Style Wardrobe Guide.
Our flight home wasn't until 5, so we went to the mercado to get some souvenirs for the kids. I wore the shorts until it was time to leave for the airport. Then I switched to jeans and added the cardi because I freeze on airplanes. I ran into my very good friend, Annelise Brown (owner of Mialisia jewelry. You can check out her amazing line here) in the airport! Can you believe it? She was on her way back from Colombia, and we were on the same flight home!
Top similar here, here. Shorts similar here. Necklace similar here. Flip flops similar here.
Like I mentioned above, I came home to snow. And obviously Queen Elsa there in the background is to blame. I chose a column of navy and a green and navy scarf to thaw my frozen heart. And feet. Navy and green is one of my favorite color combos.
Sweater similar here. Scarf similar here. Jeans. Shoes similar here. Coat similar here.
I should have put on sunglasses for this one. The wind was blowing right in my face and the glare off the snow was blinding! Can you tell I'm loving pink lately? I find I color binge. Or item binge. I just love an item in my wardrobe or a color and wear it over and over and over. Right now it's pink, and this pink sweater. Confession (you'll see this in Thursday's post), but I have 2 identical pink sweaters. This one is the thicker, heavier version. To make it feel like spring in the middle of a blizzard, I paired it with a navy gingham button up. This is outfit #72 from the spring Stunning Style Wardrobe Guide. Instead of a cardi I wore a pullover sweater from the winter guide (which you can get for half off with the purchase of the spring guide for a limited time!), and instead of wedges I added the cobalt cap toe boots. I wore my navy winter coat instead of the navy spring jacket.
Sweater similar here. Jeans. Coat similar here. Boots similar here. Necklace similar here. Links to shirt available in the Stunning Style Wardrobe Guide.
"Just got the spring guide and it is just as fabulous as the winter."
FEATURED STUNNING STYLE SOCIETY WARDROBE GUIDE OUTFIT
Do you go on a mid-winter getaway? Where is your favorite sunny destination?
This post may contain affiliate links, which means if you purchase through my links I get a small commission, but it doesn't cost you anything extra.
more resources for your style journey