14 capsule wardrobe outfits, and how I repeat items in multiple ways
Is it ok to repeat items and outfits from a Fall Capsule Wardrobe?
"Weren't you wearing a different outfit this morning?" I asked my new college roommate (no need to say how many years ago).
"Yes, but I'm going to see Chris this afternoon, and he saw me wear that outfit yesterday."
"If you wore it yesterday, why did you wear it again this morning?" I asked, completely baffled.
"Because the people I saw this morning didn't see me wear it yesterday."
Apparently she changed outfits no less than 3 times a day based on who saw her wear what on which day. Did she kept a chart so she could track it? Just watching her constantly change outfits (and hairstyles) was exhausting, but she was so worried about someone seeing her repeat an outfit that she came home between classes, activities, and dates to change clothes every. single. day. 
Here's the thing, I love this red sweater, I love my leopard shoes, I love my favorite jeans, and I will wear them as often as I feel like it (which is often). I feel FABULOUS when I wear them, so why wouldn't I? In the last few decades this "more is more" attitude has invaded our society, particularly in reference to our closets. We think we can't wear the same thing again – PEOPLE WILL KNOW! 
I consistently repeat items and outfits, and seeing it lined up in my Instagram feed would seem to make it obvious, but no one has ever said anything, because it doesn't really matter, does it? The three outfits above are from the last month, and they are pretty similar, repeating core items.

Think of the media storm that happens every time Kate Middleton repeats an outfit or an item. Why is it such a big deal? She has a very clearly defined signature style, she obviously loves those items, so why shouldn't she wear them again? And why shouldn't we?
Figuring out how to build a capsule wardrobe is a real challenge if you don't know your style. Knowing my signature style has been a capsule wardrobe game changer (I'm Minimal, Edgy, Sporty Classic, in that order). I'm finally getting all the details of my wardrobe – and outfits – perfect for me. Take the Classic Style Twist Quiz below to learn the details to develop your signature classic style.
ARen't capsule wardrobes boring?
The whole point of a capsule wardrobe is to have a curated collection of favorites – instead of a closet full of meh – and for it to be so cohesive that it all goes together, reflects your signature style, and makes getting dressed a breeze.
Everything in my fall capsule wardrobe is a favorite, the collection is cohesive, and it effortlessly reflects my signature style, so no, I'm not bored, and my outfits are definitely not boring. Would you be bored of spending time with your favorite people instead of a bunch of people you just kind of like? I doubt it.
Ready to see how I've mixed and matched some of the pieces from the Fall Capsule Wardrobe Guide for different outfits?
fall capsule wardrobe outfits
Leopard and burgundy outfits
This leopard blouse has been the runaway hit of the Fall Wardrobe Guide. If you are a Winter (from the seasonal color analysis system) like me, most leopard prints can be too warm for our coloring, or unnatural looking (typically I'm not interested in cobalt blue leopard). 
This one has a cool-toned eggshell background, a black leopard print, and an ashy, taupey brown for the shadow color. This color combination makes the pattern 3-dimensional, instead of flat, the way a plain black and white leopard print can look.
I've tried on and rejected a LOT of leopard blouses and tees, and this one was THE winner. I love it, and wear it often. Keeping the rest of the outfit simple balances the busy pattern for my Minimal Classic style.
Burgundy is the color I crave in fall, and finding the perfect burgundy hue for a Winter color palette, is no small feat. Paired with the same leopard blouse, and moving the burgundy from my feet to my sweater, takes the same elements and creates a whole new look. For days when I only want a whisper of pattern, the sweater cuts down the amount of pattern showing. 
The same burgundy sweater goes from edgy prep to more casual by pairing it with a denim jacket, and bringing my leopard accent in with my belt. Changing from blue to black jeans also changes the feel, and keeps me from the denim on denim look that can be extra casual or extra country.
I've been wearing leopard print outfits constantly since fall began, and I can't get enough.
How many ways can I wear this leopard blouse and burgundy? I'll let you know when I reach my limit. I could have worn black flats or loafers, but I loved bookending my outfit with the burgundy flats and duster cardigan. Finding the perfect leopard for a Winter color palette was a game-changer for me. I had been missing it since other style programs told me I couldn't wear it (they were wrong).
The key to capsule closet success is finding capsule wardrobe essentials like this navy 3/4 sleeve sweater. It's a rollover from last Fall and Spring Wardrobe Guides, and is truly a closet staple for me. I paired it with these gorgeous burgundy cords and brown leather accessories for a fabulous fall look. 
This is the same navy sweater as above, worn in a column of navy. Even though the jeans and sweater are both neutral basics, paired together they look chic. The leopard sneakers add a whisper a pattern, and the red jacket punches it up. 
Here's a secret: this is the exact same outfit as above, but I changed the color of my sweater. Same jacket, jeans, and sneakers, even the same sweater, just a different color. Did you even notice? 
I wore the same red sweater, and this time layered it with a striped button up, and added my leopard flats. It's much easier to mix patterns when they are both in small doses and both are neutral colors. To tone this down – but look just as amazing – change the red sweater for a navy one, and wear a completely neutral color palette.
The same red sweater and leopard flats with a strictly classic pair of dark wash jeans and different accessories brings a whole new mood to my outfit. The red belt is tone on tone with my sweater, and adds a dimension and interest without competing with the red sweater/leopard combo. 
It's nearly identical to the first outfit, but it went from Sporty Classic to Edgy Classic when I changed my leopard sneakers to leopard flats, took off the jacket, and switched my bag. The core outfit is identical.
Some women don't want to add a dress to their fall capsule wardrobe because it seems limiting. How many ways can you wear a dress, especially one in such a bold color? More ways than you think. Here I've paired it with navy and black snake skin booties and a navy trench on a colder day.
Pairing the same turquoise dress and navy bag with these gorgeous burgundy flats gives it a completely different look. I love, love, love dresses. They are as comfortable as a nightgown, and make me look instantly dressed up with no effort at all. It's a one and done outfit, which is the very best kind.
Leather jackets can fit into any Classic Style Twist. I prefer a moto style jacket to get my edgy details. This moto jacket is a fall capsule wardrobe staple for me, and I've been dying to wear it again. Plaid flannel shirts can take on a variety of moods, from Paul Bunyon's wife to Edgy Classic chic, which is what I was going for here. 
I got a fabulous rocker-chic look with my moto jacket, denim button up, black jeans, and red pointy-toe flats. I threw a little leopard in with my earrings because I can't get enough leopard, now that I know the perfect leopard for me.
A moto jacket can even take a skirt outfit from the office to a night out. I absolutely love it paired with this leopard skirt, black half sleeve turtleneck and burgundy flats. This day I didn't go to an office or a night out. I went to school carpool, soccer practice, swim team, and dance drop offs and pick ups, but this outfit is so comfortable, I'm happy to wear it on a weekday. 
My favorite dark wash jeans get so much wear that I own multiple pairs in multiple lengths. Cropped ankle length, regular ankle length, and full length (both raw hem and not), depending on the shoes I'm wearing and the weather. I have at least two of each length so I always have the ones I want.
What do you think of capsule wardrobes? Do you worry people will know you repeat items and outfits, or do you proudly rock it like a duchess?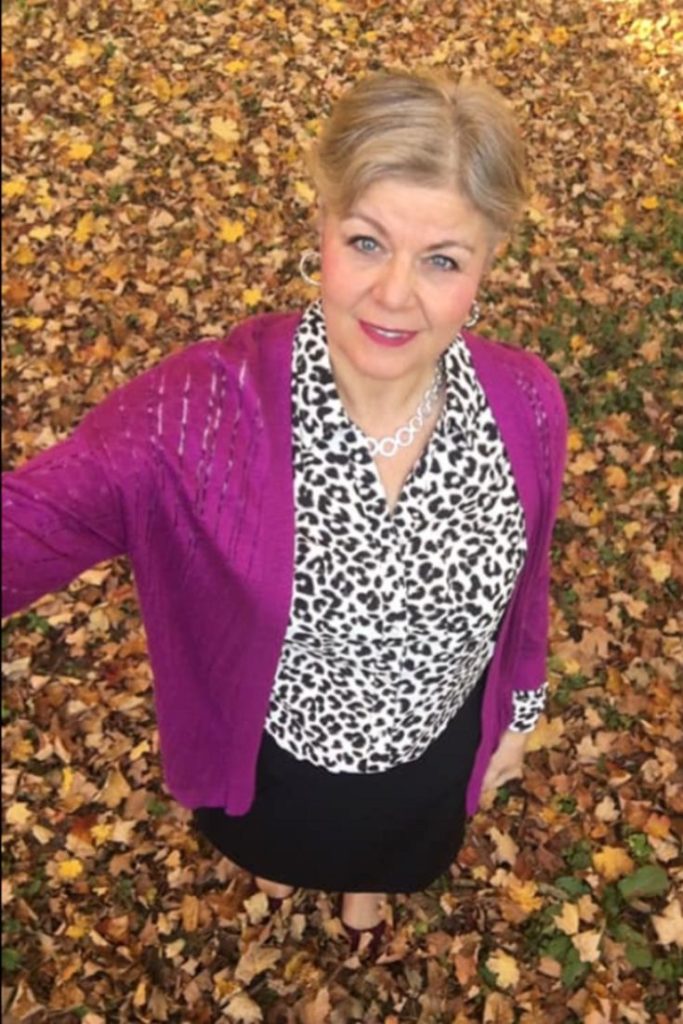 "I joined the Stunning Style Society because former style programs were not working for me, and I needed guidance in putting myself together. I love the idea of a Capsule Wardrobe & I liked the classic way of dressing. April's transformation was amazing, and I wanted that for myself.
I assumed the Society was all about the Wardrobe Guide items & outfits. That's also great, but the community is amazing & her weekly personal videos have helped me really understand why things work/don't work and I'm feeling far more confident in my choices.
A bonus is the never-ending compliments pouring in to me, even people I don't know!! Basking in that."
I love S.N.'s take on this outfit from the Fall Wardrobe Guide! She looks absolutely stunning!
Discuss capsule wardrobes and classic style with a fun community of like-minded women in the Capsule Wardrobes for Classic StyleFacebook group! 
This post may contain affiliate links, which means if you purchase through my links I get a small commission, but it doesn't cost you anything extra. Thanks for supporting my blog!
Become A Stunning Style Insider
Make getting dressed the easiest thing you do all day!