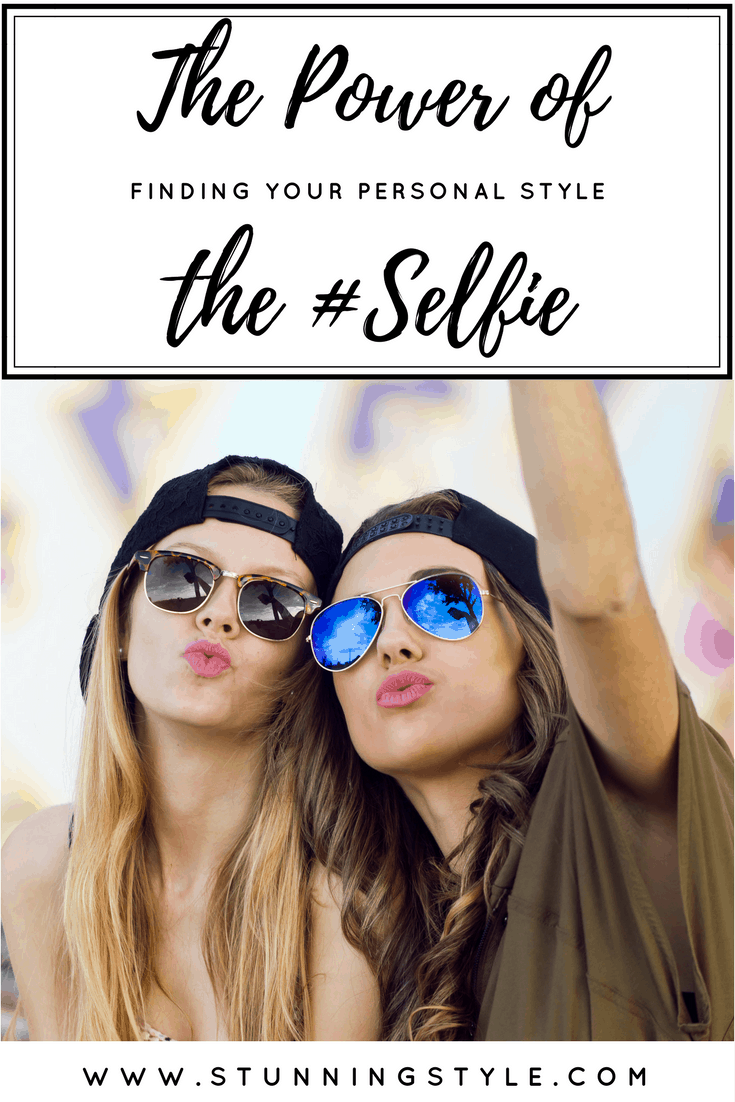 I was at Disneyland this spring, and while I waited in an eternal line to get on the Mater ride with my two youngest, I watched a 20-something girl get on the ride alone. She spent the entire ride taking selfie after selfie, making the duck face, flipping her hair, boosting her cleavage, and adjusting her Minnie Ears. It was like a caricature or SNL spoof, but it was real. I thought it was so sad that she missed out on the entire ride after waiting in line for an hour to be on it. Then, I was recently in a movie theater bathroom, and a 13-year-old girl was taking selfies over and over in the full length mirror saying, "That's a keeper!" I swear she took at least 30, AND SHE WAS MISSING THE MOVIE SHE PAID TO SEE. What? Why? We see people all the time taking so many selfies and missing the whole moment. It can be very comical and sad.
While taking your very own Kardashian-inspired selfie every 5 steps is ridiculous, there is a place in our lives for the much-mocked selfie. Since I started my Dressing Your Truth journey nearly two years ago, I've taken a picture of my outfit every day. Before this, I had never taken a selfie. I just didn't do that, and I certainly don't plaster my (personal) Facebook wall with them. At first I only shared my selfies with my sister-in-law, who introduced me to Dressing Your Truth, and now I share them here, though it is gut-wrenching.
A few weeks into my 30-day challenge, I joined the official type 4 Facebook page and started sharing my outfits there because I wanted to know if I was getting it right. A lot of the members share their outfits of the day for inspiration and critique (if asked for). I was so uncomfortable and embarrassed taking these pictures, and doubly so sharing them on that page, but I wanted feedback badly enough that I did it.
Taking these pictures had an even bigger impact than I realized. As I was downloading my photos onto my computer, I separated my outfit pictures into a different folder. As I flipped through them, I was able to see where I got it right, and where I went very, very wrong. In the beginning I kept it very simple, very type 4, very good. As I got into it, I felt like I had to be…more…awesome, and I started getting away from my beauty sixth sense.
I finally centered myself and came back to more basic type 4, more me. I started adding my secondary 3 more often than not, but usually in subtle ways, like a textured sweater, some pointy patterns on my shirt, zippers, stabby jewelry, or destroyed jeans (LOVE!). There are some days that I feel more fierce and it really shows in my selection for the day. Tracking these outfits is helping me fine tune my style and my wardrobe. This is especially important to me because I've reduced the size of my wardrobe dramatically. The bulk of it is done, and now I'm fine tuning. Taking the pictures helps me see the trends and what really flatters me. I'm finally arriving where I've been trying to get my whole life: classic with an edge/edgy preppy.
I've always been bored with summer clothing because there are fewer options to make it interesting. My project this summer was to improve my summer style, so I looked through the pictures of last summer's outfits for inspiration. Ick. I can see exactly what is wrong, why it isn't right for me, and it helped me recognize what I can do differently this summer. I'm really glad I have those pictures to reference.
What I Learned
Through these pictures I realized that I mostly wear some combination of black, white, and blue, especially in the colder months. Cobalt blue, turquoise blue, navy blue, blue, blue, and blue. In three weeks, there were only 3 outfits that had another color added, and it was red or pink. As I went back through 6 weeks of outfits, and that is still the trend. It seems like once a week I bust out some really colorful combination, but for the most part it's black, white and blue, which has always been my favorite color.  This is not intentional, it's just what I like, and understanding that helps me in so many ways. It helps when I'm shopping because I don't chastise myself when I want yet another black, white or blue item. I know it will be worn because those are my staple items. It helps me with packing. Since I only pack in a carryon for all of my trips, it is critical to understand what my core items will be and what I wear the most. See my packing posts here, here and here.
The pictures have helped me see my true style. It's hard for me to share my pictures, even two years later, and now on a much larger scale with my blog. My stomach flips and lurches every time I do it, but I hope someone else can learn from my mistakes, be inspired by my style, and find their own truth and style sooner. One of the big lessons I've learned through my selfies is to distinguish what I like on someone else versus what I like on me. They are often very different, and I can finally stop trying to wear things that I admire on others because now I know what is right for me.
I've learned that I can't stand to wear skirts that flare. I had a whole collection of them and never once wore them out of my closet. I put them on and took them off immediately. I like pencils skirts and straight lines. I started buying flared skirts because I liked how they looked on other people. So cute! So cute on OTHER people. Not so cute on me. I also had a whole collection of the Jackie cardigan from J. Crew, in all the colors. I realized I don't like that style on me. It's too cute, too bulky on the sides, and the crew neck interferes with the neckline of most of my tops. I prefer slim-cut, v-neck boyfriend cardigans that hang straight. Anything with circles or round shapes isn't for me. I like triangles, squares, hexagons, geometric shapes, and anything with elbows and pointy parts. If I can't use my jewelry in an assassination attempt, it's not the right piece for me.
The final benefit is it is so easy for me to shop now that I know these things, and I learned them by taking selfies every day. It helped with my hair styles to see what I want different next time, with my makeup, everything. Try taking pictures of your outfits. You don't have to share them with a soul. They can be just for you, but I guarantee you will learn from them, and it might help you find your own style more quickly. Duck face optional.
Do you take selfies? How have they helped you?
Have you entered the giveaway to win a tube of Rodan + Fields Lashboost? The giveaway is almost over, but you can still enter. Get even more entries by sharing with your friends!